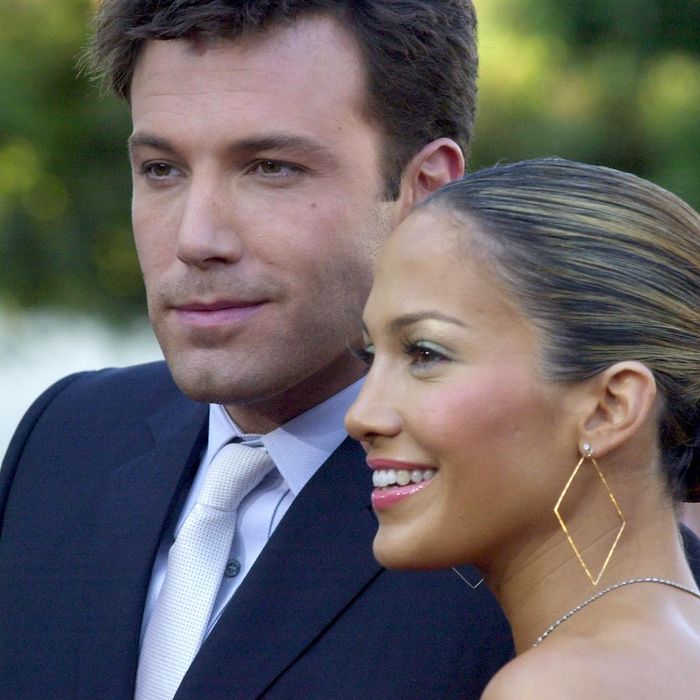 Ben Affleck and Jennifer Lopez, whom you may also know as Bennifer.
Photo: Chris Weeks/FilmMagic
Well, okay, obviously Jennifer Lopez and Ben Affleck have never been in any way low-key about their affection for one another. Despite not making things verbally official during these past few weeks of gym dates and little vacations and what now looks like a flirty and extremely public serenade, Bennifer is said to be "full-on dating and very happy together." Affleck was even spotted at a Las Vegas casino with Lopez's mom. (Hustlers 2?) Lopez was snapped traveling in what certainly appears to be Affleck's old flannel. And if all those paparazzi photos were not firm enough proof of their togetherness, Lopez is reportedly moving to Los Angeles for a "fresh start" with Affleck.
As a source told E! News, Lopez "will be between L.A. and the Hamptons this summer but L.A. will be her base." So long, Miami rental home. You served us all well. The source also confirmed tabloid reports that Lopez is looking at L.A. schools where her kids — 13-year-old twins Max and Emme — would start in the fall. "She is excited about a fresh start and pursuing things with Ben," the source also said. "They will be at their L.A. home soon." Hold on, their home? As in the home the Bennifer will be sharing, just like they are currently sharing Affleck's shirt?? E! News didn't clarify any further, but that will not stop me from speculating.
Lopez has owned a home in L.A. for a minute now — never forget, the site of the original Affleck deliveries that spawned reunion rumors in the first place. Rumors of cohabitation started when TMZ shared photos of J.Lo touring "at least one school in the L.A. area" last week, the notepad under her arm suggesting she means business.
So far, Lopez and Affleck have been splitting their time between Miami and L.A., and as a source previously told "Page Six," J.Lo "has to ensure that she is taking her children into account" in this and all relationships, as "they are her priority." Well, now that the children have been prioritized and Grandma has gotten some quality casino time, how about a little Bennifer kiss for the cameras, hmm?
This article has been updated.