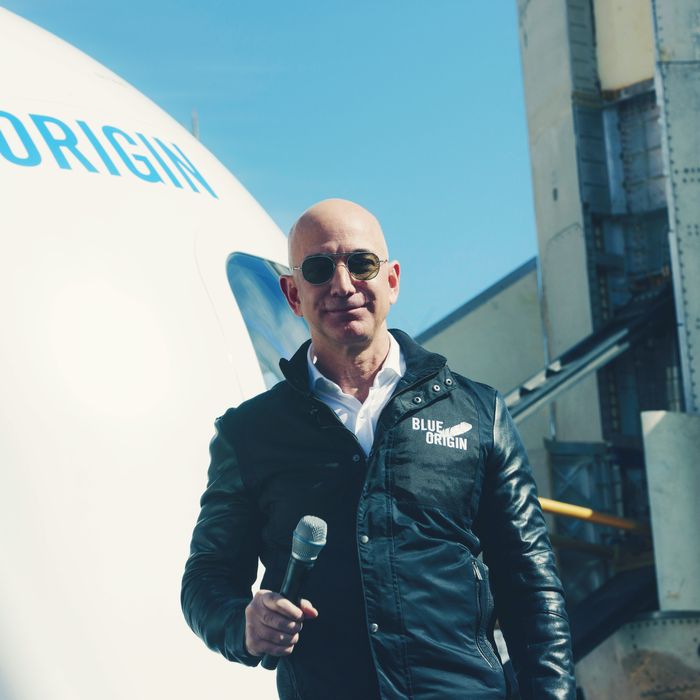 Photo: Matthew Staver/Bloomberg via Getty Images
It has come to my attention that Jeff Bezos is going to space. To which I say, good. Space can keep him.
In an Instagram post on Monday, the man formerly known as Mr. Amazon announced that he will be onboard the first human spaceflight conducted by his rocket company Blue Origin. "Ever since I was five years old, I've dreamed of traveling to space," he said on Instagram. He also shared that his brother, Mark Bezos, will be joining him for the ride, calling the trip "the greatest adventure, with my best friend."
If you would like to join this very rich man and his brother on their little space trip, you can! Provided you have more than $2.8 million. One of the six available seats for the July 20 spaceflight is being auctioned off, and anyone (with millions of dollars) can buy it. The current high bid is $2.8 million, with nearly 6,000 people from 143 countries having already participated in the auction, per the New York Times. Proceeds from the winning bid will be donated to Club for the Future, Blue Origin's foundation encouraging kids to pursue careers in STEM. The auction ends June 12, so better place your bid quickly. If it helps, the spacecraft has undergone 15 test flights, none of which have had passengers aboard, according to the Times.
Next month's flight will be a short one, totaling just 11 minutes. The passenger-carrying capsule will separate from its booster at about 47 miles, at which point passengers will get to unbuckle and experience about three minutes of weightlessness before returning to Earth. Okay, maybe I would pay money to watch Bezos try to do some zero-gravity somersaults.
"To see the Earth from space, it changes you," Bezos said in his video announcement. "It changes your relationship with this planet, with humanity. It's one Earth. I want to go on this flight because it's the thing I've wanted to do all my life. It's an adventure. It's a big deal for me." Very cool, Jeff! Love to hear thoughts on humanity from the man whose yacht has its own yacht.
The July 20 spaceflight will make Bezos the first of the billionaire boys with space projects to travel aboard his own rocket. I'm sure this will give SpaceX's Elon Musk and Virgin Galactic's Richard Branson ideas, meaning a celestial pissing contest is imminent.
To the universe, I say, my apologies, but Jeff Bezos is your problem now.