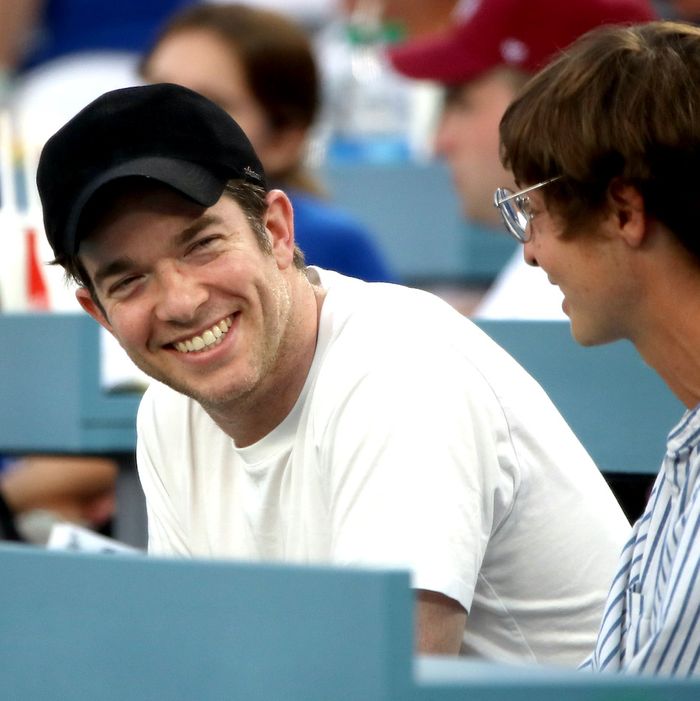 John Mulaney, without Olivia Munn, because seemingly only one photo of them together exists.
Photo: Katelyn Mulcahy/Getty Images
I don't know about you, but lately, I've been wondering whatever happened to Olivia Munn and John Mulaney, two people rumored to be dating despite not having been seen together in public … ever? Pretty suspicious, if you ask me; almost like a story either overblown or made up by gossip-hungry tabloids. Show me the proof, I have been muttering every time I remember that these two allegedly kiss. Well, ask and People will deliver, I guess: The outlet ran an "exclusive" photo of Mulaney and Munn "kicking back at an outdoor table under sunny skies" for a lunch date in Los Angeles on Saturday.
"They were having a great time during lunch, laughing and talking," an "insider" told People. "They were really enjoying each other's company." Hm. Take that, me!
To further quell any suspicions, Us Weekly spoke to a source — unnamed, of course — who claims Munn is "smitten" with Mulaney. "Smitten," you say? Okay. The outlet also said Munn has been "sneaking in to some of his shows and loves them." They added that he thinks she's "really smart and she makes him laugh too." Per the source, "They both have a very dry sense of humor."
For those of you who find yourselves wondering how we got here, allow me to do a little recap: In mid-May, days after Mulaney and Annamarie Tendler confirmed they would divorce after nearly seven years of marriage, news broke that the comedian maybe had a new squeeze (Munn). Apparently, he and the beauty-potato enthusiast "met at church" and were, at the time, "taking it slowly." Given that Munn previously told HuffPost about the time she spent a wedding "fangirling" over fellow guest Mulaney some years back, I have harbored doubts about the tabloid narrative, and the timeline. But they certainly appear to be taking it slowly, if they are taking it at all, as this is the first the paparazzi have seen of them.
Or at least it was until the Daily Mail shared recent pics of Munn leaving Mulaney's house in Los Angeles. That paired with the photographic evidence of their little lunch seems to suggest the "budding relationship" People asserts. Now, maybe just a small photo of, say, a kiss, and I will fully eat my words.
This article has been updated.