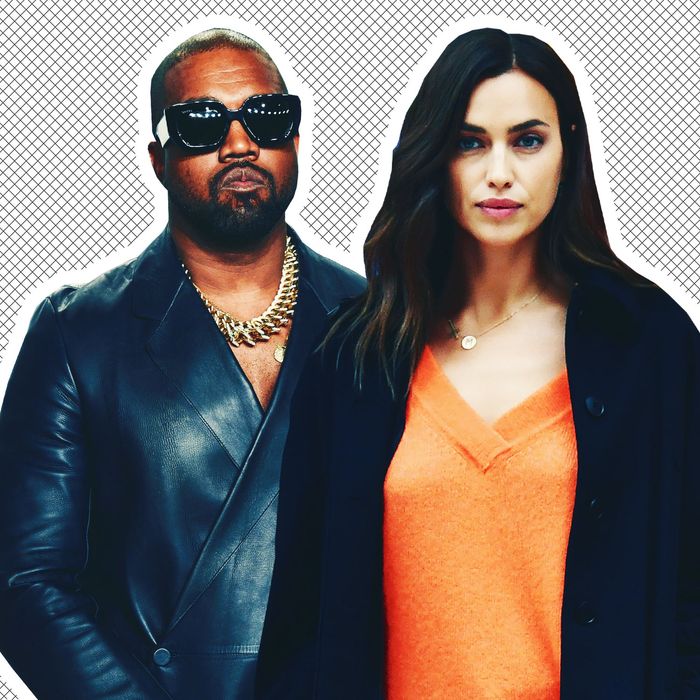 The year of the unexpected celebrity couple continues. The latest pair to join the roster — which currently has heavy hitters like Pete Davidson and Phoebe Dynevor and whatever is going on with John Mulaney and Olivia Munn — is apparently Kanye West and model Irina Shayk. Lotta questions, so few answers.
Rumors of the two being A Thing have been swirling for a bit. Celebrity gossip aficionados @DeuxMoi floated the possibility that the pair was dating last month, and yesterday, TMZ reported that the two are "100% romantically together." Further confirming the rumors, the Daily Mail shared pictures of West and Shayk taking a little walk through the French region of Provence on Tuesday, which was notably West's 44th birthday. A birthday trip to France is, if nothing else, a very Kanye West way to reveal a relationship.
On Wednesday, the two were seen leaving the same private plane after landing back in the U.S. As TMZ pointed out, they seemed to stagger their exits from the plane which, ironically, reads as Very Together. It's a solid eight-hour flight from France to New Jersey, where they landed, and I'm just curious how they spent their time. Napping? Reading a book? Talking??
It seems the two may have dating for some time now. According to TMZ, people close to the couple say they've been seeing each other since March. They were reportedly together at DMX's memorial celebration in late April, and Shayk was seen wearing Balenciaga's DMX tribute sweatshirt, which was commissioned by Yeezy, prior to its public release. Such are the perks of dating Kanye West, I suppose.
The romp in Provence comes just a few months after West and Kim Kardashian publicly announced the end of their seven-year relationship. In February, Kardashian officially filed for divorce after reports that the two had been living apart for several months. Well, it appears West is already moving on with none other than Bradley Cooper's ex. In 2019, Shayk and Cooper split after four years of dating. The two also share a daughter together. Before that, Shayk dated soccer star Cristiano Ronaldo.
If you, like me, are wondering how West and Shayk even know each other, the two have apparently been at least acquaintances for over a decade. In 2010, Shayk was featured in West's "Power" music video and, two years later, she walked for Yeezy's Fall/Winter fashion collection at Paris Fashion Week. Tabloid sources say "he pursued her."
And if you, like me, are also wondering what Kim thinks, well … she's allegedly known about it "for weeks," okay?! And she is fine with it, a source who may or may not be a thinly disguised Kris Jenner told People, provided the "new girlfriend" does not "distract Kanye from spending time with the kids."
"It doesn't bother Kim that Kanye is dating," the informant insisted. "Her only concern is their kids. She wants Kanye to be present and spend as much time with them as possible. The kids love when Kanye is around."
Still, questions remain: What do they talk about? Will Kanye be monitoring the weight between Irina's toes? Stay tuned …
This article has been updated.