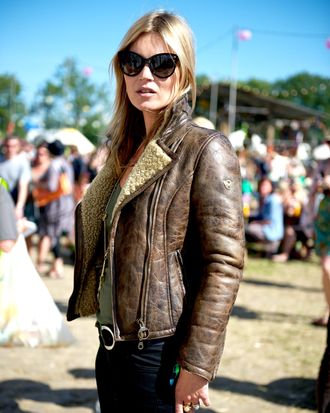 Kate Moss, at Glastonbury
Photo: Mark Boland/FilmMagic
In addition to getting into the NFT game and trying her hand at jewelry design, supermodel Kate Moss is reportedly pursuing another unexpected new hobby. Would you like to know what it is? Well, according to tattoo artist Daniel Casone, she wants to learn his trade so that the pair "can go to Glastonbury" — as in the music festival with which Moss "will always be synonymous," to quote British Vogue — "to tattoo people." That, at least, is what Casone told the Sunday Mirror, adding that he has already allowed her to test drive her inky skills on his own body, despite her lack of experience. "It's Kate Moss," he recalled, "so I was like yeah, let her." Also, the pair have reportedly been friends for years.
"She called me to go up and tattoo her and she ended up tattooing me as well, she gave me a 'Kate' and a love heart on my arm," he said. According to Casone, "it was quite painful" because Moss "didn't know what to do and … went quite deep but I thought you know what, I don't mind."
So now, I guess, Casone is teaching her, with an eye toward getting her all ready to tattoo her fellow festivalgoers. Although he did not provide a timeline, Glastonbury should return to its regular in-person format next summer, so maybe the party people could access Moss designs as early as 2022. This would be a relatively short period in which to learn the art — the Alliance of Professional Tattooists recommends an apprenticeship of at least three years — but then, it is important to have goals, such as being able to tattoo people at Glastonbury.