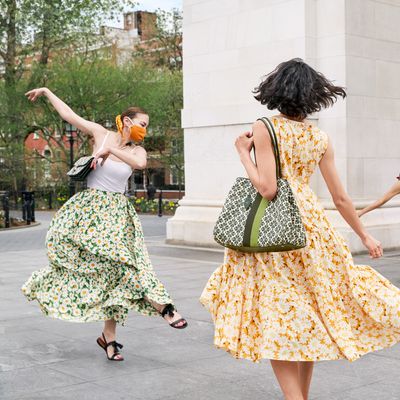 Dancing in florals! It's a "summer in the city" dream. In continuation of its yearlong love letter to New York City, Kate Spade welcomed summer with a new campaign and a dance sequence, featuring the newest Spade Flower Jacquard designs in very lovely shades of green.
The summer project is choreographed by Dylan Pearce, who gained recognition from the brand for his high-spirited routines on his Instagram page, and also features a reworked version of Judy Garland's "Get Happy" by singer Ines Nassara. Notable dancing TikTokers Todrick and Happy Kelli are also broadcasting the spirit of the campaign across their platforms, bringing the spirit beyond the city.
Throughout the last few months, Kate Spade has used its brand to uplift and spread joy to New Yorkers following the difficult year caused by the pandemic. In addition to the energetic ad campaign, the brand is also partnering with the National Council for Mental Wellbeing to provide Mental Health First Aid training to New York artists and donating $100,000 to provide mental-health services to performers in the New York City area.
With flowy dresses, energetic dancing, and lots of summer colors, the campaign definitely provides a much-needed serotonin boost.