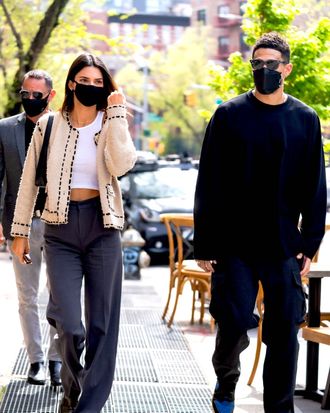 Kendall Jenner and Devin Booker, a couple.
Photo: TheStewartOfNY,TheStewartofNY/GC Images
Time flies when you are quietly enjoying your new relationship and not really sharing the details with the world because privacy is important! Is the lesson I am taking away from this morning's discovery that Kendall Jenner and the man I did not know she was dating, basketball guy Devin Booker, celebrated their one-year anniversary this weekend. Congrats to them on this achievement (being together for one year; keeping it from me, specifically).
The news comes via Instagram, and has been reported by various gossipy outlets: On Saturday, Booker posted a series of slides to his stories, heavily hinting at the milestone. In the first two, we see a teeny tiny Jenner and the captions 365 and 52, respectively. The third photo features a romantic-looking dinner setting: Jenner is tagged, and the caption reads "1" alongside an orange heart. Doing the math on this — 365 days in a year, which also comprises 52 weeks — I believe we are looking at a first anniversary tribute. Meanwhile, Jenner posted some shots of her and Booker cuddling, confirming that they are in fact partners, even though I didn't know.
According to E! News, the pair were first linked in April 2020, nearly a year after she and another basketball guy, Ben Simmons, broke up. Last spring, the sources insisted Jenner and Booker were just friends, but people (not me) continued to see them hanging out through the summer and into the fall. Apparently they made it Instagram official on Valentine's Day, when the model-slash-oral-hygiene-expert shared a photo of the monogrammed Louis Vuitton case ("KJ + DB," it reads) Booker gifted her. But I guess they would've made it real-life official on June 12 of last year, given that they just marked that anniversary yesterday. Huh!
Anyway, sources tell E! that "this is the happiest Kendall has been in a relationship," and that "it's getting more and more serious."
"Devin is quiet and not interested in being in the spotlight or a celebrity. She really appreciates that about him and is attracted to that. They are really similar and love just being low-key and staying in and laughing together," this person reports. "They are a solid couple with no drama. It's been all positive and Kendall loves being with him."
Hm, well, good for them. Live laugh love, as they say!