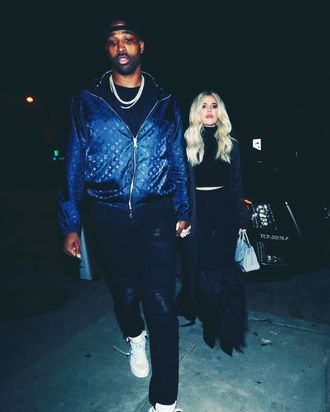 Photo: Hollywood To You/Star Max/GC Images
Well, here we are yet again. Nearly a year after Khloé Kardashian and Tristan Thompson reportedly rekindled their relationship, it appears the two have split. A bummer? Sure. Surprising? Umm …
"They broke up a few weeks ago," an unnamed source told Us Weekly. "They remain amicable toward each other and will continue to coparent," the source said, referring to their daughter, True, who is 3. The insider added that "there was no drama" and "things just didn't work out" between the two, who have broken up and gotten back together at least once before.
The "no drama" comment may be intended to quell any whispers that infidelity had anything to do with it, because that's not entirely out of the question. Earlier this year, there were rumors that Thompson, a notorious cheater, had cheated on Kardashian yet again. (Thompson's lawyer sent a cease-and-desist letter to Sydney Chase, the model who alleged the affair, but Chase insisted that she "will not be called a liar" and stood by her account.) "Page Six" heard from a source that the couple split up shortly after these allegations. However, its source echoed Us Weekly's, saying that "there is no drama" and "everything is amicable" between the pair.
Though there was speculation that they had gotten back together last summer amid quarantine, Kardashian didn't appear to confirm anything until March 2021, when she wished Thompson a happy birthday on Instagram. "The ones that are meant to be are the ones who go through everything that is designed to tear them apart and they come out even stronger than they were before," she wrote, likely alluding to Thompson's infidelity around the time True born and again in 2019, when we were introduced to the Jordyn Woods of it all.
During Sunday's Keeping Up With the Kardashians reunion special, Kardashian addressed her current relationship with Woods, her sister Kylie Jenner's former close friend who had a very public affair with Thompson. "I personally don't talk to her, but I think she's doing really well in her personal life," Kardashian said of Woods. "I think that's a huge misconception [that I only forgave Thompson] … I think people make mistakes — people live and they learn — and I forgive both parties. How could I forgive Tristan and not Jordyn?"
During the special, presumably filmed while the couple was still together, she also talked about her relationship with Thompson, saying they were taking it "day by day." "I just have to trust," she said. "I know all the help that he's got, and the constant efforts that he makes every single day, and how hard he fought to get back with me currently. I mean, you can ask everyone — it really wasn't an easy thing for him, but I don't know why someone would go through all of that if they weren't really serious." Ouch.