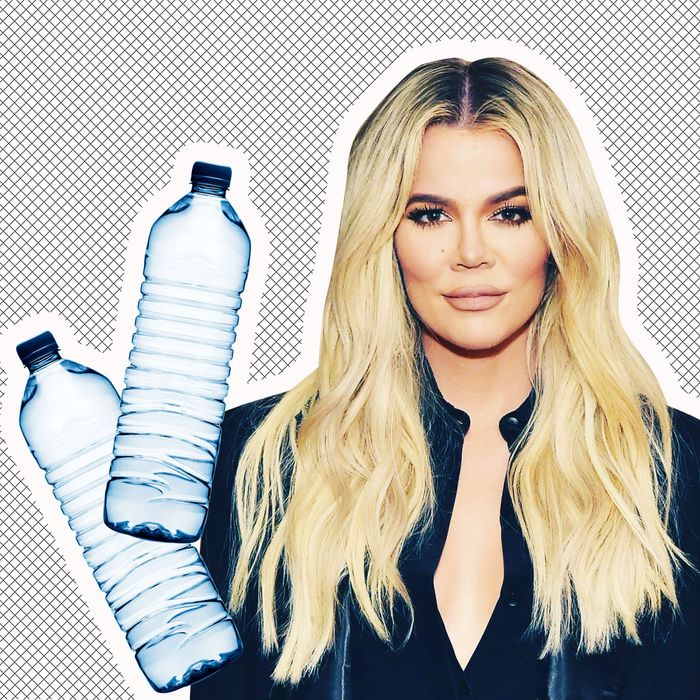 The Kardashians sure have been busy, what with Kim embroiled in lawsuits with former contract workers and Kourtney doing her whole thing with Travis Barker. However, today's Kardashian news comes courtesy of Khloé. "There's something that irks me," she said in an Instagram Story posted early Monday morning. Can you guess what that something is? Cheating allegations? A bikini photo? Looking two different heights in recent pictures? Nope, it's plastic water bottles.
After sharing her excitement that more people are using her favorite reusable water bottle — this gallon-size jug emblazoned with motivational quotes — Kardashian went on a "rant" about single-use water bottles in a multipart Instagram Story. "I see people taking [plastic] water bottles, and they're just pouring it into the gallon-sized reusable plastic bottles so they can consume their water for the day," she said. "That defeats the purpose because those water bottles are just gonna go in a landfill somewhere and potentially cause pollution and we're trying to limit our single-usage [sic] of plastics."
It's a fair point. However, the internet was swift to call out the hypocrisy of Kardashian's newfound environmental self-righteousness, given other extravagant practices of hers that appear, shall we say, less ecofriendly. In particular, people pointed to photos of the recent birthday party Kardashian threw for her daughter True, which featured hundreds of balloons for the 3-year-old. Latex balloons, while biodegradable, can cause significant damage to sea life in the six months to four years it takes for them to break down. There were also questions about Kardashian's well-known love of over-the-top floral arrangements and the negative impact non-sustainable cut flowers have on the environment as a whole. A few people also dug up old organization videos in which Kardashian's fridge and pantries appear stocked with plenty of products encased in single-use-plastics.
Her multipart Instagram Story ends with the note that she's "just trying to help out with the little things that I do know about the environment." Hmm, okay, I guess!
The next day, Kardashian addressed the backlash on Twitter, noting that "people turn[ed] nothing into some thing [sic]." "I am constantly learning and trying to be better for the environment for the sake of my daughter," she said, adding that she wasn't trying to shame anyone's choice. "I am the last one to say that I'm super environmentally conscious because I know how much more I have to learn." She added that she's "always down to learn" and incorporate more sustainable practices into her life. "We all do our part in our own ways," she ended her thread. "I'm proud of us all for doing our best and simply trying."