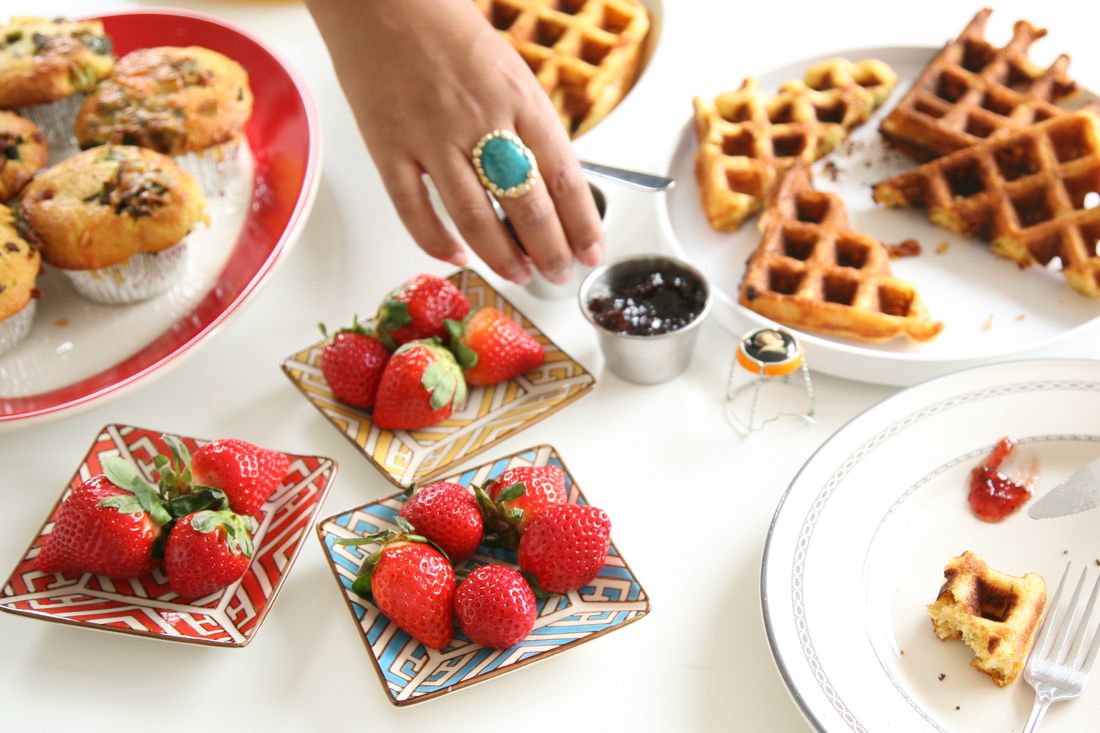 Photo: Davis Thompson-Moss
Embedded in Klancy Miller's work is the somehow-still-radical idea that pleasing oneself is a worthy pursuit — and that in doing so, you also serve those you love. The writer and author of Cooking Solo: The Fun of Cooking for Yourself has mastered the art of elevating everyday experiences into a full-on occasion, whether it's her cookbook's ideas for making simple meals feel downright luxurious, or her love of hosting at-home brunches and dinner parties where an abundant table is matched with proudly dramatic décor (Miller makes a seriously good case for a candelabra).
Miller's latest project, For the Culture: A magazine celebrating Black women and femmes in food and wine, grew out of her desire to read and write a different kind of story — a desire shared by the more than 700 people who contributed to its crowdfunding campaign and made its first issue a sold-out success.
In partnership with Grand Marnier, we spoke with Miller about how she lives the grander life, and in return we got a wealth of ideas for making the little things feel effortlessly, unrepentantly fancy. Perhaps inspired by her years living in Paris and her time in the pastry program at Le Cordon Bleu, Miller's pursuit of simple pleasures — a greenmarket stroll in spring, fresh-cut flowers, a great cocktail served in a pink coupe glasses — add up to a beautiful life.
How would you describe your approach to food?
I think of food as something to pamper yourself with. If I'm busy and over-scheduled, I think of it as fuel. But when I'm at my best, I think food is one of the wonderful pleasures of life. No matter how you eat, whether you're an omnivore or a vegan, we all have the opportunity to experience moments of pleasure with our food.
What inspired you to create For the Culture?
My inspiration came as both a writer and a reader. I love a lot of mainstream publications, and I've often felt Black women and femmes don't get as much attention in the food space. I wanted to experiment — what would it look like if Black women and femmes were the subjects of stories, but also the ones writing the stories and creating the images? What is the gaze of a Black woman and her interest in food, what is that perspective? And as a writer, I often want to write about a person or place that may not be famous, but I think is fascinating. I wanted to give myself and others the opportunity to write and share those stories that maybe wouldn't find a home in a mainstream publication.
What has the response been like?
It's been heartwarming and humbling. I was able to curate and edit stories written by more than 35 people and share a lot of new voices with the world. The feedback has been overwhelmingly positive. It's been amazing.
Was helping people elevate their everyday meals part of your mission in writing your cookbook, Cooking Solo?
Absolutely. One of the foundations of Cooking Solo is that you are just as worthy of a delicious meal as a guest or loved one you would welcome into your home. I heartily believe in being generous to oneself. We're taught to be generous and compassionate towards other people, but I think we should also include ourselves in our capacity for generosity.
I love that. What are your favorite spring meals to make now?
There's a great recipe in Cooking Solo for a lobster pasta salad, pan-seared tuna with sesame noodles and sugar snap peas, and a jalapeño, watermelon, and feta salad I'm a huge fan of. There's a chapter on entertaining friends with a great kale and blue cheese pizza recipe. Those are a few I've been craving lately.
Tell us a bit about how "the grander life" expresses itself through your food.
A key part of the grand life to me is exploring your curiosity with food. I love going to green markets and letting myself be guided by my cravings, my eye, or a sense of whimsy. And I love for things to look colorful and pretty. If I can make a dish that's both delicious and aesthetically pleasing, that feels deeply luxurious to me.
What are your favorite ways to enhance the experience of a nice meal? 
Whether by myself and definitely if I'm having people over, aesthetics are key to creating a pleasurable experience. Having fresh flowers and serving a great cocktail or bottle of wine. I collect candelabras, so I love setting those around with long candlesticks — the way the wax melts, and creates all these funky shapes, it almost becomes a sculpture. It's a very simple thing, but it creates a tone that feels luxurious and celebratory.
What are some of your favorite cocktails to make right now?
The Grand Margarita is a favorite of mine now — it's refreshing and playful, and I love that tartness in any good margarita. It also has a depth and richness thanks to Grand Marnier's cognac notes, which almost give it a caramel undertone. I also love using Grand Marnier as a base for other cocktail experiments — its rich cognac notes lend itself well to champagne cocktails and sangria. They're great cocktails any time of year, but as the days get longer, I love pairing them with a ceviche or the watermelon arugula salad in my cookbook — they're both light, bright, and summery, and let me play with those citrusy, fruity flavors of the Grand Marnier.
Do you have any favorite spins on the Grand Margarita?
Lately I've been curious to add yuzu juice, or substitute yuzu for the lime juice — I have some in my refrigerator now, so that could happen tonight! As a person who was trained in French pastry, Grand Marnier is also something I love to play with. Sometimes I do a simple fruit sautéed with Grand Marnier served with ice cream, or a mixed berry galette with a compote of berries cooked with a bit of Grand Marnier. The pastry chef in me loves it — it's very dessert-friendly.
How do you make the experience of a cocktail hour more aesthetically elevated?
I'm really into stemware. I love serving cocktails from my little pink coupe glasses or flutes. It's part of the ambience. When I break out my nice stemware, I feel like, oh, now it's a party.
What's your favorite way to entertain or host right now? 
I'm a fan of hosting an intimate dinner party, a brunch, or a picnic. I like to make them pretty casual — for brunch I might do a sheet pan of sausages cooked with hearty greens and vegetables, a frittata, and a cheese platter. Or waffles — I'm obsessed with them, I have three waffle makers, so I might make a spicy cornbread waffle, or chocolate waffles with a little lemon extract and lemon zest grated in.
For those of us learning how to entertain again — or for the first time — what advice would you give?
Keep it as simple as possible. It can be just a two-course meal, a salad and a main course. If possible, choose a dish you can make ahead so you're not frazzled finishing up cooking as guests arrive. Invite people you care about, that you're excited about feeding, put on some great music, and honestly, serve a great cocktail. That's something most people can master. As a host it's your insurance plan —  when in doubt, make sure people enjoy what they're drinking.
This advertising content was produced in collaboration between Vox Creative and our sponsor, without involvement from Vox Media editorial staff.