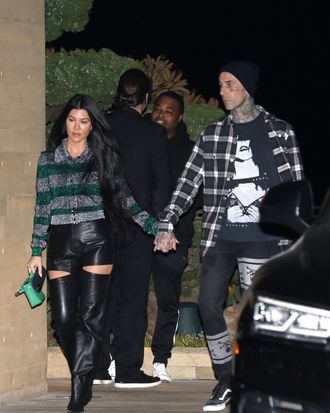 Kourtney Kardashian and Travis Barker
Photo: MEGA/GC Images
As you will likely be aware, what with all the public displays of finger-sucking and sexy inside (?) jokes and nipple tattoos, Kourtney Kardashian and Travis Barker are dating. Boy are they ever. If you would like to know how that is going, we will turn to social media, where Kardashian can be seen communicating her love and support for her drummer BF via a casual show of … sorry, is this spon-con?
On Friday, Barker shared a candid pic of Kardashian to his Instagram Stories. Very little of note is going on in this image: Kardashian looks to just be standing in a kitchen, toying with the strings of a Blink-182 sweatshirt. A public display of merch, cute! Kardashian subsequently reposted the slide, and although both stories have since expired, Us Weekly has screenshots, if you are aching to see for yourself. Anyway, this is all fairly unremarkable, or would have been, if not for the TikTok Kardashian made that same evening. In that clip, she and professional TikToker Addison Rae donned dress-length versions of that same sweatshirt (reportedly $54.90 on the Blink-182 website, should you feel compelled to steal that look) to lip-sync a single by someone named jxdn, an artist signed with Barker's record label. I'm sure that, officially, this is not an ad and all that, but … you are welcome for all the promotional content, sir!
Jezebel heralds this as the possible beginning of a "hawking each other's merch online" relationship stage, which may in fact have started with the Kourtney's orgasm-scented candle. Time will tell. But to my mind there is only one overture left to seal that deal: A little Poosh gear represented on the Barker 'gram, please. Maybe it is some well-placed Vital Proteins x Poosh powder; maybe it is a Positively Poosh Ultrasonic Diffuser. I am just spitballing based on what I see on the website, although personally I would like to see this man with the word "Poosh" splashed across his heavily tattooed chest. Fair's fair! Give the people what they want! Give the people Travis Barker in a little Poosh T-shirt. A specially made snapback would also be acceptable.