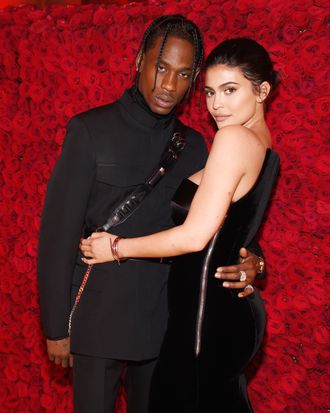 Photo: Kevin Mazur/MG18/Getty Images for The Met Museum/
Well, looks like we have yet another couple to add to the ever-growing list of Celebrity Exes Getting Back Together. There is, of course, Bennifer, and possibly Angelina Jolie and her ex-husband Jonny Lee Miller. Now, it appears Travis Scott and Kylie Jenner might be back together once again.
Tuesday night, the pair and their 3-year-old daughter, Stormi, attended the 72nd annual Parsons Benefit in New York City, where Scott was an honoree. It's the first time the three of them have been spotted together at a public event since Jenner and Scott's reported split in 2019.
During last night's event, Scott ended his acceptance speech saying, "Stormi, I love you, and wifey, I love you." Wifey, you say?? Jenner also posted a photo of the two of them on Instagram seeming to further confirm that she is, indeed, wifey.
Despite plenty of reason to suspect otherwise, Scott and Jenner have been cagey about confirming whether they are actually back together. In October 2019, the two said they were taking a break after being together for two years and even fueling engagement rumors. A month later, there was speculation that Jenner and Drake were dating, but, if that was true, it didn't pan out.
Though they were supposedly still on a break, the couple and Stormi reportedly quarantined as a family last year. However, in March 2020, Jenner's nephew Mason Disick said "Kylie and Travis are not back together" during an Instagram live Q&A. (In related news, Mason is apparently old enough to hop on Instagram live?) Regardless, it appears Mason did not, in fact, have the inside scoop on the couple. In June 2020, Jenner and Scott were photographed out at dinner — oh, to be obscenely wealthy during a global pandemic — marking one of the first times the two were seen together in public since their split. A few months later, Jenner shared a photo of her and Scott playing "dress up" (read: wearing items from a new Givenchy collection) on Instagram.
At the beginning of 2021, some accounts said the two were keeping things platonic while co-parenting Stormi. However, they both went to Miami for Scott's birthday at the end of April, prompting further speculation that they were back together. In May, a source told Entertainment Tonight the two were "messing around" (lol) and that they're "exploring their relationship romantically again." They also were seen together at Disneyland with Stormi. Just a couple weeks ago, Jenner shut down rumors that she and Scott are together but not exclusive, tweeting, "you guys really just make up anything," alongside a screenshot of a Daily Mail headline claiming the two are in an open relationship.
So, are they back together? Are they not? I mean, "Wifey, I love you" doesn't sound very platonic to me.