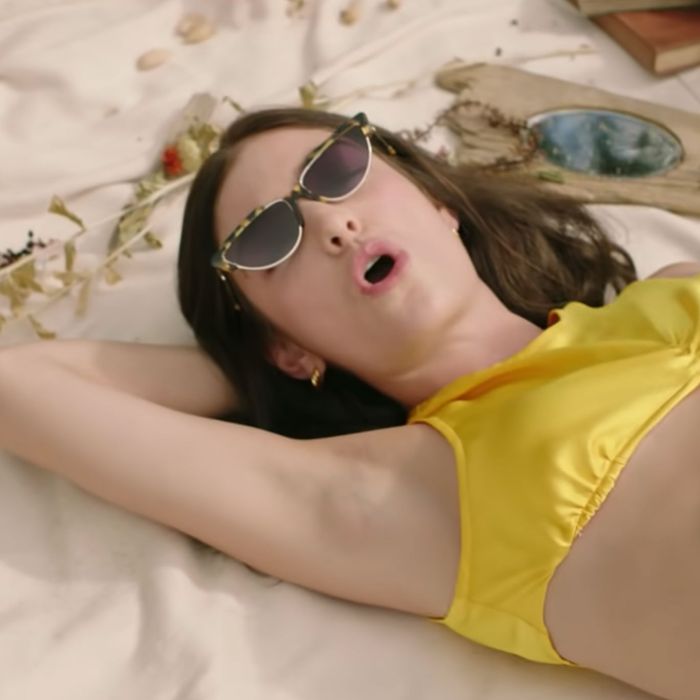 After four years of darkness, the sun shines once again on our bleak planet. Lorde is back with a new single, "Solar Power," and an accompanying music video. Her gospel begins, "I hate the winter." And just like that, seasonal depression has ceased to exist.
Both the song and the video are a romp on the beach, the embodiment of a carefree summer. We've got Lorde in an all-yellow satin outfit that is already sold out, my condolences. We've got the kind of plucky guitar that makes me want to quit my job and live on a sandbar. We've got background vocals from Clairo and Phoebe Bridgers, the Son and the Holy Spirit. We've got lyrics like, "I'm kind of like a prettier Jesus." Does that make me … a hot disciple?
In this new testament, Lorde gives us much to think about. The music video alludes to holy doctrine like Queen's Gambit and Midsommar. It proclaims, "Smoke a bong on the beach, what?" When asked if Lorde can kick it, she responded thusly, "I can." And when there was only one set of footprints in the sand, it was then that Lorde was dancing on a wooden raft like, "Come on in, babe. The water's fine!"
The April return of the infamous onion ring reviews — an anonymous Instagram account dedicated to the crunchy appetizer that was later revealed to be run by Lorde — suggested new things on the horizon, and now, here Lorde is, shining brightly on our faces. This is our collective reward for not losing our faith, a reminder that Lorde always has a plan and that plan probably involves good vibes. I am, yet again, fully indoctrinated in the Church of Ella, ready to spread the good word by playing this song until I fully ascend.