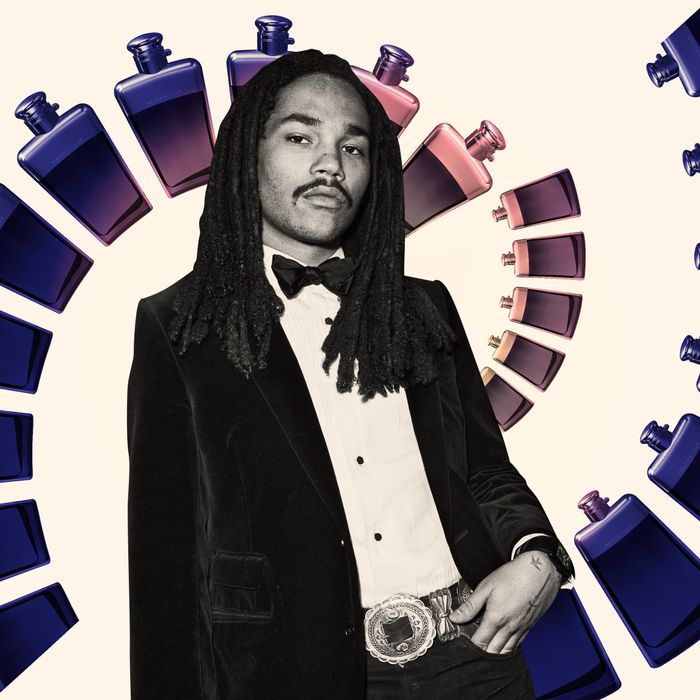 Luka Sabbat.
Photo-Illustration: by The Cut; Photos: Courtesy of Ralph Lauren
Scientific studies confirm that, of all the senses, smell offers the best recall. In "Scent Memories," the Cut asks people about the scents they associate with different times in their lives.
Next up is Luka Sabbat, model, actor, and one of the new faces of Ralph Lauren's newest fragrance, Ralph's Club. Inspired by the brand's September 2019 ready-to-wear show/one-night-only-jazz club of the same name, the sensual eau de parfum offer to bottle your best night out with notes of fresh lavandin and clary sage, warm Virginia cedarwood, and luxurious vetiver. Echoing the OG Ralph's Club spirit of togetherness, Sabbat stars in the new campaign alongside photogenic,real-life friends Lucky Blue Smith and Gigi Hadid, who are all dressed to the nines and ready to party again. The Cut caught up with Sabbat to talk building fires, smelling Windex, and swimming in the ocean.
My first scent memory is: A lot of musky, earthy scents. When I grew up in Paris, my grandmother and my mom would always have a bunch of candles and incense around the house. My grandma's kind of a hippie who always had some really aromatic thing in the house, so I grew up around a lot musk.
Happiness smells like: Water and fresh air. That's a simple scent, but I associate happiness with the great outdoors, being able to breathe properly, and smell everything in nature, et cetera. I prefer freshwater though. I don't know, something about the ocean gives me the heebie-jeebies. It's weird, I can swim, but I'm not a fan of swimming at the beach. There's too many waves. I'll do it, but I'm real careful.
Love smells like: I'm in love now, so it smells like my girlfriend. But I was also raised by my mom and my grandma, so I associate the smell of love with a very feminine scent; something sweet, something fresh. With love, everybody has their own natural scent, so I associate love with that person's personal scent, but it still always has this cut of sweetness that almost all women smell like to me.
Heartbreak or loss smells like: It stinks. This might be mad specific but to me, it smells like tar and rainy concrete, which is intense. I hate heartbreak. I don't like it, at all, so it's hard to associate it to one smell. It just smells like things I don't like. Like a rotten egg or something. Booooo.
Friendship smells like: It smells a lot like Ralph's Club, honestly, which smells like friendship, community, the people around you. Friendship is also male and female. It brings in all different people, so it's this mixture – an asexual smell of greatness.
Regret smells like: Sour, like a lemon. Something that makes you pucker. Something that hits the back of the throat, the back to your nasal passages. Oof.
Success smells like: A lot like what happiness smells like: fresh air, freedom, flowers in your backyard in the morning, trees. I don't think it's a strong smell, though. I can best associate it to a feeling: You know when you're in a nature-y setting, like by the beach, and you wake up, and you do that first stretch in the morning? And you do that big inhale, and you just stretch reeeeally big—I'm actually doing it right now and it feels kind of good. That inhale. That's what success smells like.
The worst smell is: Pickles, olives….anything of that vernacular really doesn't rub me the right way.
My ideal vacation smells like: I'm actually going on vacation for the first time in a long time, and I know it's gonna smell nice. I'll be in the sun, I'll be in the water—stressing it's not ocean water. I'm also a huge fan of the woods. I'm a huge fan of cabining, just being in the middle of nowhere, so the ideal vacation smells like moss, fresh water, flowers, and the density of fog.
My home smells like: Really woody, real smoky. I live in the sticks, basically. I kind of live in the woods; my house is like a cabin, it was built in 1958, and its all wood and glass. I have a fireplace that actually uses real wood, versus you know, gaslit fire, so my house smells real musky, real woody, real smoky. Whenever I make a fire, that smell lingers for a few days on the walls. I love the way my house smells.
The first thing I smell in the morning: My girlfriend's sweet scent, and then I go into my living room and I smell my nice, smoky environment. Unfortunately, sometimes I wake up and I smell my dog because he wakes me up, but he makes me happy, so that's fine.
The last thing I smell before I go to bed: Nobody thinks about this, but you smell so much stuff all day. That's all you do all day, is just smell stuff. At the end of a long day, I just want to go home and smell close to nothing, and maybe just a little something peaceful. My friend gave me these dried leaves that you put in a bowl in one room and it kind of disperses through the whole house, so that's something really nice when I don't want to smell too much.
A scent or smell I love that other's usually don't: I like the smell of like bleach, weirdly. Or whenever my housekeepers use Windex, I like the aftermath of that. You know what I mean? I don't like Windex and bleach, but I do like when my house is freshly clean and I can tell everything is just disinfected to a T. It's like mmm. Mmm-mm-mm. It's a scent that signifies I know it's clean. Like, I can eat off my bathtub, you know? I could eat a doughnut off of my window. I don't even think that's possible, but I could do it, you know?
I smell like: Ralph's Club. I smell real good. I think it's a powerful fragrance, but it doesn't do too much. To me, it smells classic. I could wear it at an event, I could wear it on a regular-day basis. It kinda fits in almost any room you put me in, which is the best. I spray it twice in my general chest area, then once on my wrist. It's the last thing I do before I leave the house.