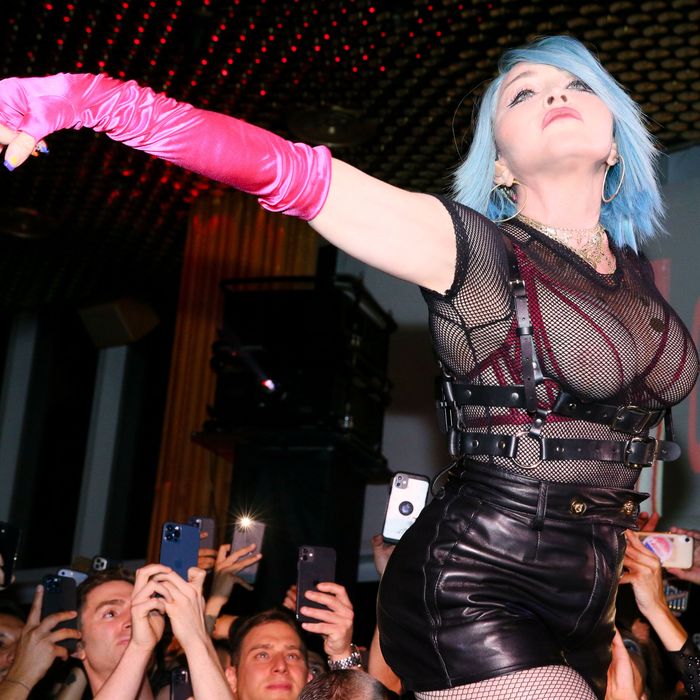 They're "Hung Up" on her!
Photo: Matteo Prandoni/BFA.com
It was the Standard's post-pandemic Pride Week party, with DJ sets by the Misshapes, Honey Dijon, Kaytranada, and disco god Eli Escobar, but by Thursday night, everybody thought of it as a party for, by, and about Madonna. "God is Cuming," Madonna had posted three days before; she was going to be there. Would she sing? Her faithful fans crowded outside the door of the Standard High Line, desperate, after months and months away, to cram maskless into elevators to go up to the Boom Boom Room on the 18th floor. And truth be told, God seemed as exultant as any of the rest of us to finally get out of the house. "On a positive note," she said when she finally appeared striding the bar in leather boots, sometime past 1 a.m. "This is the first time I've been to a fucking party with people."
But that was later: There were hours of pent-up nightlife FOMO jostle to get through before that. Downstairs, the door was a madhouse of frantic texting to get in. It was a (mostly male) mass of metal-mesh tops, visible thongs, and the kind of obliques that are worried into deep-grooved submission by multiple daily gym visits. ("Hi, gay!" one reveler chirped to another as I approached.) June comes but once a year, and the pride this Pride, after a year inside, is strong.
Ascending to the front was a mix of gay- and gay-adjacent celebrity — Indya Moore and Andy Cohen and Hari Nef and Anderson Cooper and Adam Lambert and Bowen Yang and Zachary Quinto and most of the past season of RuPaul's Drag Race — as well as the skater turned actor, Evan Mock, who is straight in real life but plays less so on the reboot of Gossip Girl. Upstairs, the press to the bar was so sweaty and close, the various VIP zones so strictly cordoned off that many people gave up and took refuge in the other club on top of the Standard, LeBain, or up on the roof; from what I heard, many weren't let back into the inner sanctum. (The other rumor: It was so difficult to get to the bathroom that people relieved themselves in their cups, one of the hazards of an open bar.) On giant screens around the perimeter of the Top of the Standard flashed sans-serif instructions — RESIST, NO FEAR, COURAGE — in bloody red, a strident call arms to REBEL with ACT-UP era graphical urgency. Fear? Tonight, they had nothing to fear but the door line itself.
COURAGE is Madonna's message, slipped on with her new baby-blue hair. It's the theme of the video she created with Ricardo Gomes, the photographer and creative director she elevated two years ago from a behind-the-scenes shooter on her Madame X tour documentary and brought into her entourage to be her unofficial photographer, and the director Sasha Kasiuha. At 10 p.m., it screened over Times Square, on NASDAQ's giant displays. Just before she took to the Boom Boom bar, it screened at the Standard too. "The video has a message that she's been fighting for since the beginning of her career, which is freedom. Fighting, believing in yourself and who you are, and, you know, being strong," Gomes told me. (A teaser clip of the full video is below.)
But when God cums, she cums to sing. There on the bar, in the blue bob from the video, a corset top with NOT MY PRESIDENT spelled out in studs on the back, and a mesh shirt of no overwhelming modesty, she launched into "Hung Up" and "I Don't Search, I Find," before turning auctioneer, selling off signed Polaroids of herself to guests to benefit the Ali Forney Center and Haus of Us. (More are available online here, to benefit the Hetrick-Martin Institute.) Instagram the next day groaned under the weight of a thousand shaky, adoring videos.
Was it the New York we missed? Yes and no. The impossible crush, the hot breath of every tertiary acquaintance humidifying the air, the entrance melee, the shut-up bathrooms? Nostalgia might have shined those memories a little sweeter than they were. ("manhattan gay club Coke roach vip wristband friends-getting-separated doorman ipad mobscene is one "New york"—it turns out—i don't want 'back' lol," tweeted Hari Nef in the cool calm of today, who last night had been bouncing around the VIP section kibitzing.) But not for Madonna. Many guests filed out around 2 a.m., brought back to life. She headed to Le Bain, the adjoining club, and worked the dance floor for hours more.
Then there was the question of what it all meant. The next day, I received word handed down from M herself. She asked that we quote her in full, if we quote her at all, so here you go:
"It is crazy, but with all the sacrifices, all the marching in the streets, all the protests, all the compromises, all the lives lost, all the relentless negotiations and all the bills being passed by legislation, the LGBTQ community is still fighting for their rights and their freedom. It is at this very time, as Republicans in the Senate are trying to set us back by stalling bills being passed, that we must never let our guard down and think, "Oh it's done. The fight is over." I made those videos to continue to inspire people to be fearless, to continue to have courage, and to continue to be brave and to continue to fight not for special rights but for equal rights. That has always been my mission statement, that we should all, every human being on this planet, be treated with human dignity and respect, regardless of our race, gender, sexual preference or religious beliefs. Nothing has changed for me since day one. I started the minute I landed in New York, and it has not ended. The videos were my way of inspiring people in an artistic way that is fun to watch and eye-catching. They are fun to watch in an elevator or in Times Square, if I should be so lucky to have that privilege. I consider those videos made by Sasha Kasiuha and the whole party that was organized by Ricardo Gomes to be a great success and I am just going to keep fighting, fighting for what I believe in and helping others to give them a voice and fight for what they believe in."