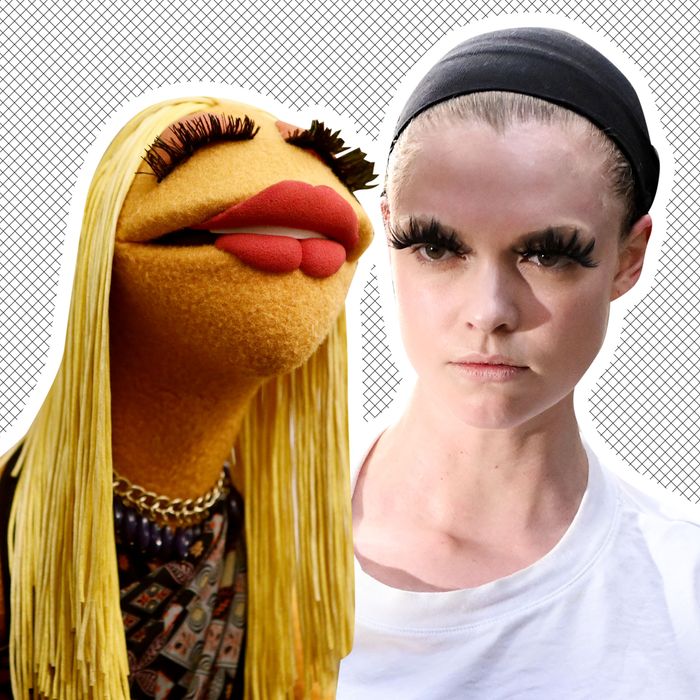 Eyelash icon Janice and a model at Marc Jacobs fall 2021.
Photo-Illustration: by The Cut; Photos: Getty Images
Muppets have long been fashion icons, but Marc Jacobs's fall 2021 show reminded us they make excellent beauty muses, too.
Yesterday, models took Manhattan looking like one very cool Muppet in particular: Janice, Electric Mayhem's lead guitarist and noted eyelash icon. Janice's lash look is quite aspirational considering she literally has two strips of eyelashes for eyes, but backstage, Diane Kendal was able to create an eyeball-friendly look that got as close to the Muppet's signature style as humanly possible.
Kendal kept the majority of the makeup to a minimum, mostly using it to mute brow hairs and keep them from competing with all the lash hairs (another choice the famously eyebrow-less Janice would approve of). Then ginormous, feathery, brow-bone-tickling false eyelashes were affixed to every models' eyelids. The resulting eye bangs were long enough to peek out from underneath the winter collection's hats and hoods and flutter over face-masking turtlenecks. They were also hefty enough to remain extremely visible from afar and even from the side, which is how the show was shot.
Like those high-fashion cat's-eyes that are great for people who are bad at cat's-eyes, these lashes take up so much eye real estate that they're hard to mess up. If you have a nervous, shaky hand; struggle to get that glued strip to sit just right; or just seem incapable of picking fake lashes that pass for real ones, well, now's your time to shine. Just grab a few pairs that are doing the most and go to town layering them until they can be seen from at least across the street. When in doubt, it helps to ask WWJD (What would Janice do?).