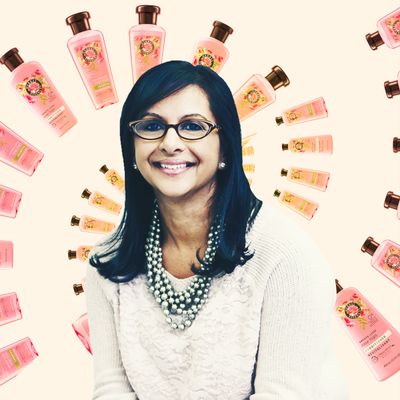 Zerlina Dubois.
Photo: Courtesy of Procter & Gamble
Scientific studies confirm that, of all the senses, smell offers the best recall. In "Scent Memories," the Cut asks people about the scents they associate with different times in their lives.
Next up is Zerlina Dubois, master perfumer at Procter & Gamble. Over the past 34 years, Dubois has created many of the bathroom-shelf scents that soften your limbs, freshen your pits, and turn your shower into a heavenly smelling escape, like the fragrances she formulated for the Herbal Essences shampoos and conditioners of the '90s and early aughts. The botanical-inspired brand is celebrating 50 years of fragrant hair flips, so the Cut caught up with the woman behind shiny, scented hairstyles worldwide to talk spices, swimming pools, and a flower that smells like skunk.
My first scent memory is: Smelling Indian spices in the kitchen. My parents are from India, so I'm first generation, and I grew up on the East Coast, outside of Boston. Growing up with an Indian family, my mom did a lot of Indian cooking; I still do a lot of Indian cooking, and I still love the smell of turmeric and cardamon. Those smells really bring back great memories of having a chai tea with my mother. Spices are big in my life. The argan oil Herbal Essences products actually have a garam masala note in the fragrance, which comes from my Indian heritage and my background.
Happiness smells like: Salty beach air, suntan lotion, and the breeze. I grew up going to Cape Cod every summer and I now have a house there, and to me, happiness is when I sit on the beach with that beautiful sunset, and can smell all those scents. That is my happy place.
Love smells like: When I started dating my husband, which was a long time ago, he gave me a bottle of Anais Anais for our first Christmas together. I still connote that smell with love, and I actually still like the smell of it; it's a very pretty, floral green. But I also will say love smells like rose. Every woman loves the smell of rose. I was taught by some of the best perfumers in the world in Grasse [France], and I was always taught that you always put a touch of rose in there, because it reminds you of getting that bouquet, it reminds you of those special occasions. Before the pandemic, I was able to travel to Kew Gardens, and they have this beautiful rose garden of 250 roses that I got to smell and experience, and there really is just something about rose.
Heartbreak or loss smells like: A hospital. My youngest son was born with a heart condition, so we did a lot of visits to the children's hospital. He's had two open-heart surgeries. He's doing great now; he's 25, he plays ice hockey, but the stress of going into a hospital, sitting with him, and handling all that … Whenever I walk into a hospital, just the smell of it still gives me that stress.
Friendship smells like: Making and mixing fun cocktails, like a French 75, which is gin, lemon, and fizziness, which I love. I also really like the smell of gin, because it's a bunch of botanicals that you can really explore. I was able to go on a trip to Oregon, where I got to go to some distilleries and see and smell how the different gins were made.
Regret smells like: I don't think there's one smell of regret, but it's oftentimes those scents I wish somebody liked, or scents I wish went further. I like to be bold and create really unique and fun stuff; I love to overdose things and push it as far as I can, and regret is when it stops. As perfumers, we're artists, creating all the time, and we have people criticizing us all day, telling us, No, we don't like that, or No, that's too stinky. I teach my perfumers that you have to have big shoulders, because people are going to tell you you suck all the time. Like right now, I'm working on a lot of cool, creamy banana fragrances, but will it go anywhere? Will Herbal take a banana? I'm trying. We'll see!
Success smells like: The fragrance that's in the Herbal Essences White Grapefruit and Mint line. That fragrance has done really well, and it's one that I feel really proud of, and that I'm very happy with. It's a really bright, citrusy fragrance that's got a little nuance with that fresh mint. I love natural things; the smell of real plants, real fruits, real flowers. That's what I really try to capture, and that particular one is very natural smelling.
The worst smell is: Skunk. I am really sensitive to sulfur smells. There are a couple of skunks under my deck, so during the pandemic, I've gotten even more familiar with skunk, and it's … not fun. The smell is so powerful and it just lingers. There are people who like it, though. Have you ever smelled a marigold? The compounds in a marigold smell similar to a skunk, believe it or not.
My ideal vacation smells like: That coconut smell of sitting on a tropical beach with a piña colada.
My home smells like: Breakfast every morning. It's one of my favorite meals, and I love that smell in the house — coffee and a whole breakfast, whether it's pancakes, or eggs, or bacon. I like making my own candles as well, so my home also has a very clean smell of jasmine, white tea, aloe, and that watery, cucumber smell. Very clean and crisp.
The first thing I smell in the morning: Aside from freshly ground coffee, that white grapefruit and mint shampoo. I love getting in the shower in and using that in the mornings because it's very energizing; it really does wake you up.
The last thing I smell before I go to bed: My facial routine. I have a big one because I'm very into beauty products and I work in the beauty business. Even though they're not all our products, as a perfumer, I end up buying tons of products to smell, so I understand the market and keep up with what our competition is doing. There's this huge niche fine fragrance business in skin care, so I'm always smelling and trying. Typically, my favorite products have a lavender undertone though; I like having that light little touch of lavender before I go to bed.
A scent or smell I love that others usually don't: The smell of a swimming pool. My daughter was a competitive swimmer who swam from the age of eight 'til the age of 22, so I spent a lot of time at the swimming pool. She doesn't want to smell it ever again, but I like that chlorine smell! It reminds me of those times I spent with her.
I smell like: I smell clean, I hope! [Laughs]. As a perfumer, we don't get to wear scent much. I can't wear it to work, so I don't wear a lot of fine fragrances unless it's a special occasion, and even then, I am particular. I don't like when people don't smell clean, but then I don't like people who wear a lot of cologne, either. It needs to be somewhere in the middle, so when I can wear something, I like a gentle, white floral with a touch of aloe and tea — things that smell natural, yet clean. I probably usually smell like all the beauty products I'm wearing, though: the morning shampoo, mixed with all the other beauty products, and hairspray, which is always the last thing I put on.