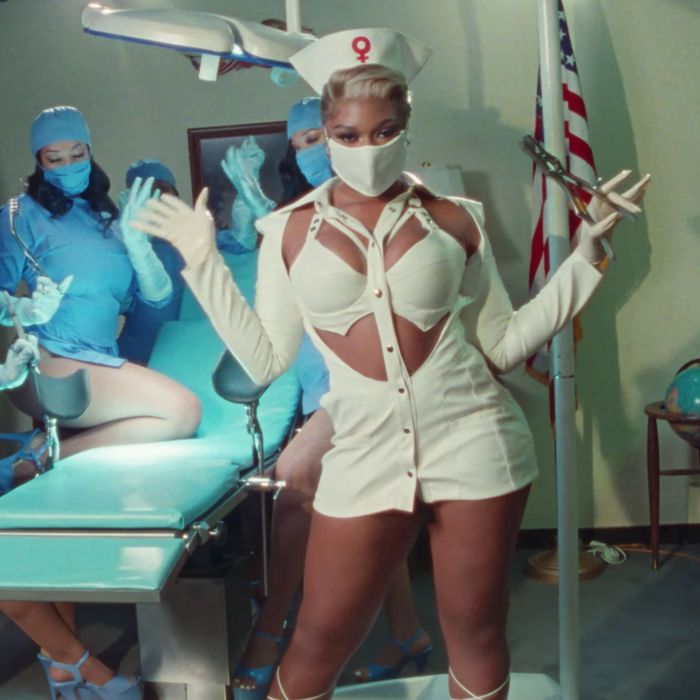 Photo: Megan Thee Stallion/Youtube
Yeehaw, Stallions, it's time to get slutty. Megan Thee Stallion just dropped the music video for her new single "Thot Shit," and it's butts abound. She's shaking ass on a garbage truck. She's shaking ass in the cereal aisle. She's shaking ass in boardrooms, on diner counters, in operating rooms, and atop cop cars. Nary a surface is safe from Megan's ass.
The video opens on a generic (presumably) conservative congressperson trolling the comments on the music video for another ass-heavy Megan Thee Stallion bop "Body." He calls the women in the video "stupid regressive whores" who "should have their mouths washed out with holy water." It's not far off from actual comments that actual congressmen have made about the rapper's unimpeachable collab with Cardi B, "WAP." Tina Snow, the rapper's alter ego, whom she's previously described as "raw version of Megan," pops in to absolutely rip this congressman a new one — more on that later.
"The women that you accidentally tryna step on, are everybody that you depend on," she says. "They treat your diseases, they cook your meals, they haul your trash, they drive your ambulances, they guard you while you sleep. They control every part of your life. Do not fuck with them." Then, in very Mean Girls fashion, the congressman in the video is hit by a truck. He survives and is tortured by Megan Thee Stallion and her ass for the next four minutes.
In a personal favorite set of lyrics, Megan says, "I walk around the house butt-naked / And I stop at every mirror just to stare at my own posterior." Later, she harkens back to this line saying, "Lookin' in the mirror like, 'Damn, I don't brag enough.'" Megan Thee Poet Laureate.
The video ends with, shall we say, the aforementioned "new one" Megan Thee Stallion has ripped for this man. Though it's not exactly the orifice you may be expecting. Do not fuck with the women, indeed.