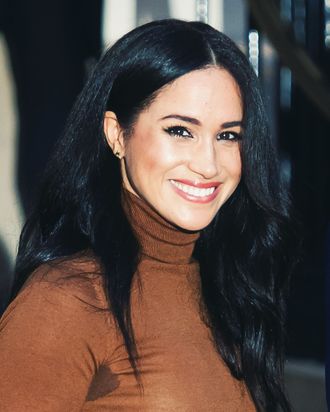 Meghan Markle, most newsworthy celebrity beauty icon.
Photo: Samir Hussein/WireImage
If Meghan Markle ever decides to get back into blogging, she'll be able to recite the standard vlogger refrain, "a lot of you have been asking," with confidence and conviction, because she's got the stats to prove it.
According to a new study analyzing Google News data by Australian beauty retailer RY, it turns out a shit-ton of us have been asking, and writing, and reading about her beauty routine. After studying the keywords "hair," "makeup," and "skincare" alongside a list of 232 celebrities' names, the subsequently crunched numbers revealed that Markle's beauty regimen spurred the creation of a casual 88.5 million news articles between April 2020 and March 2021.
With those numbers, the Duchess of Sussex has been crowned "most newsworthy celebrity beauty icon," beating out famously famous Kim Kardashian (71,280,000 articles), French-braid influencer Taylor Swift (60,652,000 articles), Khloé Kardashian (39,719,000 articles), and noted beauty enthusiast Jennifer Lopez (28,724,000 articles). Rounding out the top ten are Kourtney Kardashian (25,396,000 articles), Beyoncé (21,637,000 articles), Markle's sister-in-law and repeat No. 1 U.K. beauty icon Kate Middleton (21,637,000 articles), aspirational face-washer Kylie Jenner (17,769,000 articles), and bangs influencer Britney Spears (16,186,000 articles).
Considering the majority of what we know of Markle's glow-y beauty routine is from her pre-royal Suits-era interviews, now-defunct Tig posts (RIP), and her makeup artists, it makes sense that millions are so intrigued about how she gets her skin and hair and makeup so good. If Google brought you here from such a query, my condolences, but for your troubles: She's previously sung the praises of lots of Tatcha goodness, Oribe dry texturizing spray, Jan Marini in general, NARS Orgasm blush, RevitaLash, Touche Éclat, Nivea firming lotion, and a whole lot of Dior (on special occasions). But you might want to keep Googling; there's a good 80 million or so articles out there that can better help.