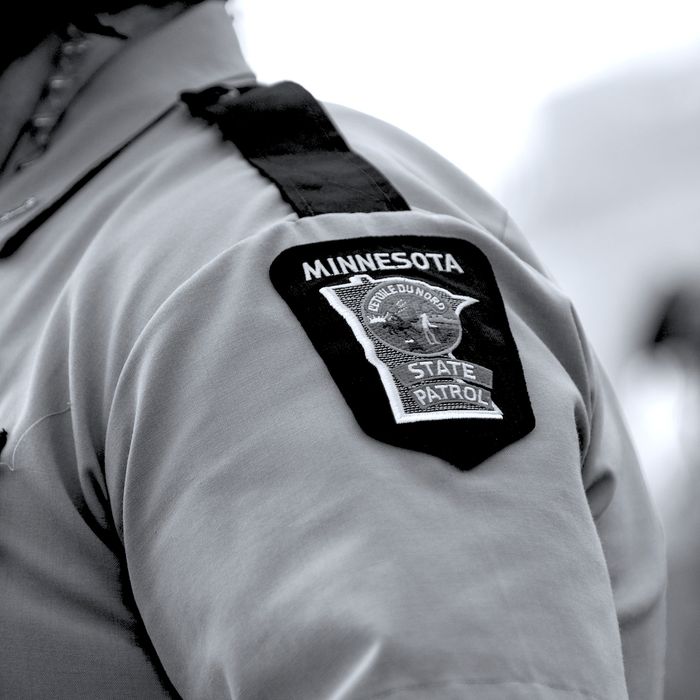 Albert Kuehne reportedly went through her phone, without her consent, while she was receiving medical attention.
Photo: Stephen Maturen/Getty Images
A former Minnesota state trooper has pleaded guilty to stealing a woman's nudes while he detained her — or, more accurately, while paramedics examined her in the aftermath of a minor car accident, and the cop had a moment alone with her iPhone.
Vice reports that 37-year-old Albert Kuehne stopped a 25-year-old motorist on March 25 of last year, on suspicion of driving while intoxicated after she got into a single-car crash. Per a criminal complaint, video from inside Kuehne's patrol car shows him commanding the woman, "Give me your phone." She complied, and as she received medical attention, he went through her device without her consent, sending himself three images in which the woman was "either nude or partially nude," according to the complaint.
Kuehne may have gotten away with the photo theft, had the woman's boyfriend not noticed odd outgoing texts on her MacBook a few hours later. She had linked iMessage to her laptop, and although Kuehne apparently deleted records of the outgoing pictures from the woman's phone, they still showed up on her computer. Detective BF called the unknown number that received the pics, and according to the complaint, the person who picked up eventually identified himself as Kuehne. The woman got a lawyer, who reported the matter: Investigators with the Minnesota Bureau of Criminal Apprehension triangulated records from the phone, laptop, and video from the cruiser. Kuehne was arrested in June 2020, having been put on (paid, administrative) leave the month before. State patrol reportedly fired him roughly four months later.
Originally, Kuehne faced two counts of felony stalking with bias, but after taking a plea deal, will be sentenced on one misdemeanor charge of nonconsensual dissemination of private sexual images. In a statement, Col. Matt Langer told KSTP that "we hold troopers to a high standard, and the conduct outlined in this complaint is reprehensible and inconsistent with the core values of the Minnesota State Patrol," but as the Washington Post points out, this is not Kuehne's first infraction.
In 2018, Kuehne and another trooper pursued a speeding suspect off an interstate and through a residential section of north Minneapolis, a high-speed chase that ended with the driver plowing into a playground and injuring three young children. All survived, but the Hennepin County Attorney subsequently suggested the incident showed questionable judgment on law enforcement's part.
And then, as Jezebel points out, this particular form of police misconduct isn't unique to Minnesota State Patrol. In 2014, a California Highway Patrol officer did the exact same thing, but took it one step further. He forwarded pilfered photos of a woman in a bikini to a number of his colleagues and asked one to get him back "down the road buddy." I don't know about you but … I hate it here!