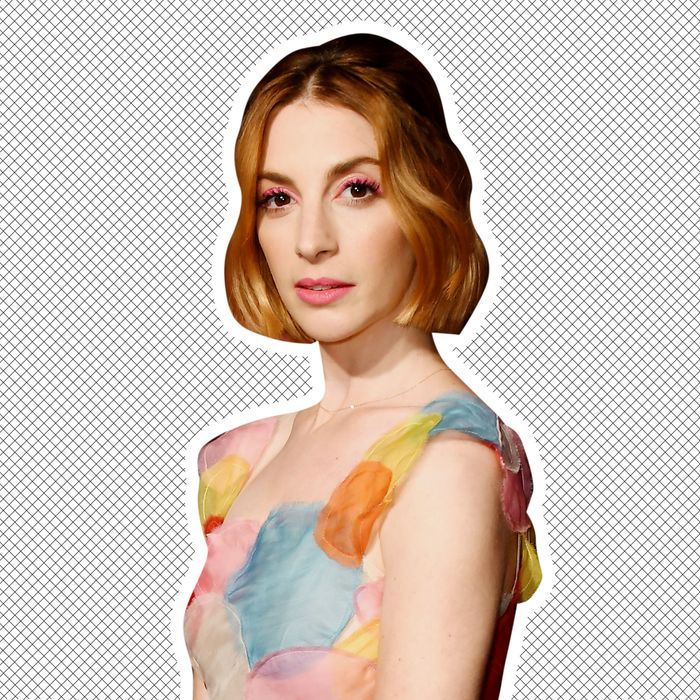 Photo-Illustration: by The Cut; Photo: Getty Images
Molly Bernard just finished a seven-season tenure playing one of television's most delightful queer characters — the bubbly, funny publicist Lauren on TV Land's Younger. Lauren's pansexuality isn't her defining characteristic, but her fluid approach to love feels refreshing in a media landscape where there still isn't a lot of representation for those whose sexuality can't be easily defined. Next up for Bernard is the film Milkwater that takes on a different viewpoint of queer relationships.
Bernard says many of her favorite shows have a similar quality. She counts herself a big fan of The L Word: Generation Q and is a self-described "Bette-aholic." Her latest obsession is Andréa Martel on Call My Agent, whom she calls "a powerhouse agent — a lesbian and hot and smart and messy." The Cut talked to Bernard about her earnest love of Pride, Boy George, and the art that has shaped her.
I was 11 when I saw Mulholland Drive [for the first time]. And there's that gorgeous sex scene with Naomi Watts. I remember watching it, being like, Okay, I love this film. I was way too young to watch it. That was one of the first like, Oh, okay moments. Here's the thing, I did date men for most of my life, and my partner who I'm marrying, Hannah, she's the first woman I really ever dated. I always have crushes on girls, but I also had crushes on boys. That sex scene in Mulholland Drive is a lamppost.
The Birdcage was my favorite movie, and there was just no other club I wanted to be in. I want to always see Hank Azaria, like, unable to wear shoes with his little booty shorts and the wig, Robin Williams being the butch, and Nathan Lane piercing the toast. Hannah and I are Nathan Lane and Robin Williams. I am fully Nathan Lane. The Birdcage is the truest love story.
My favorite book in the world is The Argonauts. I wish I had read it when I was young. I wish that book was out when I was young because I felt like a teenager again when I read it. I got it when I was 25 or 26 and it was before I was dating women. It was the book of my soul. I felt like this is a book about love and queer love and the journey from being a person without a child to having a child. That book, there's nothing else like it.
This is where I get weird. See, this is why my references [are what they are] because most of gay culture was gay men. As a kid, when I was around 9, I was obsessed with Boy George. So much so that at the day camp I went to when I was 10, I asked to go by "Boy George." And everyone was like, Okay. I'm a gay man is what I'm saying. Sexuality is so complicated.
Pride
My favorite thing in the world is Pride. I love going to Pride. I really love the Dyke March. I am not like a radical lesbian by any means, but I am a radical and I am queer. So the intersection of, like, politics meets the struggle for the liberation that we now have and all that entails — I'm a context gal and a bit of a history nerd, so context is everything. And knowing where we came from and where we are now and the history of what it took to get here. Whenever I go to the Dyke March, I go with my moms. I have two moms, and they have their old gay friends and I rage with them. For me, it's the most meaningful in the deepest part of where I identify with their culture. Yes, there's a bunch of mainstream stuff but also the Valerie Solanas of it all. The intersection of feminism and queerness and lesbians and radical politics is very interesting to me.