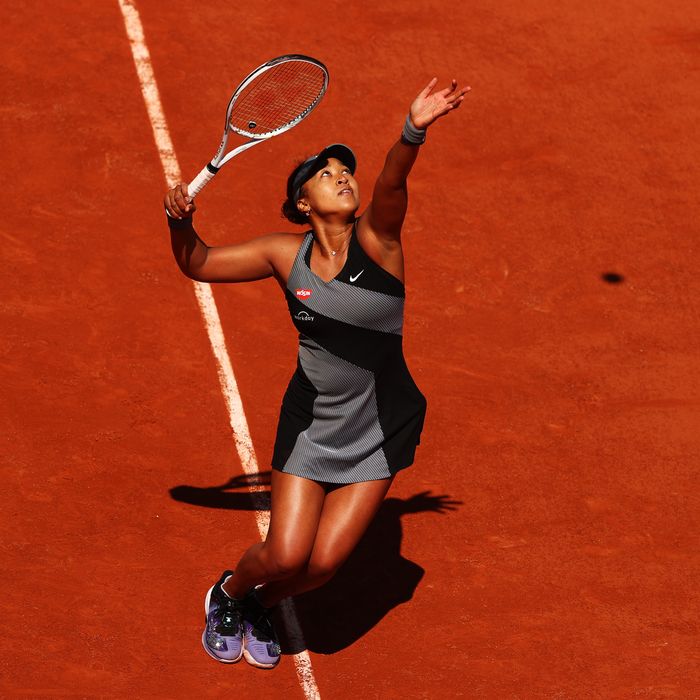 She has decided to focus on her mental health ahead of the Olympics.
Photo: Getty Images
Naomi Osaka will not compete at Wimbledon this year, her agent explaining in a statement on Thursday that "she is taking some personal time with friends and family." Despite the withdrawal, the statement promised: "She will be ready for the Olympics and is excited to play in front of her home fans."
As the BBC reported earlier today, Wimbledon organizers say they have been in touch with Osaka's team — and with other players — about how to improve "media operations" ahead of this year's tournament. Last month, Osaka announced that she would not participate in post-match press during the French Open, citing the detrimental effect the contractually obligatory process can have on athletes' mental health. The decision cost her $15,000 in fines, with officials behind three other Grand Slams joining the French Tennis Federation in threatening "tougher sanctions" if she continues to decline doing press conferences.
Osaka, currently ranked as the number two women's tennis player in the world, then pulled out of the tournament altogether. Explaining her decision, she said that she has "suffered long bouts of depression since the U.S. Open in 2018," when the crowd booed her win over Serena Williams. Adding that speaking with media causes her massive anxiety, she said she planned "to take some time away from the court." She also exited the Berlin WTA 5000 grass-court tournament shortly thereafter.
All England Club chief executive Sally Bolton told the BBC that officials had "started a consultation" about potential press improvements, noting that it "needs to include not just the players, but the media and all of those engaged in that space." The tournament's director, Jamie Baker, added: "We're here, we're completely open for any discussions when they [meaning Osaka's camp] want to have that." Osaka nonetheless opted out.
Truly, the post-match press circuit can be harrowing: She was not wrong to point out, in her initial announcement, that athletes often break down in tears as reporters relentlessly probe them on difficult performances. And as Vox notes, Osaka herself has repeatedly been made to answer bumbling questions attempting to qualify her race, ethnicity, and identity. This line of inquiry is far from uncommon in a sport that remains predominantly white, which may explain a number of her fellow players quickly came out with statements of support.
"Having to take a step back and say, 'Hey, I need to do this for me', we should support her and applaud her, because a lot of people wouldn't do that," Sloane Stephens, a former US Open champion and WTA Players' Council member, said of Osaka's decision. "We should be more accepting and allow her to take the time she needs to work on herself and better herself so she can be in a better position to play tennis and be happy and enjoy her tennis."