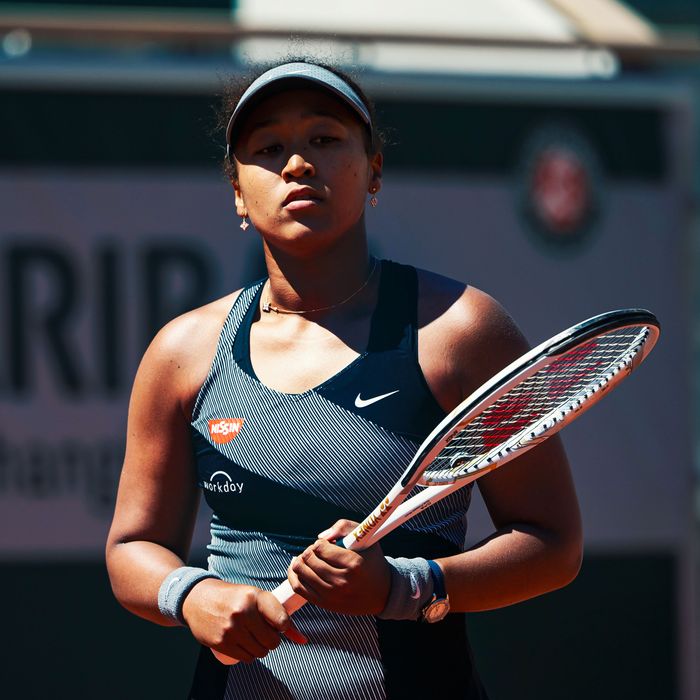 Tennis player Naomi Osaka.
Photo: TPN/Getty Images
On Monday, tennis star Naomi Osaka dropped out of the French Open after a week of confrontation with tournament officials over whether she would participate in press events. In an Instagram post, Osaka announced her decision to withdraw, citing mental-health concerns including depression and anxiety. As the New York Times reports, this is the first time a tennis player with the level of acclaim and attention as Osaka has quit this big of an event for reasons other than a physical injury. Osaka is currently the highest-paid female athlete in the world, having surpassed fellow tennis star Serena Williams, who held the title for four years, in 2019.
So, what exactly happened?
It started when Osaka said she wouldn't be participating in press.
Last week, four days before the French Open, Osaka announced she wouldn't take part in the tournament's media rigmarole. In a since-deleted Instagram post, Osaka said she felt like the process, especially after a loss, was like "kicking a person while they are down," adding that she'd watched too many people break down crying during press meetings. It's a fair and accurate assessment, as is evidenced by many sports press conferences.
"If the organizations think they can keep saying, 'Do press or you're going to get fined,' and continue to ignore the mental health of the athletes that are the centerpiece of their cooperation, then I just gotta laugh," Osaka wrote, per the Times. She said she'd accept any fines incurred from her choice and requested the money be donated to mental-health charities.
Organization officials were not happy, to say the least. "I think it's a phenomenal error," Gilles Moretton, president of the French Tennis Federation, told French sports publication L'Équipe, as translated by the Times. "What is happening here is in my view not acceptable. There are rules. There are laws. We will stick to the laws and the rules on the penalties and the fines." He said the choice is "very damaging to sport, to tennis, to her probably," adding that "she's hurting tennis. It's a real problem." (Osaka is currently worth an estimated $55 million with new brand deals still rolling in. Suffice to say, I think she'll be just fine.)
It's far from the first time an athlete has expressed disinterest in participating in press interviews. A personal favorite protest of mine happened before the 2015 Super Bowl, when Seattle Seahawks player Marshawn Lynch responded to every single question on Media Day with the same answer: "I'm just here so I don't get fined." He, indeed, was not fined. Osaka, however, did receive a financial penalty.
When she skipped a postgame press conference, Osaka was fined $15,000.
After Osaka won her first-round match, she didn't come to the postgame press conference, just as she'd said. As expected, Osaka incurred thousands of dollars in fines for not participating in the interviews. Then, officials insinuated there'd be greater punishments if Osaka continued avoiding the press.
In a statement signed by leaders of the four Grand Slam tournaments, of which the French Open is one, Osaka was warned that she risked stronger consequences if she didn't show up to future press events as "repeat violations attract tougher sanctions." She was threatened with larger fines and suspension from the tournament.
However, Osaka didn't avoid the press altogether. After her win, Osaka answered a few questions during an on-court interview with Japanese broadcaster Wowow, which currently has a contract with the tennis player, as the Times notes.
In response to Osaka's comments on the impact press conferences can have on athletes' mental health, organization leaders deflected blame. In their statement, French Open officials said they "tried unsuccessfully to speak with her to check on her well-being, understand the specifics of her issue and what might be done to address it on-site." Osaka has not responded directly to their comment.
Osaka is not the only top tennis player to skip postgame news conferences. In 2015, Venus Williams was fined $3,000 after declining to participate in a French Open news conference following a loss. In 2010, Venus and Serena Williams were fined $4,000 each for skipping a Wimbledon news conference.
Now, she's pulled out of the tournament altogether.
"I think now the best thing for the tournament, the other players, and my well-being is that I withdraw so that everyone can get back to focusing on the tennis going on in Paris," Osaka wrote in an Instagram post on Monday. "I never wanted to be a distraction and I accept that my timing was not ideal and my message could have been clearer."
In her announcement, Osaka also spoke about her mental health. "The truth is that I have suffered long bouts of depression since the U.S. Open in 2018 and I have had a really hard time coping with that," she said, referencing her 2018 win over Serena Williams in which the crowd booed Osaka during the trophy ceremony. "Anyone that has seen me at the tournaments will notice that I'm often wearing headphones as that helps dull my social anxiety," she wrote. "Here in Paris I was already feeling vulnerable and anxious so I thought it was better to exercise self-care and skip the press conferences."
Moretton said her withdrawal was "unfortunate" and wished Osaka the "quickest possible recovery," per the Times. In a statement from organization leaders, he also said, "We are sorry and sad for Naomi Osaka. We remain very committed to all athletes' well-being and to continually improving every aspect of players' experience in our tournament, including with the media, like we have always strived to do."
This is not the first time Osaka has withdrawn from an event. Last summer, Osaka said she wouldn't play her semifinal match in Cincinnati's Western & Southern Open in an effort to redirect attention to police brutality. Her decision came shortly after Jacob Blake was killed by police officers in Kenosha, Wisconsin. Osaka has previously spoken out about police violence against Black people. During the 2020 U.S. Open, Osaka wore different face masks, each with the name of a Black person killed by police or vigilantes.
Fellow athletes and celebrities have already spoken out in support of Osaka.
Other athletes have already expressed support for Osaka's decision. "Stay strong. I admire your vulnerability," fellow tennis player Coco Gauff tweeted. "You shouldn't ever have to make a decision like this," Steph Curry tweeted, "but so damn impressive taking the high road when the powers that be don't protect their own."
Though Serena Williams has expressed mixed feelings on the pressure of interviews, she showed support for Osaka's decision to "handle it the way she wants" to preserve her mental health. "I feel for Naomi," Williams added. "I feel like I wish I could give her a hug because I know what it's like. I've been in those positions." Earlier this year, Serena Williams left a postgame conference in tears after losing to Osaka at the Australian Open.
Major brands and sports sponsors have also come out in support of Osaka's announcement. Nike, which has a sponsorship deal with the tennis player, released a statement saying, "Our thoughts are with Naomi. We support her and recognize her courage in sharing her own mental-health experience."
Osaka hasn't said when she plans to return to the court.