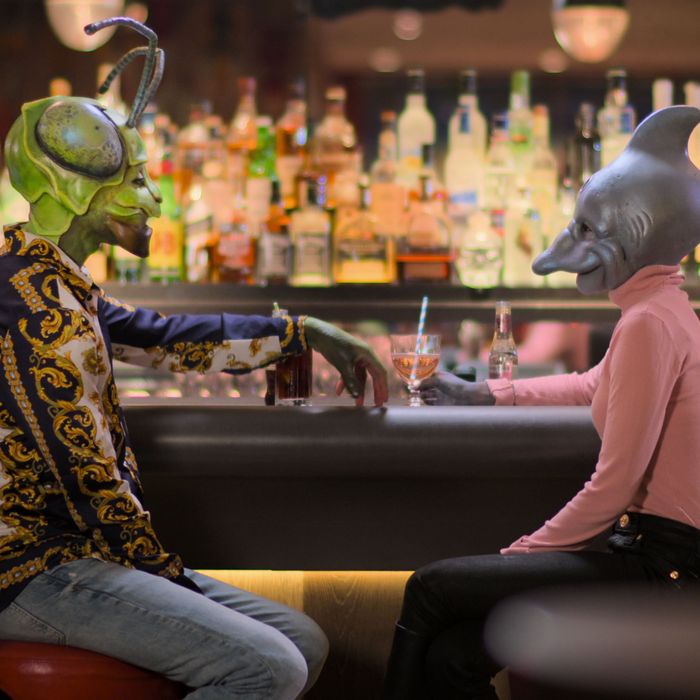 Photo: Courtesy of Netflix
Netflix has given us what no one asked for but we all deserve: a dating competition where all the contestants wear costumes best described as "unhinged." Sexy Beasts, in Netflix's words, "is a new dating show where real-life singles sport elaborate makeup and prosthetics to put true blind-date chemistry to the test." It's like The Bachelor meets The Masked Singer. It's like a love contest for furries. It's like Netflix said, "Oh, you want reality dating shows? Well, here you go, you little freaks."
I don't know what I was expecting when I read they were in costume, but … it wasn't that. Everyone looks like the middle Animorph or what a sketch artist would draw if you described a dream you had. (I was on a date with this guy, but he was also a scarecrow? And I was, like, a dolphin or something??)
The trailer is a 79-second fever dream. We see a panda asking a long-haired bull, "Do you have health insurance?" A beaver, alone, says, "Ass first, personality second." We also see the beaver saying "Damn!" upon seeing another contestant who has been painted blue and given hair like a Troll doll's. Imagine having a body so good that it overshadows the fact that your body is blue and your ears, nose, and chin have all been elongated via prosthetics.
There's a jaguar skeet-shooting and what appears to be a sleep-paralysis demon throwing axes. There's a mouse in a pink blazer, Frankenstein's monster in a jean jacket. There's even someone dressed as the devil, because why not? We're in hell, aren't we? A highlight in this dystopian dating landscape is that the show will be hosted by comedian and actor Rob Delaney, a perfect casting choice.
Surprisingly, Netflix is not to thank/blame for the conceit of the show. Per CNET, Sexy Beasts was originally a BBC Three series that aired in 2014. The show was rebooted in 2015 on A&E and was canceled after one season. But, lucky you, there are a handful of clips on A&E's YouTube channel if you want an amuse-bouche of the bonkers reality TV that is to come.
You have to wait until July 21 to enjoy Netflix's reboot of Sexy Beasts. Until then, you can watch the newly released season two of the equally deranged Too Hot to Handle, a dating show where hot, horny people are not allowed to have sex, kiss, or touch lest they lose prize money. (They touch a lot and lose a bunch of money, obviously.)
As for Sexy Beasts, I can't tell if this is the highest form of art or a sign of the end times, but I will be watching either way.