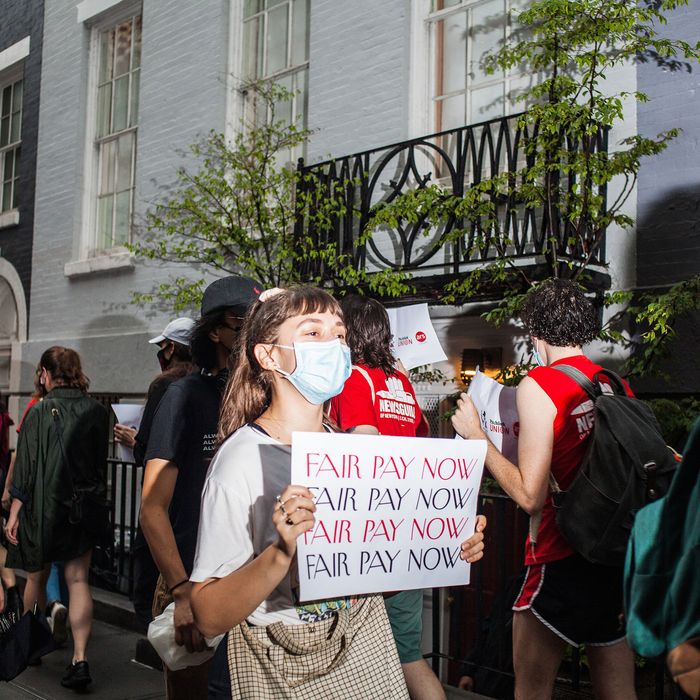 New Yorker
Union members protesting outside Anna Wintour's Greenwich Village home.
Photo: Konstantin Sergeyev
Tuesday night, members of the New Yorker Union protested outside the Greenwich Village home of Anna Wintour, Vogue figurehead and global chief content officer of Condé Nast, The New Yorker's parent company. The New York Times reports that about 100 people took part in the protest, including employees from fellow Condé Nast publications Ars Technica and Pitchfork, marching from the New York University campus to Wintour's nearby neighborhood. Protesters, many of whom were fact-checkers and editorial-staff members, held signs that read, "You can't eat prestige" and "Fair pay now," and chanted, "Bosses wear Prada, workers get nada." Though Wintour herself wasn't spotted, her neighbors were seen handing out drinks to picketers.
The protest comes after over two years of contract negotiations with Condé Nast and ahead of a potential worker strike. On Monday, the New Yorker Union launched a website stating its still-unmet demands, which include fair pay, more job security, and better work-life balance. The website also announced union workers are "on the verge of a strike," urging readers and New Yorker freelancers — which in many cases include staff writers, and who are often not eligible for union membership under federal law — not to cross the impending picket line. The New Yorker Union, which started in 2018, is affiliated with the NewsGuild of New York. (The New York Magazine union is also part of the NewsGuild.)
Monday night, after the union announced it would be picketing in Wintour's neighborhood, Condé Nast sent an email to union members saying, "While we respect and support our employees' rights to organize, doing so while targeting an individual's private home and publicly sharing its location is not acceptable." The company also said it is "committed to the safety and security of all its employees and we take this situation seriously," adding, "at a time when journalists are being personally attacked, harassed, and targeted for their work, to put a colleague in such a position is just irresponsible."
In response, the union accused the company of "what looks like an unlawful attempt to discourage protected concerted activity," per the Times. "As we hope the company is aware," a tweet from the union read, "it is illegal to threaten employees with adverse consequences for taking part in protected concerted activity."
Union chair Natalie Meade told the Times that Wintour serves as a "proxy" for Condé Nast. "What's happening at The New Yorker is not necessarily happening in a vacuum," Meade said. Fair pay is an issue across the industry, including at this magazine. The New Yorker Union is seeking a base salary of $60,000 for its members, some of whom currently make as little as $42,000 a year. For context, the cost of living in Manhattan, where Wintour and many Condé Nast employees live, is estimated to be more than double the cost of living in major cities like Chicago, Denver, Houston, and Philadelphia.
A spokesperson for Condé Nast told the Times that the company has made progress in recent negotiations with the union. "We hope to have a contract soon so that real wage increases find their way to our union employees," they said.
Negotiations between the New Yorker Union and Condé Nast have been escalating for nearly a year. In September 2020, Senator Elizabeth Warren and Representative Alexandria Ocasio-Cortez said they would not cross the picket line to participate in the New Yorker Festival in solidarity with the union. Their event did take place once the picket ended. In January, New Yorker employees staged a virtual walkout.
Wintour has not yet publicly responded to last night's protest.
Correction: A previous version of this story said Senator Warren and Representative Ocasio-Cortez pulled out of the New Yorker Festival. While they had said that they would not cross a picket line, when the picket ended, their event proceeded as planned.
This piece has been updated.