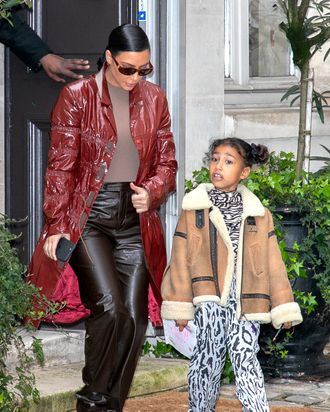 Frankly, congrats to this child!!
Photo: MARC PIASECKI/GETTY IMAGES/GC Images
I am not sure exactly what to do with the following information, so I am just going to leave it here, for your consideration: North West, daughter of Kim Kardashian and Kanye West, celebrated her eighth birthday by obligating her friends to dress up as smiley turds for a sleepover. And you know what? Good for this child. Well played, kid. Well played.
Images from the festive event come courtesy of Kardashian herself, who dutifully documented the attire on her Instagram stories. Borrowing a lyric from one of her ex-husband's songs, Kardashian captioned a group photo from the evening — eight children lined up in a row, each outfitted in a poop-emoji onesie — "Poop Diddy Scoop kinda slumber party." Everybody has their favorite emoji, and apparently, the grinning poo is North's. To each their own.
In an Instagram tribute to North, Kardashian wrote that she is "the silliest, most stylish, most creative person who knows exactly what they want in life!" Case in point: Poop emoji birthday party. Although the attendees in the above picture look varying degrees of psyched about the attire (some stony little faces in this crowd), I imagine they all had a great time, and took home some unparalleled (poop emoji-embroidered) gift bags. And sure, poop is inarguably an unusual choice of themes, but in the grand scheme of Kardashian-Jenner children's parties, it is far from the most jarring. That honor goes to Stormi's carnival of heads.