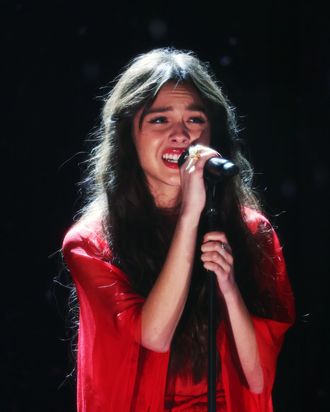 Photo: JMEnternational for BRIT Awards/Getty Images
Olivia Rodrigo's unmatched talent for making everyone want to relive high school is still going strong. Fresh off her recent graduation, the singer hosted her own prom last night — a.k.a. a SOUR concert-film livestream — which was way cooler than the proms I attended in high school.
"Since i never got to go to prom, I wanted to throw a little prom party with my fav ppl (you guys obvs)" Rodrigo announced last week. She also personally delivered several special promposals to fans, with a sign reading, "Prom Would Be Brutal Without U," and brought flowers, candy, and plenty of SOUR merchandise.
The SOUR prom included fireworks, perfectly synchronized dance routines, and cameos from four of Olivia's IRL best friends: Conan Gray, Lydia Night, Iris Apatow, and her old Disney Chanel co-star Madison Hu. But the best part of Olivia's prom? It lasted less than half an hour — just the right amount of time to wallow in unwarranted nostalgia before getting on with your day and wondering, where was your teenage dream?