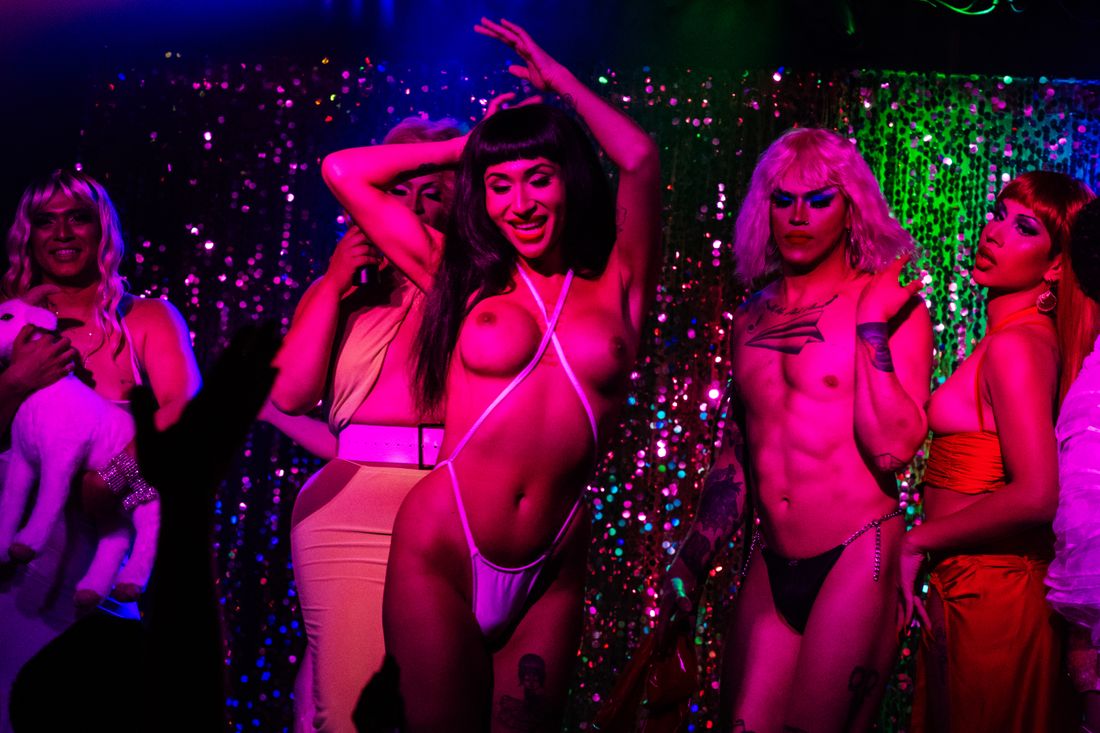 From left: ysak, Essa Noche, Amarilla, Rify Royalty, and Chiquitita.
Photo: Hunter Abrams
Glowing pink under a spotlight that followed wherever she went, Amarilla was stunning as she meandered through the cabaret tables that orbited a nearby stage. The performer clutched a white fur coat close to her body that later, once onstage, she would drop to the ground to thunderous applause and homosexual screams. But as she performed her lip sync to Tom Hillock's doo-wop throwback "Then You Kiss Me" amongst the people who came to see her, reaching out a hand every few seconds to grab the countless dollar bills thrust out in front of her, the crowd of about 50 sat rapt in her presence, speechless save for the occasional whoop.
Charlene Incarnate, a legend of Brooklyn nightlife who was sitting in the DJ booth behind me, broke the silence on the mic as she said, in her own way, what everyone was no doubt thinking.
"Work, mother."
The performance was part of a showcase paying tribute to the late Cristina Ortiz Rodríguez, also known as La Veneno. More specifically, it paid tribute to the version of the Spanish media personality and indisputable transsexual icon that we meet in Atresmedia's limited-run television series, now streaming on HBO Max.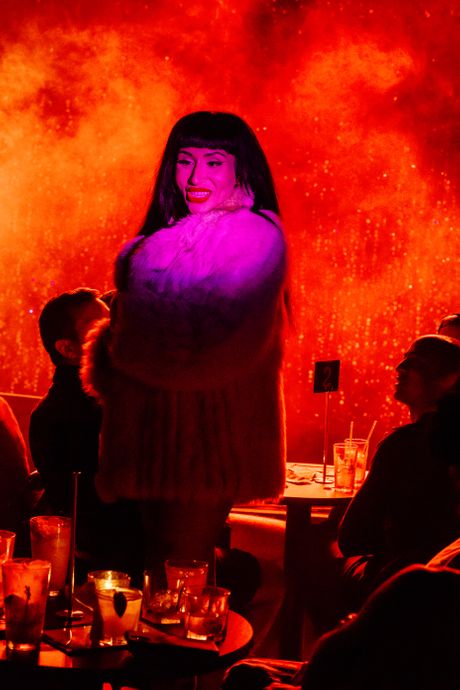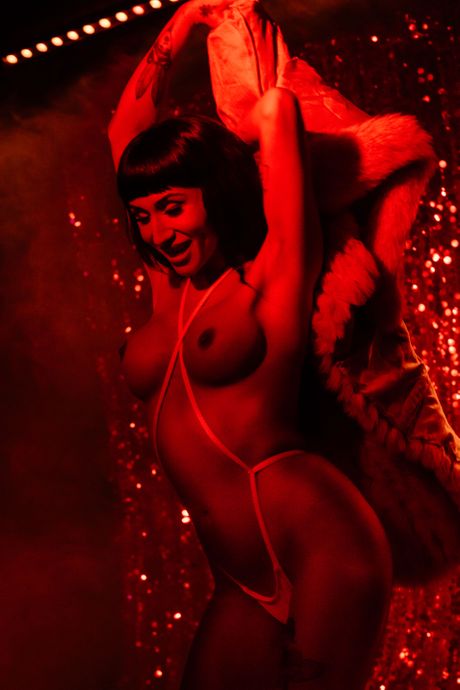 Veneno retells its subject's life story by embracing her reputation as an unreliable narrator, granting the fictional Cristina La Veneno authority over the narrative no matter how surreal it gets. Created by Javier Ambrossi and Javier Calvo and drawing on the 2016 memoir Ortiz Rodríguez co-authored with journalist Valeria Vegas, the series, which New Yorker critic Doreen St. Félix named one of the best TV shows of 2020, weaves together facts, lies, and fantasies to create what feels to be a truthful, if not always necessarily accurate, portrait of its titular subject: a woman prone to spectacle, both of her own making and otherwise. The series, as narratively interesting as it is beautiful to look at, not only "lays bare the process of representation" undergirding Cristina's glamour, as actress and writer Hari Nef observed earlier this year for Artforum, but allows it to expand beyond the limits that constrained it. It's an explosion fit for a bombshell, bodies flying and all.
The tribute to La Veneno, held on June 4 at Bed-Stuy queer bar C'mon Everybody, did right by Cristina, too. Organized and hosted by Chiquitita, a 22-year-old trans femme and native New Yorker, who, in seven years on the scene, has come to establish herself as one of the city's most exciting drag performers, the evening retold La Veneno's life story as refracted through the miniseries she inspired.
As Chiqui explained in a preshow phone interview, she found herself absolutely transfixed while watching Veneno last fall.
"Besides Angel from Pose, it was the first time I'd seen a bit of myself on TV," she told me. "It was just so special. We can't not pay homage to that."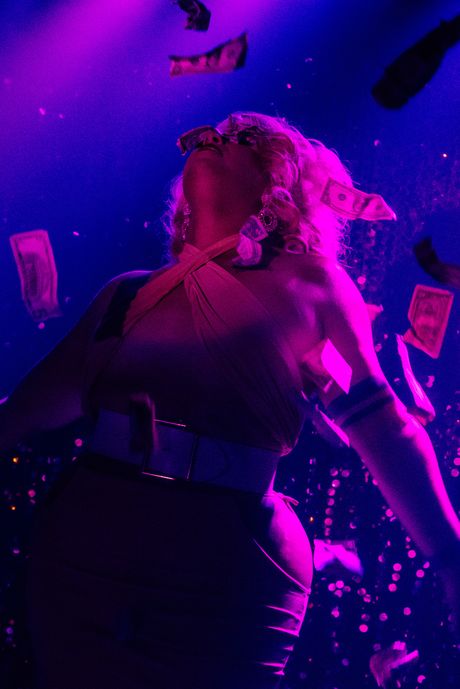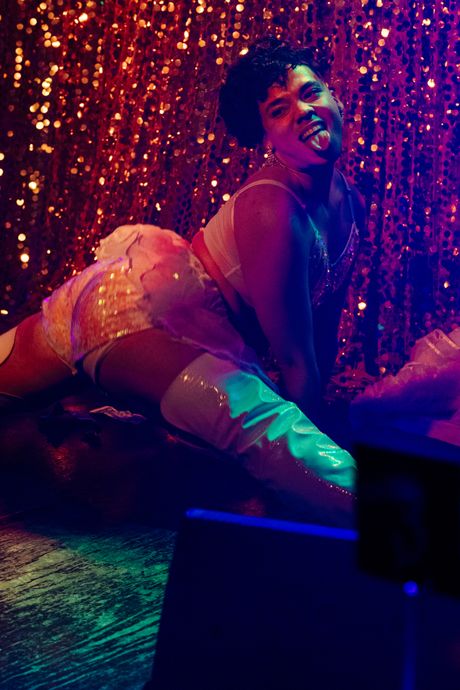 Chiquitita, who made her name in Brooklyn as an Oops! girl at the Rosemont and was crowned Miss Bushwig in 2018, approached C'mon Everybody's owners with her idea for a Veneno tribute show a few months back. Eric Sosa, who opened the venue with his life partner and a friend of theirs in 2015, said yes "without missing a beat." The resulting show opened with two back-to-back performances on May 11. It proved to be a hit, but one that few got to see, given the venue's lingering COVID-19 safety precautions that limited capacity. So Chiqui brought it back for one more night with a slightly remixed lineup. She hopes that it signals a new era for her drag, one in which she puts more energy into crafting larger, more ambitious and inclusive shows like this one and less into "shitty gigs that pay $75 plus tips."
"I have no interest in performing regularly like I used to pre-pandemic [for so little payoff]," Chiquitita told me. With the Veneno show, she says, "I was able to [negotiate rates and] pay our entire cast fairly, at the same rate each. That's unheard of, to have all eight girls walk out with a good amount of money, but it's possible. We're always being told it's not possible, that 'We're not making enough.' Well, you are making enough, because we're bringing you that enough. We're bringing that crowd for you, and what are we getting?"
The Veneno tribute I saw last week featured eight performers — an overlapping mix of trans, nonbinary, and drag entertainers — reinterpreting key moments from the series more or less in chronological order. Spindarella kicked off the show, vogueing and dipping in an extravagant ruffled ensemble, a clear reference to Ortiz Rodríguez's teenage self on her first night out en femme. Rify Royalty, who co-hosts Trish every Tuesday night at the bar 3 Dollar Bill, took inspiration from the icon's pupal years in drag and sex work, lip-syncing to the Pet Shop Boys classic "Always on My Mind" in a latex-nun look like one seen on the show. Chiquitita embodied La Veneno's final form with a sultry, ethereal number set to Susana Estrada's "Acaríciame." Amarilla also channeled La Veneno at the height of her fame, as did Maya Margarita, the model and Discwoman DJ who makes music as br0nz3_g0dd3ss, who performed Shakira's "Ciega, Sordomuda" in what appears to have been her drag debut.
"Honey, I've never seen a drag queen, including myself, get that rap right!" Charlene Incarnate said on the mic after Maya's performance. "No, seriously! And she's not even a drag queen!"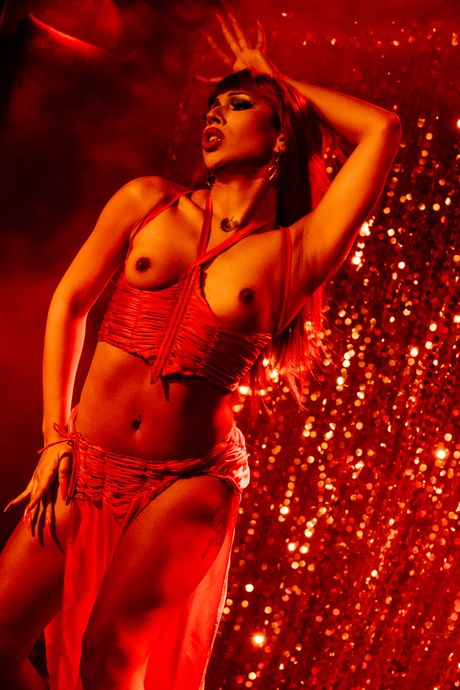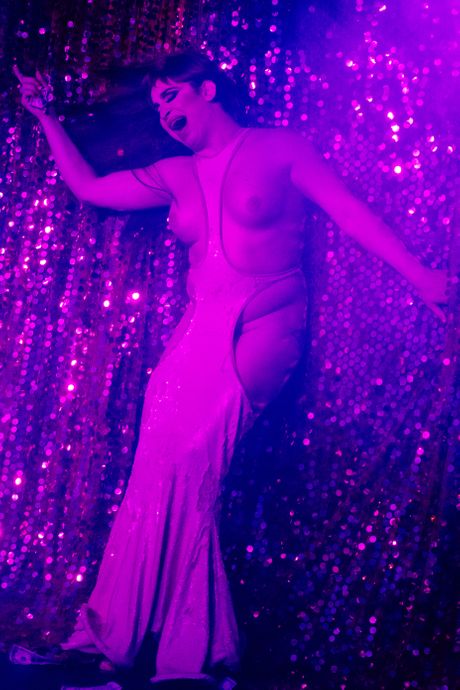 Speaking of Charlene, the Wig star, who co-hosts Trish with Rify, brought her signature brand of divine-feminine melodrama to Yuri's "Maldita Primavera," while Essa Noche — whom you'll be able to catch at C'mon Everybody's upcoming RuPaul's Drag Race All Stars premiere party, alongside season-six competitor Scarlet Envy — put a camp spin on Veneno's nail-biting polygraph scene, leaving the audience in hysterics with every perfectly timed "sí." Ysak, a musician from Chicago who summed up her artistry as "pop with a little more sad-girl shit in it" during a preshow interview, closed out the evening with a poignant live rendition of Leiva's "Nunca Debiste Cruzar el Mississippi." Drenched in an aquamarine spotlight with a stuffed baby goat in her arms, she had me in tears in ten seconds flat.
"[That this show happened] seems unimaginable to me," said Valeria Vegas, the journalist who co-authored La Veneno's memoir and is portrayed by Lola Rodríguez in the TV series. "Keep in mind that our book ended up being self-published because publishers did not want to touch anything related to La Veneno. That she has traveled around the world like this and that the drag scene in New York is paying tribute to her is something that never would have crossed my mind."
"We have stories to tell," she continued. "There are many realities beyond the ones we were given."