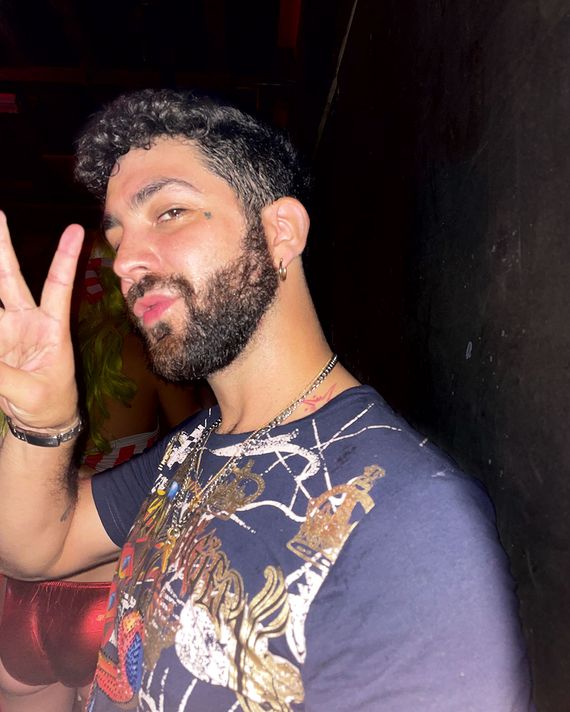 Remy Duran at 1:33 am.
Photo: Courtesy of Brock Colyar
This article originally appeared in are u coming?, a newsletter about the return of New York nightlife. Sign up here.
Remy Duran is the kind of club kid who makes you wonder how he could possibly keep going — someone who sees nightlife as his whole entire life, can't stop, won't stop. Duran, 30, grew up in the East Village with his mother — his grandmother lived next door — and started going out early and often. His up-for-anything charisma made him many friends; sex, he tells me, has always been "more social than it is carnal." (Out magazine once declared him a "renowned top"; Paper once annointed him "the coolest person in the room.") Two years ago, his local horny-party-boy fame went national when he appeared on the queer season of MTV's reality dating show Are You the One? In quarantine, he started an OnlyFans; his girlfriend, the fellow online sex star Zoey Luna, who is today very pregnant with his first child, helped. "I'm not a mainstream type of person," he told me when we went out on Friday, May 28.
9:15 P.M. | Remy suggests we begin the night at "the Meg Gala" celebrating the birthday of photographer Megan Walschlager. Every year, she throws herself a party echoing whatever theme Anna Wintour has chosen for the Met Gala (for 2021, it's "Amer­ican Fashion"). This year's is at Short Stories, an ­influencer trap in Noho with millennial-pink walls and new-enough-to-not-yet-be-sticky velvet booths. Guests have come in Pollyanna-prairie looks, White Claw crop tops, and cowboy boots galore. One duo is styled like George Washington and Paul Revere, and a guy on the dance floor wears a puffy, ­bubblegum-pink gown ("I hope it doesn't look too … antebellum," he whispers). My American look is a red silk top, a black silk skirt, a leather jacket, and patent-leather boots.
9:25 P.M. | Remy and Zoey arrive to a frenzy of attention. People greet him with shouts of "The father-to-be!" And they greet Zoey, who is dressed in a tiny fringed skirt and a cowboy hat, by touching her enormous exposed belly. "I've got some drugs!" Remy tells me as soon as we have a second alone. Talking about Zoey, who is, without a doubt, the most gorgeous, glowing woman in the room, Remy says it's difficult to get her to go out lately. I ask if he's ready to have a kid, which seems likely to hinder his nighttime debauchery, and he looks away: "Uhhhhh, no."
10:11 P.M. | Remy pulls me to the front of the bar for cell service. He wants to show me a few of his fight pics on Instagram. "I've only lost one fight, in high school," he says. Then he heads back to the dance floor and does a key bump of ketamine.
10:39 P.M. | Drag queens, including Ruby Fox, Beaujangless, Aquaria, and Linux — wearing a spot-on knockoff of Lady Gaga's American-flag-bikini look from the "Telephone" video — mix with corporate-job queers who are just glad to finally be out on the town again broadcasting their late-night antics on IG Stories. Two fashion designers are having a smoke outside ("I just sold to Nordstrom," says one). Next to us, one of the queens points at a tall boy in a leather jacket. "He only likes me because I got French citizenship and money in crypto," she says.
11:27 P.M. | Zoey decides to head home and throws me a coy little "Good luck!" on her way out. On the speakers, "Judas" bumps. "Not the remix!" someone screams.
Midnight | Remy says it's time to go. We grab him a white sequined mask at the 7-Eleven next door, hop in an Uber, and head to a warehouse party in Bed-Stuy called Switch. In the car, I ask him about his time on reality TV. "I hated the whole thing," he says. The producers were always trying to control him, he felt, tamping down his lawless potential. What did he learn? "It humbled me. After my little foray into fame, I realized I don't like this. I hate this. If I'm not more rich than I am famous, I don't want it," he tells me as the Uber pulls up to the curb.
12:20 A.M. | The entrance to Switch is a high-ceilinged concrete-floored room with a clothing check, a bar, and two rows of porta-potties, which seem unnervingly close to said bar. On the way to the dance floor, we walk past someone getting an early-in-the-night blow job. The shirtless crowd slithers and sweats. Everything is lit by humongous red lights and purple lasers.
12:44 A.M. | On the DJ stand, Remy's friend Ty Sunderland mixes to "Rasputin," having somehow — along with Linux and Aquaria — made it from the last party to this one before us. Remy mingles with the choice queers allowed to dance behind Ty. Linux, who helped organize the event, tells me her friend group has been making a killing throwing these parties in recent vaxxed-up weeks. "We're going to fucking rape their wallets," she tells me, yelling over the music while gesturing to the gay guy with his pants off in front of us. "I'm a trans woman with dead parents. These white boys have money … and they love trannies."
1:15 A.M. | I go searching for a restroom. The porta-potties are surrounded by a flood of what I tell myself is water. My Prince Charming arrives in the form of a hunky man with arms larger than my thighs (and my thighs are not small) who picks me up and carries me across the pond like a damsel. On the other side, he plants a big kiss on my mouth, spearmint-gum juice pouring down my throat. The porta-potty smells like vodka.
1:47 A.M. | It's so, so hot. But I decide to take the big blue-and-white horse pill Remy offered me an hour ago — something called 2C-B. ("Kind of like acid and molly and something else, which I can't remember," he said, opening up its Wikipedia page.) Remy has already taken his, and he tells me his toes are tingling. After lots of watching, he rips his shirt off and melts into the crowd. In his wake, a man with a ponytail introduces himself as "the laser guy." In exchange for a smoke, he offers me the largest spoonful of K I've ever seen and lets me pulse the lasers when the beat drops.
3 A.M. | According to his friend, Remy has disappeared into the back room, which offers a little more sex than the dance floor, where there's still an occasional flash of a hand job and also a boy having his butt eaten against the wall.
3:55 A.M. | Now that I'm tripping, all this skin is making me feel nauseated. Everyone looks the same: like fleshy aliens. The crowd mostly comprises the same type of gays ­anyway — white, cis, Hell's Kitchen–ish, with either very hairy bodies or very smooth bodies. They don't look unlike Remy, whose face I now see on the face of everyone else. Still in my American-fashion-­themed outfit from the first party, I'm aesthetically the opposite of Remy: the easiest person to find.
4 A.M. | Like a figure emerging from a painting — or from that A-ha music video from the '80s — Remy is suddenly by my side. "Hey, you!" he says, drawing me in for a big sweaty teddy-bear hug. It's a congratulations of sorts for making it through the night together, as if it were a war, though ostensibly one for fun. I remember something he said earlier in the evening that, after talking to dozens of his friends and spending time with him myself, seems true: "I'm a very lovable person." As I watch him retrieve his clothes, and the remaining partygoers begin their last-minute search to find someone to go home with, I think to myself that "Daddy" will look pretty good on him. "Club Daddy" already does.