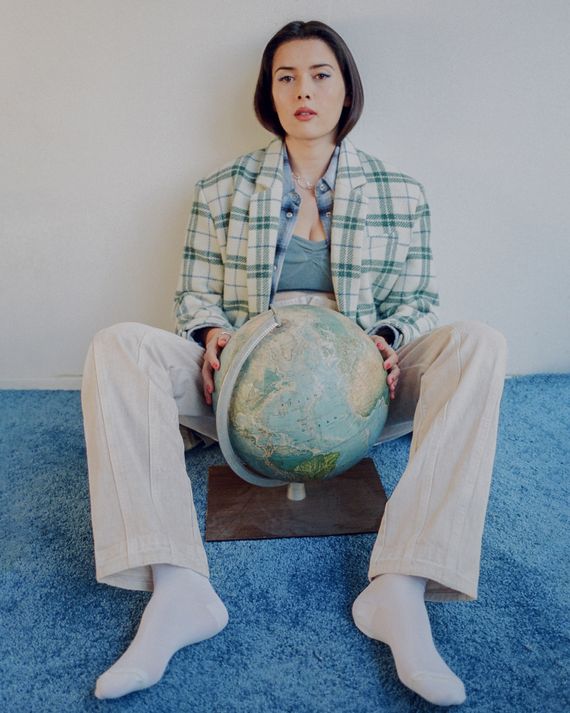 "I feel absolutely shotgun blasted," croaks Patti Harrison, blinking hard in the relentless L.A. sun. She seems to be willing her eyes, bright with no-makeup makeup, to stay open. As she explains over a carefully timed video call, she's just woken up after three hours of rest, has an interview right after this, and will leave the country tomorrow to film a movie with Channing Tatum, Sandra Bullock, and Brad Pitt, none of whom she gets to kiss.
It isn't that early, but Harrison, fresh out of her first leading role, has been on the kind of punishing press tour that engenders exhaustion, and which may be why the writer, actor, and comedian doesn't joke much today. It's unusual for her, but, I reflect, a good thing for me, as many an unwitting interviewer has been laid low by a Patti Harrison soliloquy. They are her signature, after all: Delivered in a languid deadpan, they're often disguised as an earnest response to an earnest question. It's only when she begins to toggle, ever so gently, between irony and sincerity that you ask yourself if she's joking. But by then, it's too late — she's reached a climax so far-fetched that you're wondering how you got from diversity and representation to selling sperm out of a garbage bag.
"She can assess and grasp balance in a blink," says Nikole Beckwith, writer-director of Together Together, in which Harrison recently starred as Anna, a gestational surrogate to Matt, a single man in his late-40s played by Ed Helms. Beckwith, writing over email, describes Harrison's humor as less of a persona and more like a kind of puppetry of intuition: "She can tip everything as fast and as hard as she wants, without breaking anything; or she can pull the line taut, in any direction."
It's a bait-and-switch sort of thing, and you can see it in Harrison's stand-up and sketch work: a self-harm jingle presented as a pop song; an alt-right anthem delivered at a wholesome karaoke bar. It's also present in her acting roles, where she is often cast as a nasty co-worker. Her Shrill character, a wicked office assistant, is the most fleshed-out example, but Harrison has done renditions of it in A Simple Favor, High Maintenance, and the comedy series I Think You Should Leave, which includes a sketch version so refined that people still yell lines from it at her on the street.
Recently, Harrison's acting offers have diversified. She voiced the Tail Chief in Disney's Raya and the Last Dragon, played a solid small-town burnout in Made for Love, and parodied both an ultrarich person and struggling essential worker on Ziwe.
But as well as being her first leading role, Together Together is her first entirely earnest, dramatic endeavor, and marks a critical turn in a career that has been almost exclusively comedic. It's a quiet film, full of emotion, and you might wonder how a woman who once tweeted that she was flashed by a corgi with "HUGE tits!" might fare.
Any doubts are put to rest in the final minutes of the movie. Harrison didn't watch classics like Juno or Knocked Up to prepare for the labor scene, but rather outdoor water births on YouTube — "graphic videos of women squirting their babies into a brook." This energy translates well into the body-cleaving work of childbirth, and when it is over, the camera rests on Harrison's face. After a sob and a laugh, it crumples into something like sadness. A deep breath and it smooths into what might be relief, or even resignation. Harrison is surprising and impressive as Anna, but the finely drawn spectacle of emotion in this final moment is astounding.
In a way, Together Together is the perfect movie for her. Surrogacy has an inherent awkwardness that Harrison is easy in. What's more, the movie does what she does in her comedy: pretends, briefly and on purpose, to be one thing (in this case, a rom-com) and then eschews the easy choices of its genre to build to an ending you wouldn't expect. The result is a film where romance comes through first as a shared melancholy, then as a mutual respect. Anna and Matt never kiss, and have no clear happy endings, but they share so much feeling that Together Together is a love story anyway.
Looking back, Patti Harrison's path to fame was very short. Now 30, she came of age in a rural Ohio town that Wikipedia calls a village. The youngest of seven sisters, she credits them with raising her as much as her mother, who immigrated from wartime Vietnam and whose God-fearing morality helped lay the groundwork for the calculated shock value of Harrison's comedy. (Other major influences include "a lot of death" in early childhood, the Scary Movies, and rotten.com.)
Actor, writer, and comedian Mitra Jouhari, who grew up with Harrison, says her friend has always been a fully realized artist — a writer, actor, musician, and illustrator who uses that particular talent to render such images as "Tweety Bird getting raw-dogged by Scooby Doo while SpongeBob watches in the corner." She observes that fame has seen Harrison wear even nicer shoes, but that she otherwise remains as "relentlessly long-winded" and "committed to drinking in a way that is more about getting your money's worth than enjoying the taste" as she was when they were young.
It was with Jouhari that Harrison left Ohio in 2015 to pursue comedy in New York. She'd come out as trans that same year, and in tracing her path to fame, it's easy to see how this fact has created both opportunities and led to typecasting by the media and entertainment industries. This began in earnest in 2017, when a team of writers at The Tonight Show Starring Jimmy Fallon wrote a bit about Donald Trump's transgender military ban and invited Harrison to perform it. She took the opportunity, thrilled, and while the jokes were fine for late night, the only part that sounds like her is when she gives Trump a pass because he's "so hot."
The clip went viral, and so did a not-at-all-accurate version of Harrison as a screwball political pundit. She recalls "a lot of well-meaning social-media liberals" at the time, demanding that she speak out on politics and otherwise represent trans people in a "clean, acceptable way." This proved difficult for a woman who was more likely to review exotic animals than make a joke about the news. Plus, joking about identity was something she simply did not do. "I got into comedy to talk about everything else," she explains. "It made me feel very caged by people who claim to be pro-my-autonomy. You're pro-my-autonomy until it comes to my work, and then you can't accept the fact that I love to joke about fucking dogs."
As for those who might meet her via Together Together and equate her with the sensitive, contained character she plays in the film, she advises them — upon encountering her comedy — to prepare themselves for nothing less than "a pornographic outcome. A lot of nasty little quips about my hole, unfortunately. My dry, scabby hole."
New fans would do well to heed this warning, as it's likely we'll be seeing much more of Harrison in coming years. Together Together was a hit at Sundance, and Harrison's performance did not go unnoticed — she was easily one of the festival's breakout stars, and only a few months later, she joined Bullock & Co. for The Lost City of D. 
Occasionally, the conversation around Harrison's role in Together Together has focused on her identity in a way that misses the point. The media still has an impulse to appraise much of what she does as it relates to representation, sometimes going so far as to frame her work as a triumph, not of comedy or acting, but of trans visibility. Beckwith and Helms frequently field questions about Harrison's gender identity, and she herself hasn't been interviewed without being asked what playing a pregnant, cis woman means to her.
"I think people are projecting my transness onto the entire film with their intentions being good. I understand how they're taking those leaps," she says, in a tone that is both measured and resigned. Still, she does wonder — and fear — if her work will always be painted this way.
But more than anything, Harrison is grateful for the opportunity. For her, Together Together was a chance to explore a kind of role she knows — after years of being asked to play trans and transitioning people — is not often afforded to marginalized actors.
"It's a quality-of-life thing, too. You get a lead role, you're making money, you get autonomy, and maybe you go on to produce," she says. "Who knows, someday I could have my own studio and be the person who picks who gets work."
When that happens? "I'm gonna pick all white, straight guys. Brock Turner types. I would love to build that future."