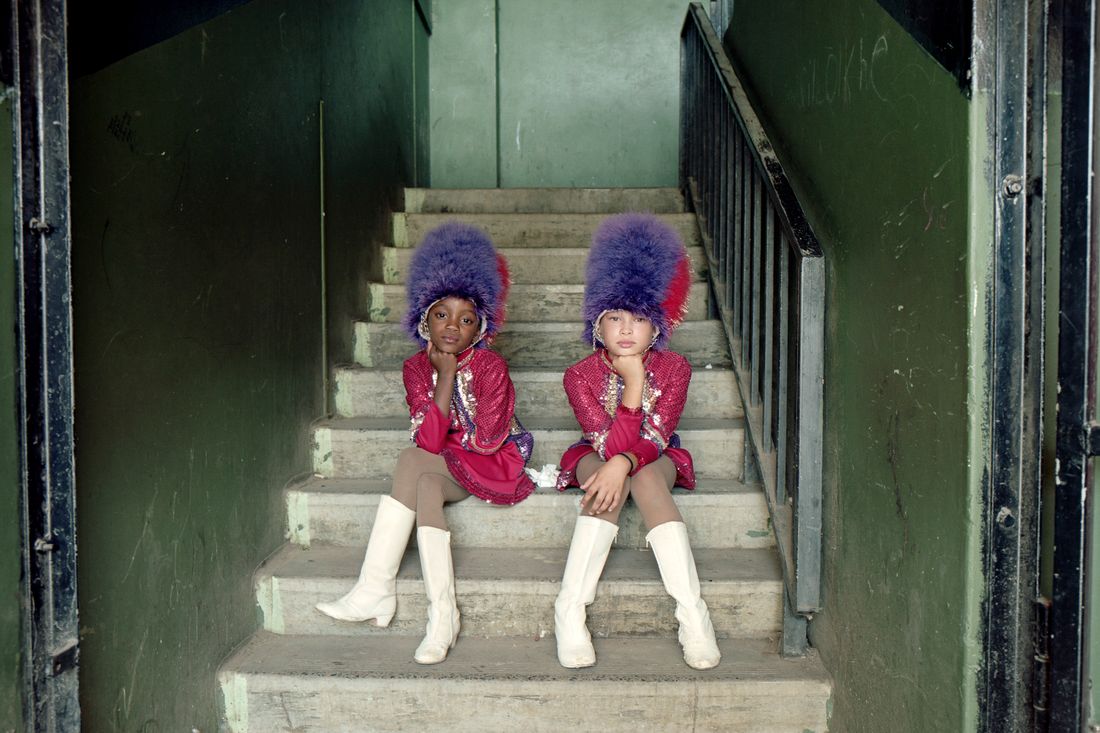 Wakiesha Titus and Riley Van Harte, Cape Town, South Africa, 2018.
Photo: Alice Mann
A self-described perfectionist, London-based film photographer Alice Mann spends years at a time creating colorful portraiture essays focused on identity, femininity, and community. "For me, the focus has always been on people. I've been completely amazed by [photos of] people. They're always very magical."
Perhaps her most magical project to date is the award-winning series "Drummies," which encapsulates all of the qualities she seeks to represent in her work. The images capture an underrepresented South African subculture: young drum majorettes, or "drummies." The female-only sport gained popularity in the early 1980s and nowadays evokes nostalgia for that earlier era. That said, it is still practiced today and stands out as a beautiful, intense activity for local young women to participate in.
While Mann herself was not a drummie, she grew up in Cape Town and was familiar with the sport and understood its influence. Then, during a visit to her hometown in early 2017, she read a newspaper article detailing a noise complaint against drum majorettes at a nearby school. Though working on another project at the time, she was inspired by the story and decided to photograph the team. "I sort of just had this feeling," Mann says.
Because of the high energy and fun she experienced during her first session visiting that team, Mann was disappointed with her initial set of portraits — the photos seemed too formulaic and didn't properly capture the group's vibrancy. A few months later, she reached out to another school, determined to do the sport justice. This time, she allowed the drummies to direct her, which became an essential aspect of the series, and the project developed into what it is today.
"You could see that they were really proud, and they felt very cool in their uniforms. It was like this visible marker of belonging," Mann explains. "The uniforms are big, beautiful, and very visually striking. How you look changes how you project yourself, and that was very clear. I have to continue exploring this amazing thought and the community around it."
Drum-majorette corps bring together youths from various backgrounds, and many from low-income families, which reflects the aspirational element of the sport and adds dimension and spirit to the series. "I think particularly in schools in more marginalized communities, what being a drummie represents is a safe space, and it facilitates skills they might not otherwise have," Mann notes. "It's very much an extreme positive in their lives."
Owing to the competitive nature of the sport, drum majorettes are known for their work ethic and confidence — inspiring attributes for the girls who pursue it, and for Mann herself (which is among the many reasons she continues to photograph them). "I don't think I could ever say I am finished," Mann says. At the moment, "Drummies" feels rounded out enough for her to show the world, but she hopes to pick the series back up later, when the pandemic is over.
The photographs have already captured worldwide attention, winning Mann the LensCulture emerging-photographer award in 2018, and four images from the series were honored with the Taylor Wessing portrait prize that same year. Currently, the photographer is running a Kickstarter campaign to get a book of the images published by Gost in the fall. See more information about the campaign here. Below, a collection of images from "Drummies."