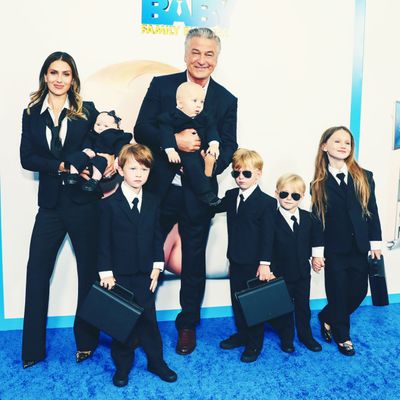 Hilaria Baldwin, Alec Baldwin, and their children (left to right): Lucía, Rafael, Eduardo, Leonardo, Romeo, and Carmen.
Photo: Monica Schipper/Getty Images
Sometimes you see a picture and just know, "This one is going to stick with me for a while." Such is the case with this image of Alec Baldwin and his family at the Boss Baby 2 premiere. The matching suits. The tiny briefcases. The fact that there is a Boss Baby sequel. There's just … a lot to take in here.
Let's start with the obvious: Alec and Hilaria (Hillary) Baldwin have a lot of kids. A legion of children. A small law firm of a family. And each of their names pays homage to Hilaria's nonexistent Spanish heritage: Carmen Gabriela (7), Rafael Thomas (5), Leonardo Ángel Charles (4), Romeo Alejandro David (2), Eduardo "Edu" Pau Lucas (9 months), and María Lucía Victoria (3 months). María Lucía was born via surrogate, in case you were concerned about the math on that one. In a competition to be the Most Fertile — a race with arguably no winners — Alec Baldwin appears to have even Nick Cannon beat. Cannon just became a father of six, including two sets of twins, with another apparently on the way. Meanwhile, Baldwin currently has a total of seven kids: six children with Hilaria, as well as 25-year-old Ireland Baldwin, whom he shares with ex-wife Kim Basinger. However, Hilaria and Alec Baldwin recently started a family and parenting podcast called What's One More?. So, you know, the law firm could always grow.
Now, on to the outfits. Per her Instagram Story, Hilaria was wearing pants she got from Express when she was "like 19." Alec apparently wanted to wear a navy suit. Hilaria wanted him to wear black. He responded with, "What do you think I am? A funeral director?" He ended up wearing the black suit.
As for the "Baldwinitos" — Hilaria's words — they, too, donned black suits. Some wore aviators. Others appear to have taken them off so we could fully appreciate their dead-eyed stares. Baby Lucía was nearly swallowed alive by her jacket, and Carmen, who is exuding more confidence in that pose than I have in my entire life, did not come to play. All six kids, who are all under the age of 7, look like they'd give a perfect reading of the line, "I'll see you in court."
Now, for your further consideration, this second image:
Rafael! My guy! What happened? Did you miss the big pitch meeting? Did the wife total your Porsche again? What could this child have possibly experienced at age 5 to illicit this hand-to-the-forehead response? Did you find out there's going to be a Boss Baby 3?
If nothing else, Alec Baldwin would apparently like us to remember ABC — always be conceiving.