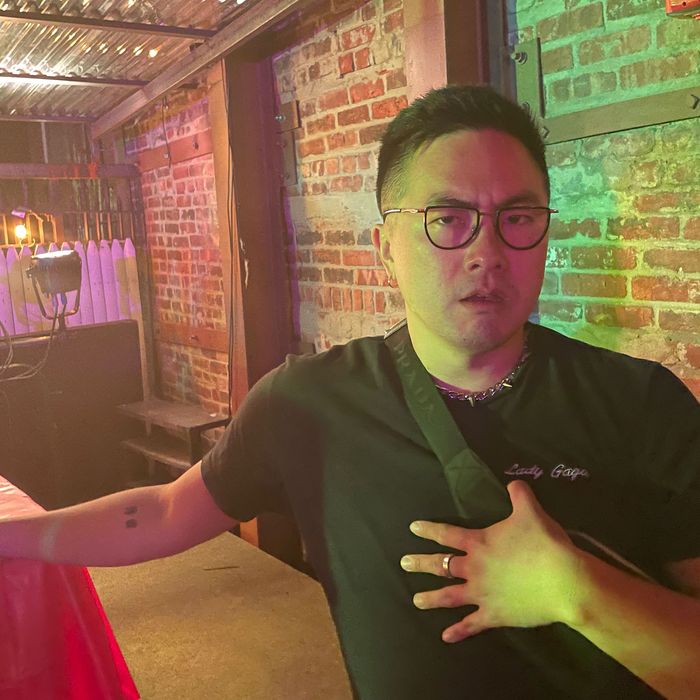 Photo: Courtesy of Brock Colyar
Bowen Yang was never a club kid. At NYU he was a chemistry major who'd spend his spare time performing comedy with his friends at the student center. He says at the time he found the city's gay nightlife a bit "rote," or at least not obviously for him. Born in Australia to Chinese parents, Yang grew up in Colorado and was voted "Most Likely to Be a Cast Member on Saturday Night Live" in high school. In 2016, he and Matt Rogers started the podcast Las Culturistas, two years later he was hired as a writer at SNL, and a year after that, he made that high school prediction come true.
Yang, who is 30, hadn't been famous for very long when the pandemic hit. Now that New York's dance clubs are open again he's out partying with his friends and comedy posse once more. Going out these days means that he will not only be recognized but because he comes off as so nice, people are eager to talk to him, which means he is eager to keep his reputation for niceness by being nice. Some people it seems feel like they can get in his business these days. Take nightlife personality Ladyfag. At one of her recent Battle Hymn parties, Yang recalls her telling him something like: "Just a word of advice: Drop all these faggots. Because they don't even want to fuck you. They just care that you're funny and famous." Bowen shrugs it off, clearly thinking she meant well.
"This is what gay nightlife is: It's about building an image," he tells me. "You are constantly in proprioception where you're clocking your own movement through space constantly." On better nights, Yang says, "in my purest ideal I'm like I just want to go dance and listen to fun music. My approach is to see people. I'm not necessarily chasing something chemical. Most times, I'm not."
9:30 p.m. | Bowen is taking me to a party co-hosted by his comedian friend Josh Sharp, at 3 Dollar Bill, a big gay bar in East Williamsburg. Though the promo poster calls for "sparkling lewks," Bowen is in a black tee with the words LADY GAGA embroidered on it. When I arrive at the bar Tradesman a block away from the party to meet him, he's been trying to figure out whether to wear his Prada fanny pack across his chest or around his waist. Cross-body seems to be more flattering.
9:46 p.m. | "Lately what's been happening," Bowen tells me, "is people like bringing their energy to me, grabbing me by the shoulder, and being like hi I have to talk to you." Which complicates his just going out and having fun. "What I'm afraid of is it's coming to define nightlife for me specifically, which is me being harangued —" but then he backtracks, clarifying that he's being "interrupted," not "harangued." "My fear is as soon as I shut someone down, the whisper network will grow to a din where it's like Bowen's an asshole." But Bowen is really kind — perhaps too kind — about the situation. Even as he discusses it, he admits he's self-conscious about discussing it. The comedian Sam Taggart arrives, joining our conversation and joking, "It's like what Lady Gaga said, 'Fame is a prison.'"
10:04 p.m. | Bowen, Sam, and I talk about the 3DB crowd. Calling his muscle-queen friends "rhinoceri," he tells a story about a guy recently biting his shoulder while they were dancing there. "It was like staring at the sun. He was too, too hot if that makes sense," Bowen remembers, with a grin. "I was like, is this normal? This must be normal to him. Then he just purred in my ear and grabbed my —"
10:15 p.m. | Before leaving Tradesman, Bowen lights up a Parliament and mentions he has to be up for therapy in the morning. "Do I go crazy tonight? Maybe not," he says, mostly to himself. "Everything is telling me that I should not do this, and yet I still do it," he says. "That is nightlife for a lot of gay people … and the worst thing nightlife can be, which is compulsory."
10:30 p.m. | The bar at 3DB is relatively quiet, and Bowen orders a double gin-and-tonic. Past the bar lies the circular dance floor, where there's also a DJ stand and a stage for performances. The lights are too bright, the people aren't drunk; the place isn't any fun yet. We head to the backyard, where one of Bowen's friends attempts to convince us to leave and join him for a boat party leaving in an hour from the Manhattan-side of the East River. When the friend notes that it's not a gay boat, we definitively turn it down. Bowen pops an edible.
11:27 p.m. | On the edge of the dance floor, Bowen dances in a circle of his friends: Sam, Josh, fellow SNL writer and Los Espookys creator Julio Torres (in a white mesh top and glowing streaks in his hair) and Julio's boyfriend. During the heavy breathing parts of Shakira's "She Wolf," Bowen pumps his hand to his chest. Then, when "Don't Stop the Music" comes on, the sole and heel of my first-time-out platform mule flies off. Bowen walks me to a chair and gives me a warm kiss on the cheek.
11:57 p.m. | Bowen's not a bad dancer by gay-and-drunk-at-the-club standards. He waves his hands in front of his face, and grabs his thighs, and moves his body in little bouncy motions while the DJ blasts Robyn ("Dancing On My Own," naturally). In a circle with his friends, Bowen pulls out a bottle of poppers and passes it around. Like a true gentleman, he holds the bottle to my face for me while I inhale. We all enjoy the 30 seconds of giddy bliss. And then we do it again.
12:36 a.m. | On a break from the dance floor, we find a man passed out facedown under a table. Another guy is leaning over him, but isn't helping. "He's alive. He's breathing," the guy explains to us, nonchalantly.
12:45 a.m. | The smoke machine has fogged up the room, making it very hard to see and also making you feel like you're on drugs even if you're not on drugs. Lights flash, enabling you to briefly see what the people near you actually look like. It's like little cruisy speed rounds. Bowen tells me he's spotting a few of his Tinder and Hinge matches in the crowd. "There are a couple of people here I might make out with. You can watch if you want," he says, laughing and looking around my head to search the crowd.
1:09 a.m. | I catch Julio making out with a tall muscle man, and a few minutes later, I see that guy making out with a different boy. Not long after that, Julio's back with the guy. They keep passing him back and forth. Bowen and I squeeze into the middle of the dance floor. "7 rings" by Ariana Grande comes on and he jokes: "Julie Andrews's ears must be ringing." Above the music he screams, "DO YOU KNOW WHAT A PANOPTICON IS?" Earlier in the evening, Bowen told me he's been having out-of-body experiences while out, and that the way he moves through these spaces has felt "hairy" recently. I wonder if that's what he's talking about now. "Isn't that just what queerness is?" he asks, still talking about the panopticon. We meet his friends back in the corner of the room. "To prove you're not a narc will you fuck Bowen's ass in the bathroom stall?" one of them jokes.
2:30 a.m. | After a big, long hug, Bowen heads home. The next morning he texts me he woke up hungover, but still in time for therapy.