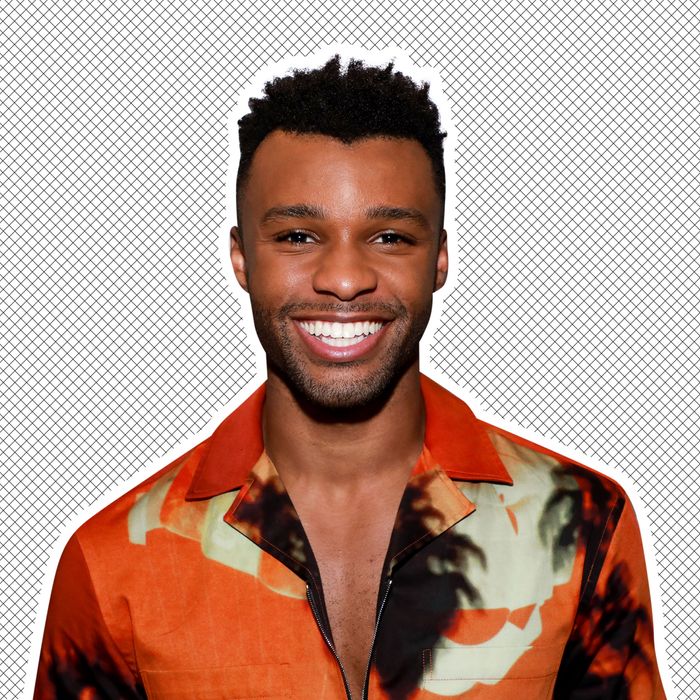 Photo-Illustration: by The Cut; Photo: Getty Images
Dyllón Burnside, the 32-year-old singer and actor best known for his role as Ricky Evangelista in the FX series Pose, recently released a song, "Heaven," that he feels encapsulates his experiences grappling with his sexual identity while growing up Christian and being fired from his job at a church. "I was told that my life would be ruined and that if I went down this path, I wouldn't be blessed," Burnside said. "And I've had the exact opposite experience. My life has been so blessed."
Burnside views that moment as one of his biggest blessings, because it encouraged him to move on as a performer. He grew up finding it difficult to see himself represented in mainstream media, and, with Pose recently wrapping its final season, he considers his role as tremendous progress for the Black queer community. "[Ricky is] a character I longed to see on television: a Black boy who is coming to terms with his identity and comfortable in his own skin, and is also fully comfortable with the fact that he is attracted to other boys," Burnside said. He talks to the Cut about letting himself enjoy the queer television show Noah's Arc, singing Whitney Houston's "I Will Always Love You," and Billy Strayhorn, the jazz musician who makes him hold his head a little higher in Harlem.
Paris Is Burning played a big part in the research that I did for my character, Ricky. I watched it after I read the script [for Pose]. I just thought, Oh my God, I want to see this world. I want to meet these characters, and the only thing that could give me that was Paris Is Burning.
I remember seeing it as a kid and being mesmerized by Whitney Houston. I remember hearing the music and then going home and hearing "I Will Always Love You" on the radio and having that experience all over again. I just wanted to relive it over and over again. I sang that song every day as a kid. Obviously, Whitney Houston is a queer icon for many reasons, but upon seeing The Bodyguard, I knew exactly what I wanted to do in this world and I had someone on the screen representing everything I wanted to be — graceful and talented and beautiful.
It caused me to walk around Harlem with my head held higher. Knowing that people like James Baldwin, Billy Strayhorn, and Langston Hughes also lived in Harlem really does something to a young Black, queer artist who is walking those same streets. Billy Strayhorn, an openly gay Black man at that time, was the musical genius behind a lot of Duke Ellington's masterpieces.
It's not an explicitly queer book, but James Baldwin is an explicitly queer man. It was a re-education [for me] around issues of identity. It really helped me understand Blackness as a construct that has been created to oppress people of color. It also helped me to find pride in my Blackness and every aspect of my identity. James Baldwin is masterful with words, and for him to be so fearless in embracing and celebrating himself in the time that he lived is remarkable to think about.
I remember I was 17 or 18, seeing one of the episodes late one night and feeling so guilty for watching this gay show, and not watching it again after that. At 22, once I came to terms with my identity, I thought, I want to go back and find that show. I want to just watch it and let myself enjoy it. Once I did, it was one of the greatest gifts for me. It opened my eyes to what the possibilities of my life could be. Seeing this group of Black and brown gay men living in the city, thriving and being beautiful, and having wonderful, loving, complicated relationships let me know that there was a world out there that was willing to embrace me. All I had to do was go out and create it for myself.
Prince has always been a queer icon of mine. For me, his presentation is drag performance. The deep voice, the pressed hair coupled with the falsetto singing voice and movements and the high heels with the ass cheeks out spoke volumes and gave me a sense of excitement. It awakened my imagination to who I could be, who I wanted to be, and to what was possible. I may not be as flamboyant as Prince, but he gave me permission to be as flamboyant as I wanted to be.