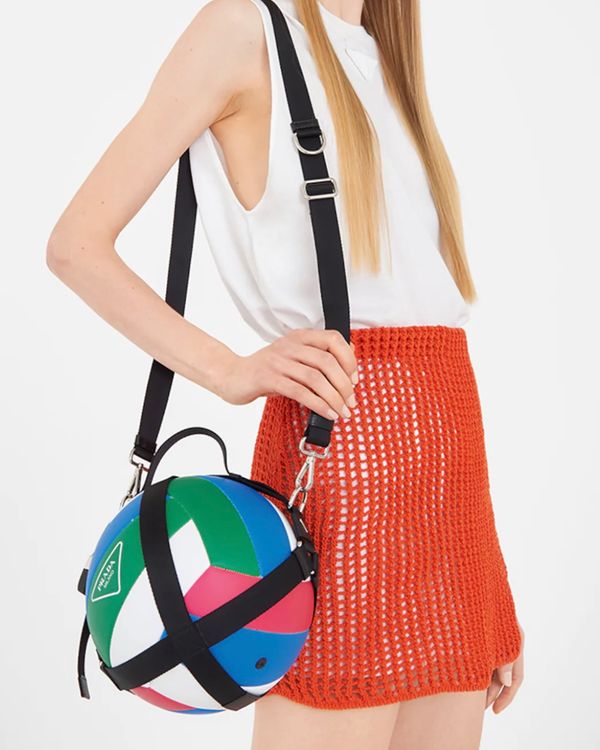 These days, all my time and energy goes to typing frantically about clothes, changing outfits three times a day, and stomping down Broadway (in Brooklyn and Manhattan) like it's my personal catwalk. But I used to be a person who played so many sports. I'm talking about tennis, soccer, and track and field. I played volleyball and sand volleyball. And now, my athletic past and my fashion-y present can coexist thanks to Prada Outdoor.
Prada Outdoor, according to the brand, is captured in four experiences: "A picnic on the lawn, games on the sand, the cool shade of the trees, and the gleam of the sun on an alpine lodge." A series of pop-up shops and in-store installations convey these settings: "Garden, Coast, Mountain, and Snow." Each one has a selection of products suited for the particular environment. For example, the Prada New York Broadway store in Soho currently has the "Coast" setting, complete with sand dunes, rocks, and white-and-blue tents (yes, you can buy an actual Prada tent).
Amid the beachy recreation is Prada's range of branded gear: surfboards with nylon covers, pool floaties, and frisbees. The sporty thing that spoke to me the most was the Prada-logo-emblazoned beach volleyball, complete with a strappy nylon carry case that could possibly double as a luxurious watermelon holder. Once I get my hands on this $995 volleyball, it's over for the queers at Jacob Riis.
Prada Outdoor will be available at the New York Broadway location until June 20, after which it will travel to Beverly Hills and Miami.