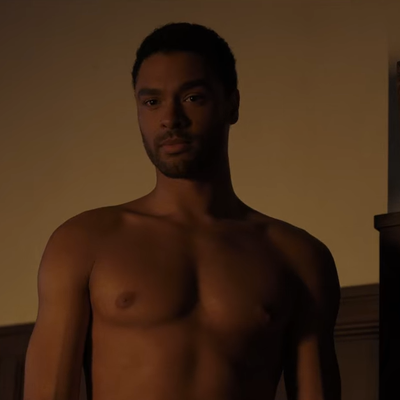 Big bonjour to this man!
Photo: Netflix
As evidenced by the uproar over his semi-recently announced surprise departure, the Hot Duke was widely viewed as having made some of the hotter contributions to Bridgerton canon. I will assume you have seen the way this man romances a spoon; I will assume the eroticism of this simple act of flirty dining smacked you like a silky glove across the face. It certainly seems to have surprised Lord Hotbody, who now says he was not "prepared" to behold his character's "overwhelming" sexiness onscreen.
"No one was sufficiently prepared," Regé-Jean Page — who played Simon Bassett, the Duke of Hastings in season one — said during The Hollywood Reporter's Emmy Roundtable series. "I wasn't sufficiently prepared, and I was there." Apparently, he had to warn his supportive relatives to buckle up for butts before they watched, which … sounds uncomfortable! "My family doesn't want to be overwhelmed by my backside, specifically, too often," the actor explained, "but they'll take it on this occasion because everyone seems to be terribly happy."
For sure, the butts were a balm to the masses in thirsty times: Bridgerton dropped last winter, nearly a year into a global pandemic that largely placed the touching of strangers off-limits. As Page shrewdly noted, "I think people were grateful for the intensity of the romantic aspects of Bridgerton; I'm not sure how grateful I was to watch it for myself. It was overwhelming. But I think people were looking to be overwhelmed."
Indeed we were. Which is why I have just one tiny note for Shonda Rhimes as we head into season two: Maybe make mutual climax take more than 26 seconds next time around. The sex scenes were very sexy, but conspicuously short. Quantity and quality, it's all I ask!