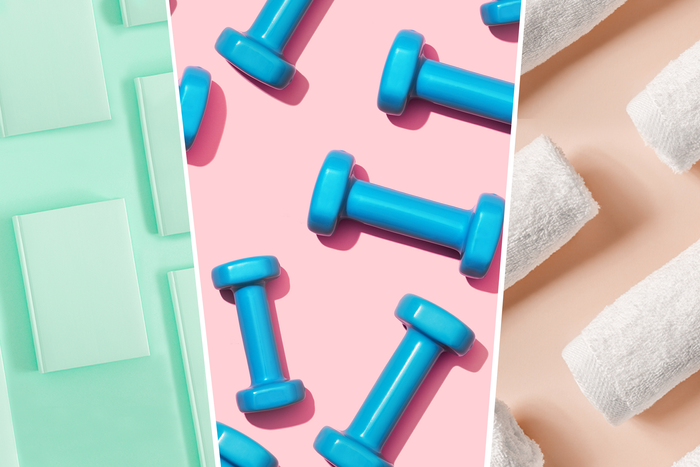 Photo-Illustration: Ashlie Juarbe
Stress is something we've all had more than enough of lately, thank you very much. But finding zen in These Uncertain Times is easier said than done. Everyone's favorite 15-minute yoga videos? Been there, tried them all. Get a massage? The experience isn't quite as peaceful when you have to keep adjusting your mask every few minutes. And sure, we could download yet another meditation app, but the first three didn't bring us any closer to inner peace.
So while we could all use more chill in our lives, we could also use some help finding it. That's why we asked writer, actress, and comedian Ashley Nicole Black for her advice on kicking back, calming down, and enjoying some much-deserved R&R. It's also why the new vitaminwater ice zero tastes like cool blueberry lavender — the kind of flavors you want for your next "me" day. (Plus, it has ingredients like chamomile, l-theanine, and iron.) Read on for Black's shortcuts to being your most zen self.
1. Find a hot tub.
 "There's nothing you need to do that can't be done in the hot tub. Take your laptop and work in there, read the news, hang with your best friend! Tough conversation? It'll be a lot easier in the hot tub. (Well, it'll at least be warmer.)"
2. Take your dog for a walk.
"This is my top relaxation tool…or at least it was. Unfortunately, at the beginning of the pandemic, I was a little too stressed out and walking the dog a little too often, and now my dog gives me the side-eye whenever I pick up the leash. She is over it. Then again, she was already pretty relaxed."
3. The massage gun.
"Have you seen these massage gun things? Very relaxing. Pro-tip: Use it on your butt. You will thank me. You hold a lot of tension in your butt."
4. Work out.
"Working out is not relaxing. In fact, I hate every second of it. But after I work out, I'm so happy I'm done working out. And that is a relaxing feeling. After you re-hydrate, of course. I like to drink my vitaminwater ice zero with the label facing out and pretend I'm in one of those commercials with the sexy girl in fitness wear whose sweat is fake, but mine is very real."
5. Skin care.
"Something about sitting down at my vanity slathering serums and creams on my mug is deeply relaxing to me. Oh my God, am I basic? When did that happen?"
6. Get outdoors!
"See some green leaves, feel the grass between your toes, hear a bird sing. Worry about if that bird is in a position to poop on you. But then let that go and relax with a cool beverage and some spicy tweets. Nothing's better than popping off a spicy tweet when you're laying back on a lawn chair completely unbothered by your replies."
7. Read a book.
"That's what I say I'm doing when I'm actually watching a [superhero] movie. Très relaxant."
This advertising content was produced in collaboration between Vox Creative and our sponsor, without involvement from Vox Media editorial staff.