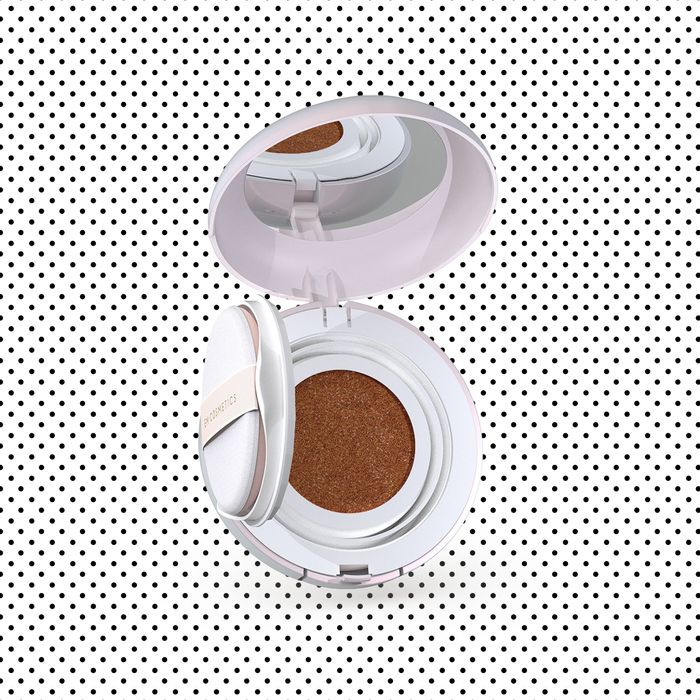 Photo-Illustration: by The Cut; Photo: Retailer
I used to think outdoor dining was terrible. Why would I want to eat eggs on the Third Avenue sidewalk as a M103 bus farts exhaust in my face? I also used to put on some sort of skin tint or foundation whenever I left the house, even if I was just going to the grocery store. But now on the weekends, you'll find me happily eating in an open-air restaurant shed nicer than my apartment and wearing almost no makeup. Nothing covering my dark circles, nothing covering my acne scars — just this new highlighter from EM cosmetics.
While I may feel comfortable without full makeup now, I still like it when my cheekbones glow like shiny mollusks. It distracts from my dark under-eye circles, which I don't mind anymore but also don't want to emphasize. The EM cosmetics highlighter does this nicely, and does it for hours, without settling into pores. Michelle Phan, the brand's creator, told us in a press event that she first tested the highlighter during Thanksgiving, where it lasted for a full nine hours of cooking. That makes sense to me — unlike other highlighters, which eventually seem to absorb into my skin, this one remains shiny well into nighttime.
Most other highlighters come in the form of a liquid or a balm, but this one is kind of in between — softer than a hard balm, but not watery either. It comes in three colors for different skin types. (Unfortunately, Aura, a champagne shade, is already sold out, but the other two are still available.) It has one of the prettiest effects I've seen, with no visible shimmer. And it's packaged in a cushion compact, a technology that's frequently used on K-dramas to make skin look poreless and babylike. I think that's part of the reason it's so good, along with its niacinamide- and squalane-rich formula. Use the applicator to press the highlighter into the skin, and it will melt in, making your face look really luminous.