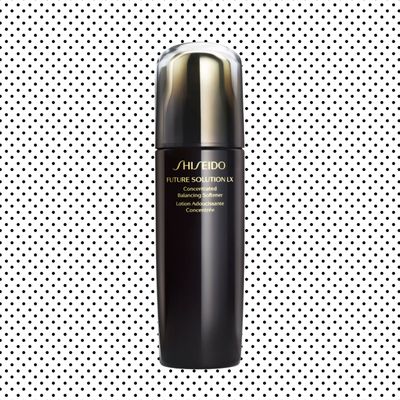 I'm a little rusty at traveling these days. I used to have it down, particularly when it came to packing skin-care products. I had five categories of beauty bags, all filled with TSA-approved sizes of my favorites that I could easily grab based on where I was going. The smallest was the "long weekend" bag, filled with four baby Drunk Elephant samples. The "long-ass flight" bag was the largest, containing sheet masks, face oils, and zit stickers and was loosely based on reports from a friend who once sat across from Naomi Campbell during a flight and told me, "She never stopped moisturizing."
When I looked through my bags for a recent trip to visit family, everything had dried up. I found only three skin-care samples, and this toner has turned out to be the Olivia Rodrigo — the surprise star — with astonishing depth and ambition. The toner has a long name (Shiseido Future Solution LX Concentrated Balancing Softener) which is fitting because it does a lot. One use of it makes my skin incredibly plump, dewy, and radiant.
This toner does things I usually attribute to my other skin-care standbys, and it does it better. It hydrated better than the hyaluronic acid serum I found in the back of my little brother's medicine cabinet, and it brightened better than the vitamin C serum that I nabbed from a friend. Though my skin was used to being coddled by many products, it coped just fine without them.
With an emulsion-like texture, the toner glided on like silk. It is so thirst-sating that I routinely put it on and forgot to apply moisturizer afterward. Traditionally, I don't believe in two- or three-in-one products because I don't want one product doing a half or a third of a job, but this is an exception. It also has five-star reviews on almost every retailer that I Googled, so I think it has been a sleeper hit. I have a tiny bottle that I am almost through for this trip, but I definitely need a full size — just the way I needed to listen to Rodrigo's entire Sour album after listening to "Drivers License."
If you buy something through our links, New York may earn an affiliate commission.