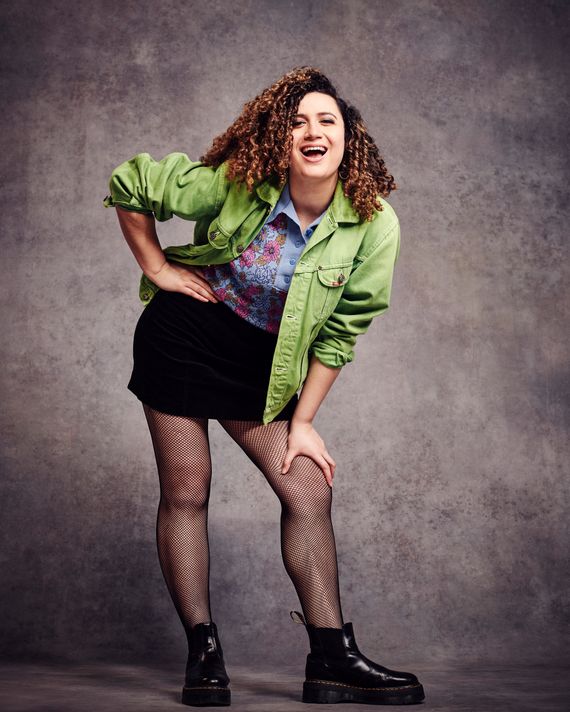 Across the Atlantic Ocean, Rose Matafeo is fresh from filming and embarking on a major press run for the American debut of her new series Starstruck. But first things first: sugar. The 29-year-old comedian apologizes for tearing into the cream-cheese brownie in front of her, but after over a year, what are Zooms for but multitasking? After she's satiated her craving, Matafeo — full of energy and with her hair in a fabulous curly mane — immediately transitions to her passion: film.
Her love of film permeates every corner of Starstruck, streaming now on HBO Max. Created and written by Matafeo and Alice Snedden, it's an ode to the rom-com, but also movies in general, which Matafeo speaks excitedly about. She stars as Jessie, a 28-year-old nanny and movie-theater worker who's uncertain about what she's doing with her life but isn't sweating it too much. After a chance New Year's Eve hookup, she discovers the guy she's slept with, Tom (Nikesh Patel), is a huge movie star. Sounds like the stuff of fan fiction, right? For Matafeo it is, perhaps at first in the dorkiest way. "It was just me basically living out my own fantasy of working in a cinema." She laughs and points to the Cary Grant postcard hanging on her wall. "If I was a man, I'd never get away with that. 'Oh, he's into films, is he? Revolutionary!'"
Matafeo pokes fun at the term "manic pixie dream girl," which first appeared in reviews of Cameron Crowe's 2005 film Elizabethtown. Her character, she says, "is bordering on manic pixie dream girl vibes, but thankfully, I'm not white. I'm only half white, so I can get away with that."
Born to a Samoan father and Scottish-Croatian mother, Matafeo started doing stand-up at 15 years old and has won tons of awards for her work, including the 2018 Edinburgh Comedy Award for her special Horndog, which was released on HBO Max last year. One can see the initial threads of Starstruck there, with her observant and curious questions and insights about love, sex, and general horniness.
Talking with Matafeo is a lightning round of pop-culture and film references — she's excited for the Wong Kar-wai retrospective at the British Film Institute and has a lot of enthusiasm for Dawson's Creek. Despite her gentle ribbing of the rom-com, it's a genre that she loves wholeheartedly. "So many classic films are rom-coms, but it's like, 'Oh, they aren't like those bad ones.' When you are a fan of a genre, you have love for every end of the spectrum — the bad informs the good. You have to have an appreciation for it and knowledge of it to operate within the genre."
When watching the six-episode first season of Starstruck, it's obvious that classics like Bridget Jones's Diary and When Harry Met Sally have long held favor for Matafeo, but that appreciation of the genre, which has led her to watch It's Complicated at least "50 times," has enabled her to both work within the framework (girl meets boy, they fall for each other, will they won't they) and allowed her to make Starstruck its own creation.
A big part of that is that Matafeo and Patel aren't the white leads that '90s and aughts rom-coms had, which is both refreshing and at the same time shouldn't still feel that way. She didn't set out to cast a nonwhite co-lead, but she wanted the show to reflect the world she lives in. "If you are a person who is not a white woman or a white man, or a straight woman or a straight man, you still enjoy the love story because you know what it's like being loved, but you do have to try to relate to someone who doesn't look or sound like you. A big thing about it was, yeah, two brown people who would fall in love, but it's also not about that as well."
What it's about, like all good rom-coms, is the chemistry between them. Matafeo and Snedden have created an easy, funny banter between Jessie and Tom — which is, of course, aided by Patel's extreme good looks and beautiful bone structure. But what makes the characters' relationship blossom is Matafeo's commitment to banter — it's something she and Snedden carefully mapped out, drawing upon Matafeo's love of old screwball comedies like His Girl Friday. Still, it wasn't an easy task. "How do we do that?" Matafeo wonders, of writing modern banter. "Banter, particularly in the U.K., that's a deeply attractive quality if someone has good banter. I think that's such a sexy thing." And while the show is really funny, the banter is sexy. In an early encounter, Jessie is hesitant to go back to Tom's place because she got her period that afternoon. When she tells Tom this, he says, "You do know I'm an adult man, don't you?" and then kisses her. It's a moment that Matafeo says many women have told her is the hottest thing they've ever heard. She laughs, "It took two women to write that line for a man to say."
And while talking about periods shouldn't be the stuff of high romantic fantasy, it's that attention to the tiny moments where Matafeo beams. "It's such tiny, minute moments in romantic comedies that mean so much. I love that smallness. When I was a teenager, I was so obsessed with Bridget Jones's Diary. There's one bit where Colin Firth is helping her cook and she goes out the door and it's her friends coming. And he rearranges his tie the tiniest bit. I was such a loser and I was like, Oh my God, it's so beautiful he cares about what her friends are going to think about him." But those tiny moments are also what, as Matafeo notes, keep the characters and dialogue rooted in a real, natural-feeling world — no matter the Notting Hill fantasy of it all.
And even if her own life feels like a fantasy at the moment — she's working on season two of Starstruck, where we'll learn more about Tom and Jessie as a couple — Matafeo jokes that her whole life feels like the show at the moment, with the press and filming. But she insists she's "so much weirder" than any interviews will convey. For now, she'll enjoy her own tiny moments: her love of Jerry Maguire; destroying her roommate and co-star, Emma Sidi, by showing her Before Sunrise for the first time; and the way that Pacey Witter uses his hands in Dawson's Creek. For whatever comes next, she'll figure it out when she gets there.