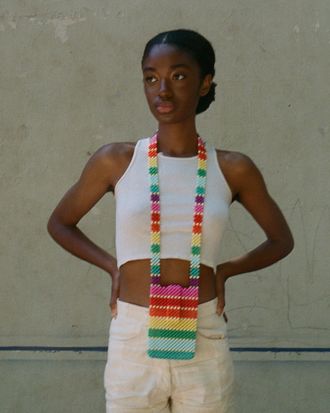 "There's a lot of Pride stuff I get where I'm like, Okay, there's one time a year I can wear that," says Satchel Lee, the LGBTQ+ activist, photographer, and daughter of director Spike Lee.
Wearing items to celebrate Pride Month is nothing new, but when Lee was approached by the Accessory Junkie, a jewelry brand that specializes in handcrafted and unique pieces, to curate a Pride collection, she wanted hers to be different. Lee wanted the accessories to show off pride in a low-key way, but also keep queer activism at the forefront.
"If I have the privilege and pleasure to work with a company like the Accessory Junkie, it's also my privilege and obligation and duty to uplift the most marginalized voices in the LGBTQ community, which are trans people, and specifically, Black and brown and Indigenous trans women." she says.
To achieve this, Lee helped the Accessory Junkie team up with the Human Rights Campaign's transgender and non-binary initiative, Count Me In. Her 15-piece jewelry line will include a capsule of items that will donate 15 percent of proceeds to the initiative, including the Sam Earring, the Tylin Ring, the Nadene Earring, the Muse Necklace, and the star of the collection — the Jill Phone Bag, which is available in a (tasteful) rainbow and black, and was handmade in Argentina.
"I am not a big colors person, but this is a nice pastel rainbow. I wanted to celebrate Pride, but not have it feel too on-the-nose," says Lee. "The [Jill Phone] Bag communicates what you want to communicate and you can take it wherever, whenever — so [I'm] excited." She photographed the line herself, including her own friends with identities that represent the full breadth of the queer community, including many queer people of color.
Michelle Reeves, the co-founder and CEO of the Accessory Junkie, says she hopes the line inspires ongoing activism. "We loved working with Satchel, she embodies the very essence of our brand. She's globally minded, inclusive, and she really loves to empower others. We viewed Pride as a catalyst to put this in the spotlight and start the conversation," Reeves says.
The brand is hoping to continue this collaboration and collection in the fall, but you can purchase it now in celebration of Pride.