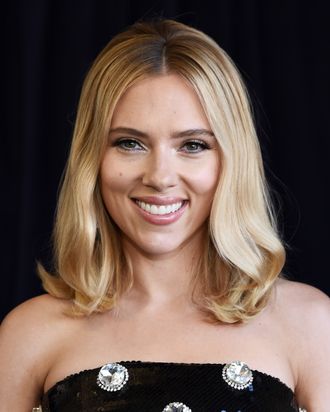 Scarlett Johansson, your newest beauty entrepreneur.
Photo: Getty Images
If you've been clutching your celebrity beauty bingo card, wishing and hoping for a beauty line dreamt up by … Scarlett Johansson(?), today is your lucky day.
WWD reports the actress is the latest celeb to throw another celebrity beauty line into a mix that is now so congested, it's probably going to require a prescription-grade retinoid. Little is known about the brand so far other than it'll be by ScarJo, it'll be rooted in self-care, it'll be here in early 2022, and it'll be "a clean, accessible approach to beauty," as Johansson put it, which can kind of mean anything these days, considering everyone has a different definition of "clean" (and "accessible" and "beauty" and also "self-care," come to think of it.)
The label will be funded by the Najafi Companies, the same minority investors behind Beach House Group, whose brands include Tracee Ellis Ross's hair-care line Pattern, Kendall Jenner's tooth line Moon Oral Care, and Millie Bobby Brown's Gen-Z beauty line Florence by Mills. I know what you're thinking, but co-founder Kate Foster, a former Juicy Couture exec, assured WWD that this won't be just another celebrity beauty brand but rather "a brand that fills a void in the market and addresses a true consumer need."
Considering Rihanna, Selena Gomez, Lady Gaga, Alicia Keys, J. Lo, Gabrielle Union, Nicole Kidman, Taraji P. Henson, Miranda Kerr, basically every Kardashian/Jenner, Kristen Bell, Michelle Pfeiffer, Drew Barrymore, Halsey, Pharrell, a whole bunch of other music guys, possibly Harry Styles, and the aforementioned Ross and Brown have all taken a stab at it, I sincerely cannot wait to find out what said unfilled void is. Skin-care routines specifically for large back tattoos? Acne scar creams that employ fun ScarJo wordplay? Vitamin gummies you ingest via lipstick? The suspense is killing me.