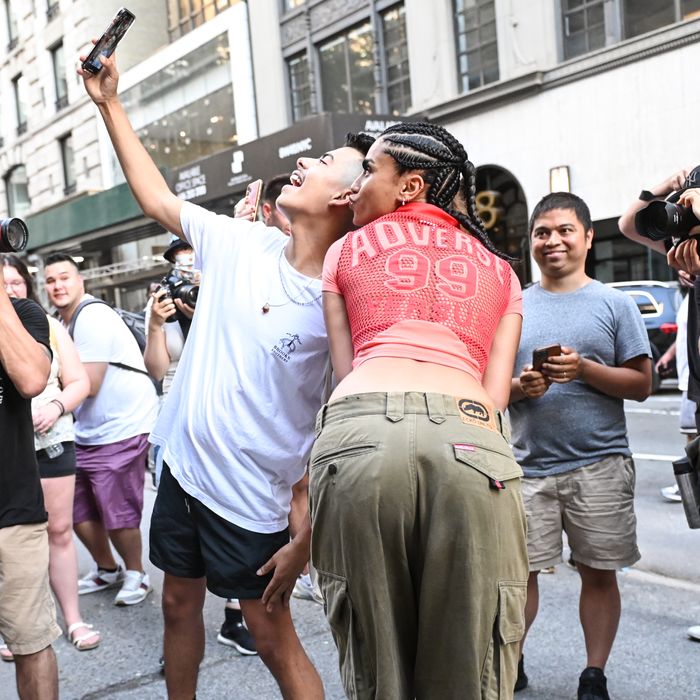 Walking toward the entrance of the New York Public Library on Monday night, I spotted a row of parked black town cars with "VIP" license plates. Some things never change, I thought to myself, smiling underneath my purple surgical face mask. It was around 6:40 p.m., and Marc Jacobs was scheduled to present his fall 2021 collection in the marbled entrance hall of the historic building at 7 p.m. on the dot — his first runway show since February 2020, right before the city went into lockdown. I wondered who these VIP vehicles could be ferrying. Surely, a gaggle of Vogue editors; maybe a Hadid or two as well. As I got closer to my destination, though, it became clear that at least some of these town cars were actually for a completely separate, much rowdier event happening next door. People I didn't recognize piled out onto the sidewalk in front of me, where photographers' bulbs flashed. Really, this is what "New York is back!" looks like: Not a single glitzy event but rather a million different centers of the universe bumping up against each other on a tiny island that prides itself on being the center of the universe.
Over the past year, fashion, an industry fueled by the rejection of humility, was forced to come down to earth a bit. What did people actually want and need? "Our decision to pause allowed us to slow down, reflect, ruminate, evaluate, grieve and take a thorough inventory of what works, what doesn't work, what we love, what we are willing to let go of and what has value, importance and meaning," Jacobs wrote in the show notes. In short, the designer was in pursuit of happiness — a word printed in all caps at the top of the program — and fashion is still what makes him happy, which is why he decided to show giant puffer coats on a 90-degree day in June just because.
Presumably, the 100 or so people in the room agreed. The feeling I got in the pit of my stomach when I turned the corner onto Fifth Avenue was not unlike the one I used to get on the first day of school: a mixture of terror and excitement, which bottlenecked to the point where I thought I might burst into tears. There was social and professional anxiety involved, but also the physical fear of walking into a room with a bunch of unmasked people giving air kisses. All guests were asked to send photos of their vaccination cards in advance, and some people chose to keep their faces covered, but walking in the door still required making the conscious decision, Okay, we're really doing this. Again. 
Conversations went the way they usually do in New York. Almost immediately, I was talking about real estate. Then I was complimenting someone's shoes. Many apologies and comments were made about sweating. As more people arrived, greetings would interrupt and fracture a huddle, leaving at least one person to spin off and join another group, like we were skydiving together. A number of people had different jobs than they did a year ago. The absence of others was clocked, most notably Anna Wintour. Eventually, it came up that the last time we all saw each other, danger was everywhere. We kept going because, I mean, who could have known, right? Did we all have it without realizing? Does that make us more immune now? A publicist came over and asked us to take our seats; it was time for the show to begin.
For nine minutes, which is actually pretty long for a fashion show, Jacobs asked that we not look at our phones. "Through the physicality of this shared experience, I hope to offer a moment of inspiration, curiosity, wonder and possibility," he wrote. Of course, some people ignored this (everyone's got a job to do), giving others permission to do the same. I reflexively picked up my phone a few times and felt stupid for doing so. But being fully present was overwhelming. The collection was, smartly, a little bit like a carnival, in the sense that it was simultaneously stimulating and dystopian. Watching the models clomp past in platform mary janes, their faces mostly covered, I felt high and then low, and then high, and then low again. I also got the sense that I'd jumped back on a Ferris wheel.
Afterward, I had a number of conversations with people about what they wanted to do differently going forward — about the new boundaries they were setting for themselves, whether it was only going into the office a certain number of days a week, or not posting on social media as much, or just generally doing less. At one point, an editor apologized for talking about quitting so much. Another told me they'd stopped caring about repeating outfits. In general, I got the sense that fashion — the craft and the job — was what continued to make people happy, but it was no longer the center of their universe. "Isn't it nice that we don't have to run to another show?" someone said before heading home. We could just sit with what we saw and let it marinate for a second.
It made for a much friendlier — perhaps healthier — environment, but I still felt something of a loss. The urgency and hullabaloo and peacocking of it all is how we maybe convinced ourselves that it was worth it — that we were doing something special and important and that other people should think it was special and important too. What is fashion if not excessive? Will dialing back the fanfare make the fashion world better, or just more obviously frivolous? How long before we revert back to our old ways?
All dressed up with nowhere to go, I called a friend once I got back to Brooklyn to see what he was up to. "I thought you had to work?" he said. "Isn't there a show?"
"Yeah, it was just nine minutes, though," I replied. "I'll tell you about it when I see you."