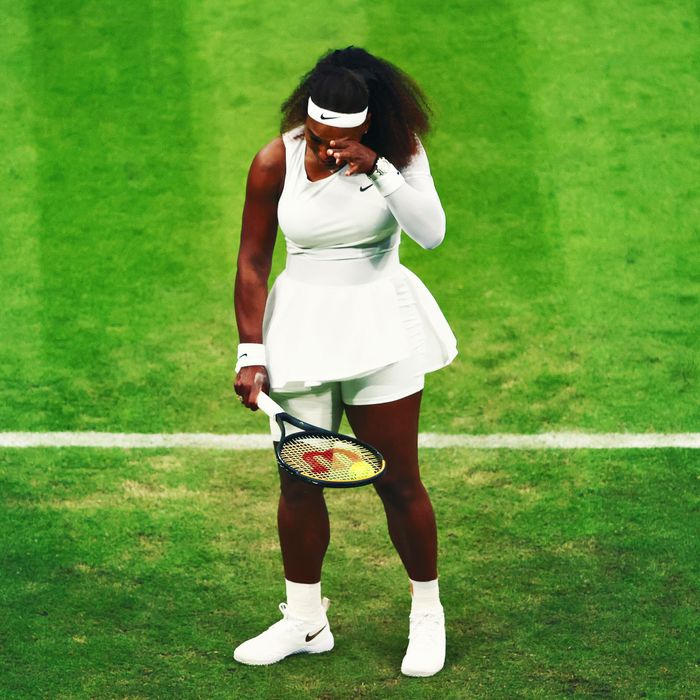 Serena Williams after Tuesday's match.
Photo: Julian Finney/Getty Images
On day two of Wimbledon, tennis star Serena Williams was forced to withdraw from the competition after suffering an on-court injury during her first set. This marks the first time ever that Williams has lost in the first round of Wimbledon and only the second time she's had to retire from a match in any major tournament during her career. Her withdrawal comes just days after her announcement that she wouldn't be competing in the Tokyo Olympics, a decision for which she declined to provide further details.
"I was heartbroken to have to withdraw today after injuring my right leg," Williams, who had been leading three games to one in her first set against Aliaksandra Sasnovich of Belarus, wrote in an Instagram post. "My love and gratitude are with the fans and the team who make being on centre court so meaningful. Feeling the extraordinary warmth and support of the crowd today when I walked on — and off — the court meant the world to me."
During Tuesday's match on England's Centre Court, Williams slipped on a return in the fifth game. She took a medical time-out before trying to continue playing. However, Williams was visibly in pain, eventually falling to her knees before walking off the court in tears. Patrick Mouratoglou, Williams's coach, told ESPN that the injury appears to be "at the top of her hamstring, in the glute." Williams was vying for her 24th Grand Slam title, which would have made her tied with Margaret Court, an Australian former tennis player, for a record number of Grand Slam victories.
Willams was the second athlete to fall during Tuesday's Wimbledon matches. In the match directly before, Adrian Mannarino also slipped, sustaining a knee injury, and was forced to withdraw against opponent Roger Federer. "This is obviously terrible, that it's back-to-back matches and it hits Serena as well," Federer said, after hearing news of Williams's injury in a post-match press conference. "Oh, my God, I can't believe it."
Fellow tennis players shared support for Williams after hearing about her forced withdrawal. Andy Murray said what happened to Williams was "brutal," noting that "centre court is extremely slippy out there. Not easy to move." Coco Gauff, the 17-year-old tennis star who would've faced Williams for the first time had they both advanced to the fourth round, said she had to turn away from the game when she saw what happened. "The only thing I can do is wish her well and hope she'll be back in time for the hard-court season," Gauff said. After the match, William's opponent Sasnovich thanked everyone before adding, "I am so sad for Serena. She's a great champion, but this happens sometimes in tennis. I wish all the best for her, and a good recovery."
Wimbledon officials defended the court conditions, which were wet after it had rained the first two days of the tournament. As the New York Times reports, officials released a statement after the two major competitors were injured during matches. "The preparation of the grass courts has been to exactly the same meticulous standard as in previous years," the statement said, noting that each grass court is checked by tournament supervisors. "The weather conditions on the opening two days have been the wettest we have experienced in almost a decade, which has required the roof to be closed on Centre Court and No.1 Court for long periods," they added. "With each match that is played, the courts will continue to firm up."