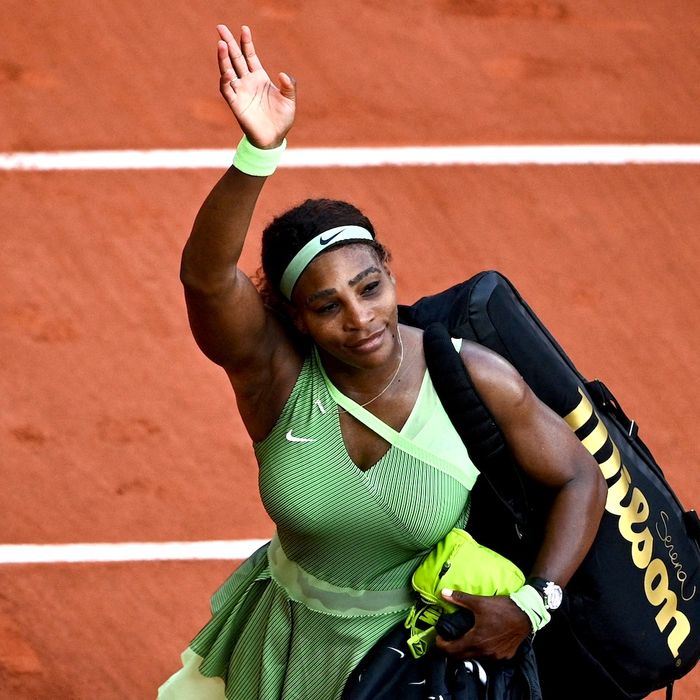 :(
Photo: ANNE-CHRISTINE POUJOULAT/AFP via Getty Images
There are many things to look forward to at the 2020 Tokyo Olympics (special 2021 edition) — Sha'Carri Richardson's incredible style and incredible speed; a repeat appearance by Christina Clemons's Cool Ranch Doritos earrings; Tongan flag-bearer Pita Taufatofua's exquisitely oiled abs — but unfortunately, watching Serena Williams win won't be one of them. During pre-Wimbledon press on Sunday, the four-time gold medalist announced that she will not participate in this year's games.
"I'm actually not on the Olympic list … not that I'm aware of," she said, according to CNN. "And if so, then I shouldn't be on it."
Adding that, "in the past," the Olympics have been "a wonderful place" for her, Williams declined to go into detail about her decision-making process. "There's a lot of reasons that I made my Olympic decision," she told reporters. "I don't feel like going into them today. Maybe another day. Sorry."
Probably, this announcement shouldn't come as a huge surprise, given that Williams — who has played in every Olympics since 2004, and who has won 23 Grand Slams over the course of her career — indicated in May that she would potentially skip this year's event if she couldn't bring her 3-year-old daughter, Alexis Olympia Ohanian Jr. "I haven't spent 24 hours without her, so that kind of answers the question itself," she said when asked about her Olympics participation. "We're best friends." Japan, which has been fighting strong surges in new COVID infections all winter and spring, has banned all foreign spectators from attending the games, which may have factored into Williams's thinking.
Or maybe not! With respect to Tokyo 2020, Williams also noted: "I really haven't thought about it, so I'm going to keep not thinking about it." Fair enough!