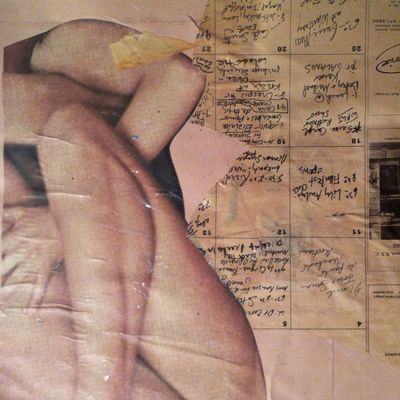 This week, a single guy collecting serotonin and phone numbers while partying until daybreak: 25, single, New York and Miami.
DAY ONE
8 a.m. The sunlight stuns me as I exit the Bushwick warehouse where I just spent the past eight hours of my life dancing. Typically, I try to be home before the daylight creeps in, as it fucks up my next 24 hours completely. But if there are drugs in my system, my sense of reason can easily be set aside, and unfortunately, I swallowed more ecstasy two hours ago.
9 a.m. My doorman greets me as I stroll into my building. I catch a glimpse of my appearance in the mirror and know there's zero doubt in his mind that I was out all night partying. I'm a music producer, so I keep strange hours. As for income, I also recently started an advertising and digital consulting company, so whenever I need to save up for a big trip, I can tap into that for freelance projects and just put it toward my lifestyle.
I hop in the shower to rinse the night away. My foot continues to tap, and a rush of blood goes straight to my head when the water touches my skin.
3 p.m. While pacing back and forth between my bedroom and the living room, I tell myself that I'm not going crazy and that, once I sleep, everything will go back to normal. My brain has been in overdrive for more than 12 hours at this point. I imagine this is what Al Pacino's character in Insomnia feels like. I pour a stiff glass of bourbon and finish it in a single chug so I can refill and repeat.
DAY TWO
8 a.m. I wake up after 14 hours of sleep and check my texts. There's a message from Cara, a girl I was hooking up with earlier in quarantine. "How was your weekend? Do anything fun?" it read. I lie and tell her it was low-key and we should hang out if she's around this week. I'm leaving for Miami in two days and am alone at my apartment until then, so I wouldn't mind the company. She quickly texts back that she's free and that I should let her know what day works best for me. I put my phone down and decide to solidify my plans over a run.
10 a.m. Somehow I make it almost four miles before having to catch my breath. If I can tackle four miles, then I must be back to normal, I thought. I text my friend Will, who I'm meeting in Miami this weekend, and tell him that I've had a "seriously fucked" 36 hours because of our friend's ecstasy and that I'm definitely not doing it again.
4 p.m. I get a text from Cara saying she can come over around eight tomorrow. I feel a small wave of excitement start to take over.
DAY THREE
1 p.m. "I'm excited to catch up," Cara writes. I feel bad just hooking up with her because I know I'll never have feelings for her beyond the physical. She truly is an amazing person and so beautiful. I'm just not in the right space for a relationship right now.
8:30 p.m. I hear a knock and quickly toss back a shot of mezcal in a slight panic. Cara smiles when I open the door and gives me a kiss on the cheek. I stand at the door, awkwardly frozen, as I admire her outfit — a black satin mini slip dress that ends perfectly on her long thighs.
10 p.m. I ask Cara if she'd like another glass of wine, and she nods yes without saying a word. She gets up with me as I head to the kitchen and begins to comment on the changes I've made to the apartment. When I finish pouring the wine, she disappears into my room. I find her admiring a new painting I just bought from a friend of mine. When I hand her the wine, she puts it on the windowsill without taking a sip and tells me to get undressed. She pushes me back on the bed and nudges her two dress straps to the side. The dress slides off her body and hits the floor.
1 a.m. Our bodies remain intertwined, lying naked under my sheets. We have finally cooled off from two very intense, very passionate rounds of sex — Cara taking complete control of the first round, me taking control over the second.
I watch Cara get into her dress as easily as it came off. I look at my watch and wince at the time. I have to be up in four hours to catch my flight to Miami. "You should just stay up so you don't miss it," Cara says. I smile and tell her I need all the sleep I can get.
DAY FOUR
9 a.m. I touch down in Florida and can feel my legs dragging behind as I deboard the plane. My friend James greets me at baggage claim with an infectious smile, which instantly lifts a weight off my shoulders. He was at the rave with me earlier in the week but flew back a few days before me to see his family. We drive back to his house with the windows down, blasting Freddie Gibbs. I finally feel my serotonin realigning.
4 p.m. All of my friends have now arrived in Miami and are catching up over some drinks at James's pool. Most of us have been scattered around the country and are meeting up for the first time in months. Will, Matt, and I met one another in college and have been close to inseparable ever since. Our friends Ben and Emilio, who James introduced us to, are here too. I smile at the thought that we're all here together.
9 p.m. I decide to party substance free until Sunday. We are going to a sunset-to-sunrise rave headlined by one of my heroes, so I want to stockpile as much serotonin as possible.
11 p.m. We're pregaming before meeting up with our female friends. I'm always amused at the conversations that take place in an all-male setting; we naturally seem to focus on a single topic: sex. There's enough testosterone floating around the room to convince each person that he's going to find a beautiful woman to take home by the end of the night. "Half the fun is the chase," Will squeezes out between sips of mezcal. I wonder if it's really the chase that drives us or if it's knowing we're being chosen over other men.
4 a.m. We've been dancing all night. All my friends took a bit of molly, but I steered clear. It's almost as satisfying to soberly watch their facial expressions mix between joy and awe as the music transitions throughout the night. Mainly, I am grateful to still be able to enjoy a club environment after the weeklong comedown I've had.
DAY FIVE
2 p.m. I am finally coming back to life after jumping in the ocean. Despite not doing any drugs, I still had a rough start to the day. Yet again, my body is reminding me to sleep more. I see a couple embracing each other in the water, both very attractive and grateful to be together, and imagine myself in the place of the man. I think about the girls I've been involved with over the past year and can't picture myself in the water with any of them like that, which certainly feels like a me problem.
12 a.m. We decide to take it easy tonight to save some energy for tomorrow, which still involves passing around ketamine and dancing to Daft Punk in our friend's kitchen. The night should have concluded here, but there were no girls!
1 a.m. We're walking around (I have no clue what part of Miami) trying to find a bar where we can dance. Some of the crew take a little bit of molly again. Unfortunately for them, every bar we walk past has atrocious lines. I forgot how much I did not miss this. We end up getting pizza and calling it a night.
DAY SIX
1 p.m. I treat myself to some hangover food and a coffee with Will and Matt. As we discuss our plans for the evening, we try not to get too excited over the hedonism that lies ahead. I'm worried about taking MDMA again, given that this is the first morning when my equilibrium doesn't feel fucked, but c'est la vie, I'm here to dance.
4 p.m. The six of us get in a quick hang at James's pool before we switch on the evening energy. I lie off to the side and think about what it would be like to have a girlfriend at this point in my life. I recently ended a three-year relationship and have been balancing my personal happiness with a string of hookups — Cara being one of the first girls I met post-breakup — and extensive partying. My ex is very much someone who can tell you every detail of the next ten years of her life. I'm very much the opposite, in that I want to be open to chance in my life and not have all the details planned out. I felt myself being locked into someone else's story, rather than writing my own. It was an amicable breakup; we both know we are on different paths and respect that.
10 p.m. At the pregame, Ben and I dance by the pool and watch a group of girls flock to Will, who tends to always be the prettiest guy at the party. I spot a stunning brunette with bangs wearing a floral-patterned, jeweled dress and bucket hat. Her name is Elle, and we immediately exchange banter and connect. Her energy intrigues me; she seems self-sufficient, like she could have the time of her life with or without me, but she's willing to include me anyways.
1 a.m. We show up at the party and are blown away by the venue and the energy. Everyone downed their drugs and is starting to feel wavy. My favorite musician is about to start his set, and our entire group of friends claims center stage on the dance floor. I deliberately choose a spot near Elle and her friends.
2 a.m. I know the drugs are in full effect when I ask James, "How are you feeling?," and he responds by planting a kiss on my lips. I too feel incredible and have fully integrated with Elle and her friends on the dance floor. Two straight hours of nonstop dancing.
4 a.m. I let the molly take over my decision-making as I dance with Elle's friends. One of her friends and I find a groove together, which builds up to an irresistible kiss in front of everyone. I immediately look at Elle, who is watching close by, seemingly surprised, which quickly grounds me back in reality.
6 a.m. I can't stop thinking about Elle watching that kiss. I pull her over to dance and give her my sunglasses, which look way better on her than they do on me. She tells me they're going to go watch the sunrise and invites me to join. I know I should say yes, but I am still glued to the dance floor so I tell them to go ahead without me.
7 a.m. Daylight has fully reached this party, and it is not painting a beautiful picture. At this point, everyone we went to the party with has congregated on the grass adjacent to the dance floor. Between the litter of plastic cups and bottles, our group lays shoulder to shoulder trying to piece together what we all just experienced. I lie next to Elle as she asks about the tattoo on my leg and about my watch. This moment, I think, as I look at her lying back in the sunglasses I gave her, is what I've been waiting for all weekend.
DAY SEVEN
6 p.m. One by one, each of us stumbles into James's backyard after waking up from our naps. We've reached the point of the weekend we've all been dreading, yet I can't help but feel we achieved something great.
6:30 p.m. Flights are approaching, and it's time to part ways. The six of us exchange hugs and try to fight off our tears. This is the price we pay for such magical moments.
8 p.m. "Protect those shades," I write in a message to Elle on Instagram. She responds, "forever," and sends a pic of her wearing them, bringing out my first smile of the day. I will 1,000 percent see her again.
Want to submit a sex diary? Email sexdiaries@nymag.com and tell us a little about yourself (and read our submission terms here.)