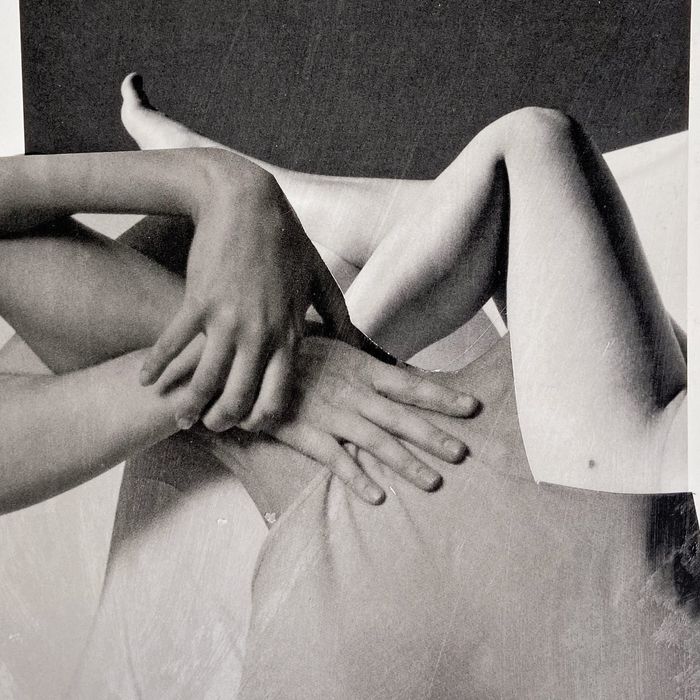 Photo-Illustration: James Gallagher
This week, a woman catching an artist's attention over Instagram and wondering if the 34-year-old she's seeing will ever want a relationship with her: 23, single, Brooklyn. 
DAY ONE
10:45 a.m. I'm in the middle of a meeting when my friend texts me about a last-minute dinner reservation — it's for a sushi restaurant in the East Village. I can't wait!
4 p.m. I drop off a giant bag of laundry at the laundromat down the street. I'm surprised I still have clothes to wear tonight.
7 p.m. My friend and I are a quarter of the way through a bottle of sake at dinner when she starts looking for a bar for us to go next. We land on an upscale dive in Nolita that is comically close to The Artist's apartment. I haven't seen him in three weeks. Part of me wants to text him, the other wants to pretend he doesn't exist. After all, he did kind of ghost me after having sex.
8:30 p.m. I polish off a sickly-sweet frozen drink my friend bought me and post a picture of myself on my Instagram Story (with the bar's geotag on full display).
10 p.m. The Artist messages me on my way to take the Brooklyn-bound J — he noticed I was in his area. I part ways with my friend, make a 180, and head toward his apartment. We hug hello then immediately start making out on his couch and having sex.
Thirty minutes later he hands me a towel to clean myself off with. I feel like a Jackson Pollock painting. This was fun, but I'm still hurt by his recent behavior. I tell him I feel disrespected and confused. After all, he did take me out for a nice first date, sent me a sweet "Happy birthday" message, and even introduced me to some of his family before we'd even kissed. How could I not be a little upset? He tells me about some recent happenings, which include some work-related stressors. We discuss some boundaries, as we both want to continue having sex, and joke around for a bit. I ask him to call me a car home and we kiss good-bye.
DAY TWO
7:30 a.m. My alarm goes off and I'm (surprisingly) not hungover. I pop two Tylenol before heading out to grab coffee and quickly skim through my work calendar — I have a meeting with my company's creative team in three hours. I'm a copywriter for a health and wellness company. I've worked for them for a few weeks now after being unemployed for about two months and I couldn't be happier.
9:00 a.m. I realize I texted The Scientist on my Uber ride home: "Been thinking about you a lot." He replied with a similar message after I fell asleep. He's been incredibly busy and I miss him. We've been seeing each other for nearly five months now. I messaged him on Instagram after stumbling upon his Raya profile back in February. We didn't match, but my stubborn self figured I'd still give it a try — he replied ten minutes later and we had our first date that same week. He's 11 years my senior. Somehow I only ever want to date men who are way older.
I remember telling my friends he was nothing but a fun hookup. Funny how I can't go a day without thinking about him now.
5 p.m. A debilitating headache kicks in, almost certainly from drinking last night.
10:30 p.m. The Scientist calls me. He says he's driving out of state in the morning and that he'd like to see me. I hop in the shower and walk to the J.
DAY THREE
3:30 a.m. I wake up to The Scientist putting his laptop away. I fell asleep 15 minutes into a movie he'd been dying to see. He rambles about the plot for what feels like hours, then proceeds to tell me he's glad I came over. I impulsively confess that I'm developing feelings for him. He tells me he likes me as well, but that the timing is wrong. I sigh and he kisses my back. We fall asleep spooning.
6:50 a.m. I wake up ten minutes before my alarm. My first meeting of the day doesn't start until 10:30 but I feel an urgency to head home. I look for my underwear all over The Scientist's apartment then walk out the door.
12:30 p.m. I make myself lunch — an exact replica of a salad they serve at an Italian café a couple blocks away from my apartment. Unsurprisingly, it doesn't taste as great as its $17 counterpart. I devour it, slightly disappointed, and set up an appointment at a hair salon in Williamsburg.
8 p.m. I call my best friend to tell her I confessed my feelings for The Scientist. She asks if I'm sure I like him, and I reply with an anecdote about a disastrous Raya date I went on last week. An indie-pop musician I adored all through high school took me to a diner, where he proceeded to talk about the beauty of emotional suffering for three hours. All I thought about throughout the entirety of the date was "Wow, I wish I was with The Scientist right now."
9:30 p.m. I text The Scientist that I'd like to meet up with him when he gets back. All to continue the conversation we started while half-asleep. He replies almost immediately, a dull and simple "Yes" that I would've gotten mad at if anyone else had sent it to me. I've gotten used to his less-than-giddy text persona — after all, he is the most analytical man I know.
DAY FOUR
8 a.m. I hop in the shower and thoroughly wash my hair as specified in the email I received from the hair salon I'm going to later today. My reference picture is of Jennifer Love-Hewitt at a red carpet event in the '90s — shoulder-length and choppy.
1 p.m. I check the mail for the first time in weeks. My new insurance card finally came in. It's a huge upgrade from the insurance at my former start-up job. I was a copywriter for an app in the health and wellness space — think relationship therapy, but on your phone. You'd think I learned a lot about healthy relationships from that, but I still need my friends to approve half of my text messages.
10 p.m. The Scientist tells me he just drove back into the city and that he's down to hang out if it's not too late. I put on a brand new, navy-blue linen dress and head his way. I wonder if he'll notice the fact that I'm missing four inches of hair.
11 p.m. He doesn't, but I don't mind. We walk around his neighborhood hand-in-hand. My cheeks hurt from smiling. He tells me about his trip, his upcoming work ventures, and his dad's French bulldog. I talk about my first tense moment at work and open up about my Catholic guilt. It seems as if we're avoiding the "What are we?" talk like we're getting paid to do so. We kiss on multiple street corners and he feels me up by the tennis courts at a nearby park. I joke that we're in a shitty high-school rom-com. He laughs but it really feels like it.
DAY FIVE
12:30 a.m. The Scientist tells me he hasn't been in a serious relationship in years, that he has a lot on his plate at the moment, and that his emotionally distant personality and strong love of threesomes is bound to "make me miserable." Additionally, he tells me that, despite all that, he "still likes me." I'm amazed at how calmly I respond to each of his statements. Part of me is disappointed, of course, but what else can you do?
He asks if I'm okay, I say yes, and he kisses me all over. It feels nice, except that it seems like he's planting them on me out of guilt. I ignore my minuscule heartbreak and tug at his belt loops. He comes soon after we start having sex and we fall asleep.
8:30 a.m. The Scientist orders us some breakfast. I eat it fast, hop in the shower, then walk out the door hoping to get home just in time for my work meeting.
2:30 p.m. I send my supervisor a list of completed tasks then log off early.
7 p.m. I arrive at a swanky apartment in Gramercy where my friend's boyfriend is house-sitting. We order a pizza and get drunk off canned vodka sodas. I begin to over-analyze my night with The Scientist and whether or not I should break things off with him. Based on our recent interactions, it seems as if we have a genuine connection, but who knows? I have an awful habit of confusing infatuation with love. Either way, he doesn't seem to want a relationship.
My friend tries to snap me out of it and jokingly tells me to "send someone a nude." I go to the bathroom to snap a picture of my exposed chest in front of the mirror, then send it to The Artist.
11:30 p.m. The Artist buzzes me into his apartment. We make small talk and abruptly end the conversation with a sloppy kiss. He takes my underwear off but asks me to keep my dress on — we fuck until we're both completely out of breath. I think I enjoy my relationship with him because there are no romantic feelings involved. Maybe it'd be different if The Scientist wasn't in the picture. Maybe.
DAY SIX
11:30 a.m. My supervisor and I go over my tasks for the week and make plans for a potential in-person meeting. We both get along really well. In fact, we've discussed our love lives, our friendships, and even our ongoing struggles with depression and anxiety.
3 p.m. My best friend is comforting me and giving me advice over the phone. I feel a lot better now.
5 p.m. I text The Scientist and ask if he's around this week.
11:45 p.m. No reply from him. I'm experiencing genuine romantic disappointment for the first time since my last serious relationship. I think my rose-colored glasses just broke.
DAY SEVEN
11:30 a.m. I call my mom after my work meeting and immediately burst into tears. We're close but I avoid talking about The Scientist with her. I tell her that I'm crying because of work-related stress and she comforts me.
5:30 p.m. I meet up with my friend at a bookstore nearby. We each buy a book, walk over to the water, and decide to have dinner together.
8:30 p.m. I take the train home. Still no reply from The Scientist. I feel miserable — I guess he was right.
10:30 p.m. My friend, The Bassist, texts me to come over. He and a couple of friends are watching a movie at his place. We drunkenly hooked up in a hotel bathroom back in 2019, and have flirted on and off since. I thought our relationship had successfully turned into a platonic one. Would I still hook up with him? Yes. Would he still hook up with me? I'm not sure. Truth be told, we don't spend a lot of time together.
Once I arrive, he greets me with a one-armed hug and introduces me to every single one of his friends, who are drunkenly eating pizza while watching some movie. I sit on an empty chair, and despite there being enough room for someone to lie down on the couch, he sits on the ground next to me, looks me in the eye, and smirks. He's always been a bit of a natural flirt, so I don't know if this means anything.
11:55 p.m. I check my phone one last time before going to bed — still no reply from The Scientist. I trip over my dress on the way to the bed and laugh. The Bassist runs his index finger down my spine then spoons me to sleep.
Want to submit a sex diary? Email sexdiaries@nymag.com and tell us a little about yourself (and read our submission terms here.)