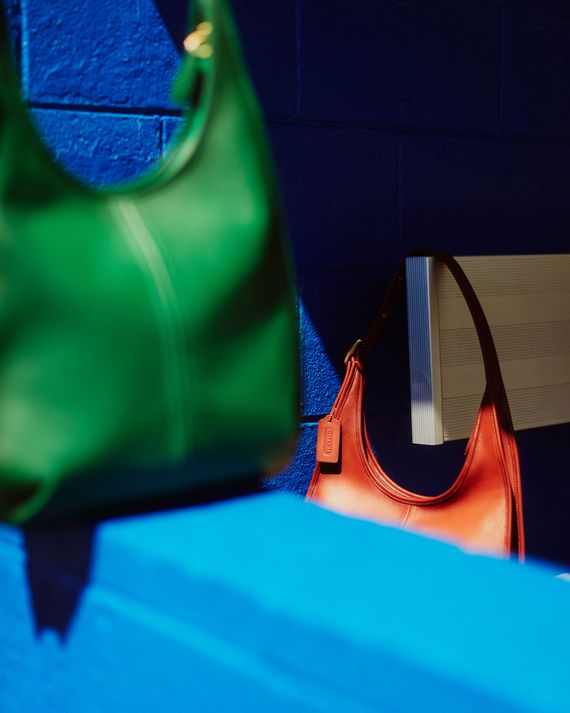 Photo: https://pyxis.nymag.com/v1/imgs/a0b/b68/40ba22235237866627bfd89fdb86e832a6-TheCut-Coach-765-CROP-secondary.2x.rvertical.w570.jpg
There is a scene in the fashion documentary The September Issue in which contributing editor Edward Enninful (now the editor-in-chief of British Vogue) has a meltdown over color-blocking — the art of pairing colors in an outfit. He has been tasked by Dame Anna Wintour with highlighting the trend in the magazine, but he just can't seem to figure out what the heck it even means or how to please his boss. And who can blame him? "I wanna kill myself!" he moans after Wintour eviscerates his selection, telling him his definition of color-blocking is wrong.
"Color -blocking is all the different colors," the wise Grace Coddington explains upon seeing his distress. "It's this with this, and this with this," she says, pulling red, green, and yellow pieces from a rack.
Of course, the fun of The September Issue lies in just how seriously everyone takes everything. It's an hour-and-30-minute-long cerulean-blue speech showing just how much work goes into putting together a magazine and the various personalities involved. Color-blocking, like any other stylistic pursuit, is something of an art form. But does it really have to be that complicated? I'm going to go with no. These bright handbags by Coach (above) are proof. Pair them with this or that, as Coddington would say, and you've got it in the bag.
Every product is independently selected by our editors. Things you buy through our links may earn us a commission.