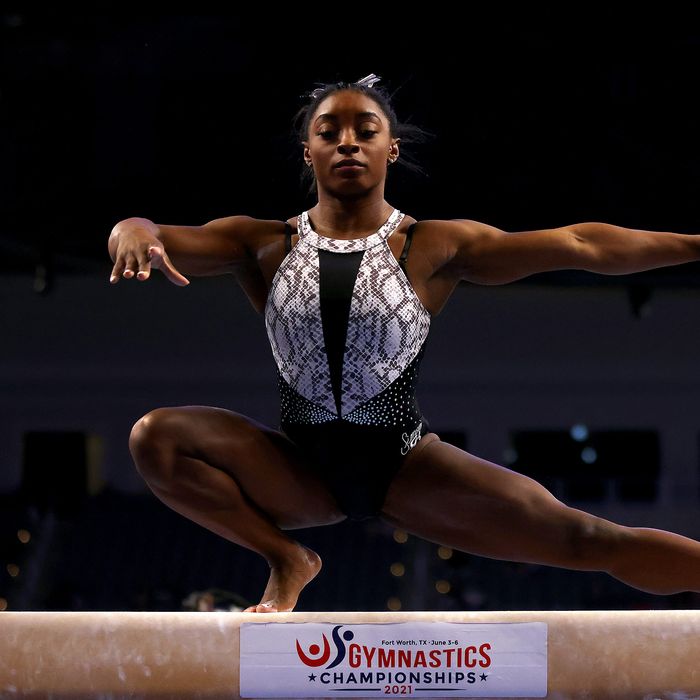 Photo: Jamie Squire/Getty Images
Simone Biles made history yet again this weekend, winning her seventh national women's-all around title at the U.S. Gymnastics Championships in Fort Worth, Texas, on Sunday. Her score was 119.650, almost five points higher than the closest runner up (and a really good score for those who know nothing about gymnastics). Her win broke the previous record of six national titles, which was achieved by Clara Schroth Lomady in 1952.
With the U.S. Olympic team trials less than a month away, Biles brought her A-game to this weekend's competition. "I feel like every single championship stands out for a different reason, but this one stands out specifically because it's the road to Tokyo," Biles said to Olympics.com. "We came out here, and we did what we were supposed to."
At 24, an age when many gymnasts are well into retirement, Biles is among the most accomplished gymnasts in history and is already the most decorated gymnast of all time. She continues to outperform her competitors by attempting tricks that have never even been seen in competition before and now has four moves officially named after her. Her winning routine for the U.S. Gymnastics Championships included one of her original moves, "The Biles," which involves two flips and three twists — as well as plenty of overwhelming cheers from the audience.
The Tokyo Olympics are set to take place this July, and there's no doubt Biles will continue her streak of record-breaking performances.