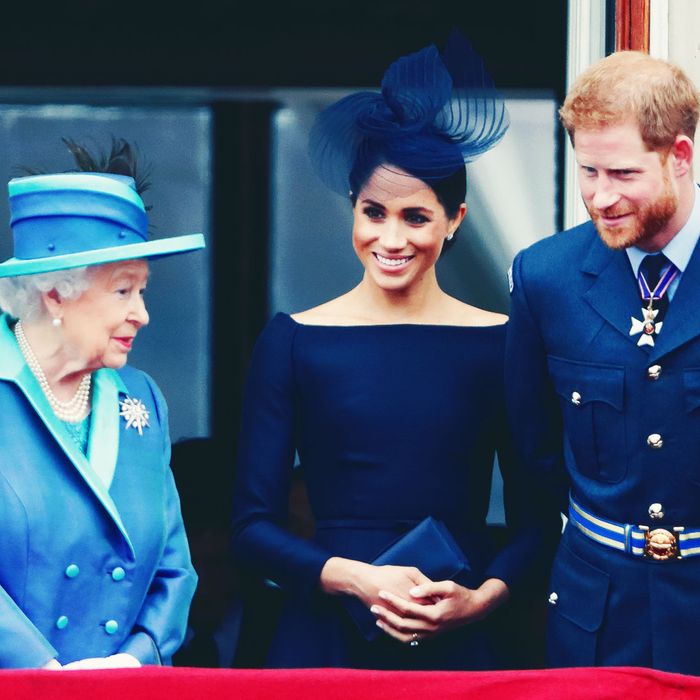 A nice thing to name the baby after Grandma, no? Well …
Photo: Max Mumby/Indigo/Getty Images
It really does feel like people will go to astounding lengths in order to simply be mad sometimes, no? Today I am thinking specifically about the controversy apparently building around a newborn baby, named in a tribute to her great-grandmother, a choice some people have taken as an insult rather than a compliment. Like I said, baffling stuff.
The baby in question: Lilibet "Lili" Diana Mountbatten-Windsor, otherwise known as Prince Harry and Meghan Markle's newborn daughter. The Duke and Duchess of Sussex announced her birth on Sunday, explaining in their statement that Lilibet referred to Queen Elizabeth (her childhood nickname) and Diana referred to Harry's mom ("the people's princess"). Particularly given all of the recent interpersonal strain — Meghan and Harry "stepping back" as senior royals early last year; the palace reportedly being surprised by this; a certain interview the Sussexes granted Oprah, in which they surfaced experiences of racism and bullying by family members — this feels like a nice gesture, a little tip of the hat to Grandma. Or it did. Now it feels like a certain camp is just very committed to the bit (being enraged at Meghan and Harry).
On Wednesday, BBC reported that the choice of names came as a surprise to the queen, who (according to palace sources) had no idea the couple planned to use her nickname until it had already happened. Her father, King George VI, gave her the moniker when she was still too young to pronounce her name, and only close family members — the late Prince Philip, for example — have ever used it. But Harry maintains that he and the queen remain quite close, telling Oprah in March: "I've spoken more to my grandmother in the last year than I have [in] many, many years. My grandmother and I have a really good relationship and understanding, and I have deep respect for her." And indeed, his attorneys have now warned broadcasters against repeating claims about the queen not giving her permission, with a spokesperson explaining in a statement:
The duke spoke with his family in advance of the announcement — in fact his grandmother was the first family member he called. 




During that conversation, he shared their hope of naming their daughter Lilibet in her honour. Had she not been supportive, they would not have used the name.
This jells with the initial birth announcement by the Sunday Times, which noted that "it is understood that the Queen was informed by the duke that her 11th great-grandchild would be named after her." It jells with what palace sources told the Telegraph, which is that the queen was "aware" of the name plan beforehand. It jells with People's report that the baby had a video call with her namesake as soon as she got home from the hospital. And yet this is somehow still material for op-eds alleging that "Harry and Meghan are using a Band-Aid" — the name Lilibet — "to try to fix a gunshot wound," i.e., their larger relationship to the monarchy.
To me, that seems somewhat hyperbolic, particularly considering no one knows what these people talk about among themselves. Maybe we could simply let this nice thing stay nice! Maybe we could simply leave the baby alone.
Correction: A previous version of this story referred the the queen as Lilibet's grandmother and her father as George V. They are her great-grandmother and George VI, respectively.